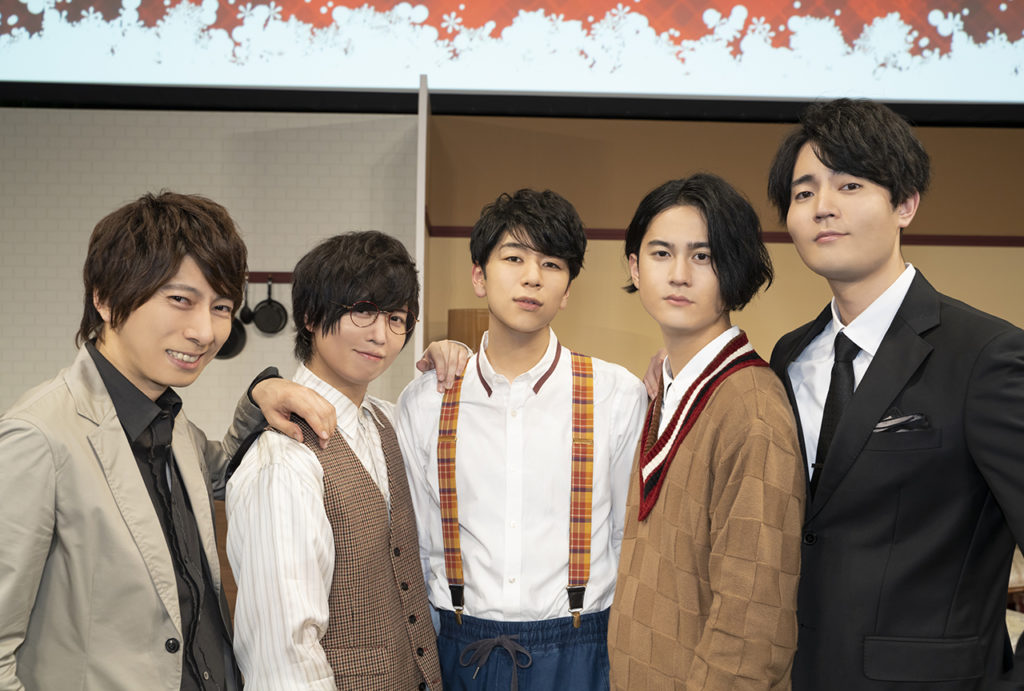 Published: 2020/5/22
Original URL: https://www.animatetimes.com/news/details.php?id=1587624437
Features:
Hatano Wataru (Shuu in Omikuji Yon Kyoudai)
Saito Soma (Ayame in Omikuji Yon Kyoudai)
Nishiyama Koutaro (Aoba in Omikuji Yon Kyoudai)
Takeuchi Shunsuke (Shiki in Omikuji Yon Kyoudai)
Komada Wataru (Ogata Kouichi in Omikuji Yon Kyoudai: Fuyu no Tantei wa Roast Beef ga Osuki)
Mentioned:
Genda Tessyo
※This interview was to commemorate the series' first-ever BD/DVD release, their Fuyu no Tantei wa Roast Beef ga Osuki event.
---
Omikuji Yon Kyoudai gained new potential with their first-ever guest member☆
Q: First, please tell us your impressions of the Omikuji Yon Kyoudai: Fuyu no Tantei wa Roast Beef ga Osuki reading theatre that was held last winter.
Hatano: Rather than a normal reading theatre, this one felt like a new form of entertainment. It was on a large-scale stage, so we had to run around a lot.
Kawajiri Keita-san's script had me laughing just from reading it, and it took each of the actors' characteristics into play. It was a reading theatre where I really had no idea what would come forth.
Omikuji Yon Kyoudai was originally only the four of us, but by inviting Komada-kun as our first guest, I feel like the series has taken a new step forward.
Takeuchi: This was the second reading theatre we did, the first being Haru wa Omusubi!. I wondered how it'd turn out, but we had Wataru-san as a guest and the script took on a different flavour, so it felt like a new wave of dialogues was born. It showed that Omikuji Yon Kyoudai had room for such new developments.
I wanted to act both the comedic and the heartwarming parts with everything I had, to figure out how to make it the most entertaining, for the sake of the next installment as well.
Saito: I really got tired from laughing so much *laughs*. As they said, I really felt like I've grown through these good brothers, good series, and good characters.
Our guest, Koma-chan was a key character in this reading theatre, and if you were to ask me to name an alternative actor for him, no one else comes to mind at all.
We created this stage with this amazing cast, and it was a wonderful event that gave me high hopes for the future of the four brothers… but, it was seriously exhausting. *laughs*
Ayame's parts were long. I'd keep flipping and flipping the pages, but it'd still be on Ayame.
Komada: Don't be like that. If we removed any more lines, it wouldn't be interesting anymore.
Saito: I want to take this opportunity to state that I had the fewest ad libs. *laughs*
Hatano: Who had the most?
Saito: *immediately answers* It was you, Hatano-san.
All: *laughs*
Saito: You were doing that rigid dancing while the lights dimmed, and the evening session had a lot of ad libs, right?
Nishiyama: His movements were visually way more active than everyone else's. *laughs*
Hatano: Before it began, Kawajiri-san said "The stage transition there is a bit long, so feel free to play around." So I really did it, only to see that no one else was moving!
All: *laughs*
Hatano: It was so embarrassing!
Saito: It was so funny *laughs*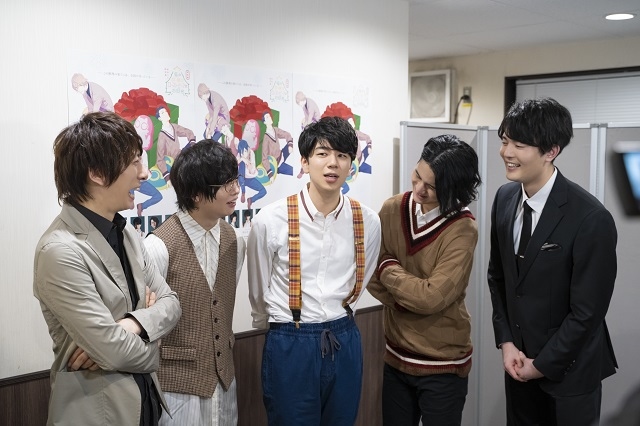 Q: What were your impressions, Nishiyama-san?
Nishiyama: Both sessions were held on the same day, but it felt like the day and evening sessions were quite different in tone. This was because after the day session, during the break we discussed changes we wanted to make based on the audience's reactions. I think it was a day of utmost concentration for all of us.
Komada: Like Koutaro-kun said, the audience reactions between the day and evening sessions would make you think they were different shows. All of the cast members made things more entertaining, and it was a lot of fun.
I was participating as the series' first guest, so I was really excited about that already. During rehearsal, I absorbed as much as I could of the four characters they'd been developing all this time, and went into the performance wanting to simply enjoy the atmosphere.
The gap formed from the powered-up characters is hilarious!
Q: In the after-talk, you talked about how this event was the culmination of what came before it. Regarding what you have in common with the characters you play, has anything changed since your first impression of them?
Saito: I don't think I have anything (in common). *laughs*
Nishiyama: My first impression of Aoba was that he was the most cheerful and energetic of the four brothers. I also thought he'd be shy around people outside their family, but it turned out that he was unreserved towards Ogata-san in this reading theatre. I realized that he can treat everyone in the same cheerful way.
Komada: Just like you, right? You're a milder version. *laughs*
Takeuchi: We make new discoveries each time we act as them, so I think every character has gaps like that.
Saito: I think they got deeper with this performance, like their facial expressions that are contrary to their lines. Like how Shuu-nii never fails to find the camera when he poses. The camerawork was excellent too.
Hatano: Shuu had a lot of lines that were directed towards the audience, so I guess it seemed that way. *laughs*
Takeuchi: From this video footage, I think you'll understand what it means when we say "reading theatre isn't only about reading." 81 Produce should use this as teaching material in their training school!
All: *laughs*
Saito: Shiki also sang a lot more than usual.
Takeuchi: He was supposed to just be a karaoke enthusiast at first…
Hatano: It was like the technique of a wandering minstrel. Takeuchi-kun can sing about any theme.
Q: He had singing scenes with a variety of titles, right? I wondered if Shiki's songs had lyrics and composition behind them.
Takeuchi: This is embarrassing to talk about. *laughs*
Saito: You should say it!
Takeuchi: It's… Shiki's mental state *nervous*. I'd prefer to leave it to people's imagination, so I'm still not going to comment.
Saito: The fortunes are a matter of chance, after all. We don't know what we'll get until we pull them. On the other hand, that helped us grow.
Takeuchi: Indeed *laughs*. All of the characters have been powering up.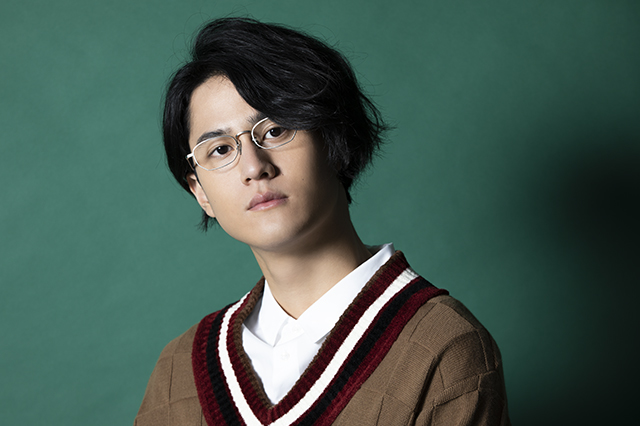 Saito: *immediately* Ayame was the same as always, though.
Hatano: He's definitely powering up!
Saito: It felt like the script gave him the "entertainer" position. I didn't expect there to be a red light overlaid on my face on the live camera… It shocked me again when I saw it in the footage *laughs*. Everyone broke character when it happened.
Hatano: That was something only you could do. *laughs*
Q: In the after-talk, Hatano-san said something along the lines of, "Did Shuu always like girls this much?"
Hatano: In the very first recording, I emphasized the character's personality strongly, but was directed to keep him as an elegant young man, so that he wouldn't come across as a philanderer. I've been maintaining that since then, but this time, the script made it seem like his pent-up thoughts exploded. So, I boldly went all-in.
But no matter what we saw of him here, that was only one side of his character. He has various sides to him, like how he cares for his brothers. It's just that this performance made it clear that he loves girls more than he loves food. *laughs*
Saito: There was the part about green peppers too.
Hatano: "Girl pepper" was Aoba's line.
Nishiyama: It was completely as written in the script.
Q: I see! I thought it was an ad lib. I'd like to compare with the script to see how much of it was ad-libbed.
Hatano: The part where I suddenly got excited about urban legends was completely my own ad lib. *laughs*
Komada: We naturally poked fun at it during the commentary, but Hatano-san was intent on expressing his love for urban legends. He went a long time without looking at the script.
Nishiyama: It was entertaining because it was purely ad-libbed.
Q: For the series' first guest, Komada-san, what was your first impression of your character, and do you have anything in common with him?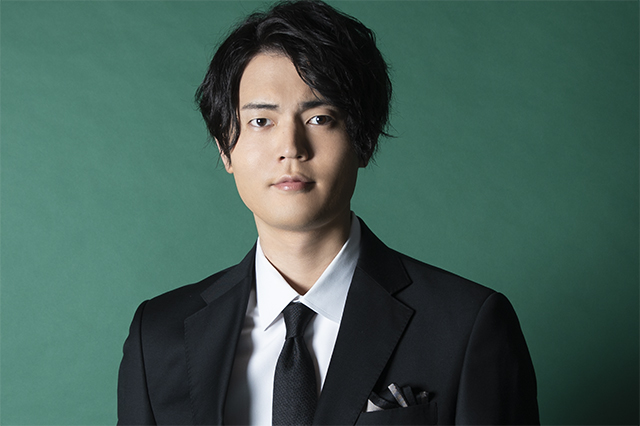 Komada: My role was split into Kouichi and Kouji, who are complete opposites. Kouichi is calm and open-hearted, the type you'd expect to live in the western-style house that the story took place in. Meanwhile, Kouji is oppressive. Even though it was a dual role, it wasn't particularly difficult to work with emotion-wise. Although, speaking in a mild tone followed by a sudden loud outburst was such a contrast that I'd have to hold back my laughter each time. I think it would've made the audience chuckle too, but personally… my attitude wasn't as rough as Kouji nor as mild as Kouichi, so I was like a third person that was an average of the two.
All: *laughs*
Nishiyama: A third person that grew up watching Kouichi and Kouji, right?
Komada: Having both power and gentleness… That makes it sound like a good thing. Well, let's leave it at that. *laughs*
Since it's a video, the silent scenes are noteworthy too!
Q: You talked about the good camerawork as well. Unlike recordings for anime and whatnot where you stand in front of the mic, this reading theatre was like a stage play with visuals and props. What were your personal highlights, or things that can only be enjoyed because of the visuals?
Nishiyama: Everyone was aware that they could be seen at any moment, so I think it'd be interesting to observe our facial expressions. It was really neat how the footage switched between all of the different cameras showing us.
Komada: Since it's a reading theatre, we naturally acted out the core lines faithfully, and mixed in some small, fun deviations in the non-important parts. Since there was a live camera, it was a unique reading theatre with many scenes that would make the viewers laugh unexpectedly. I think being able to enjoy that is the best thing about this BD/DVD release.
Saito: We were acting without being able to see what kind of footage was being shown to the audience, so when I watched the footage for this disc release, it made me want to draw attention to the silent parts, too. Since this reading theatre had movement involved, we were able to create "entertainment between the lines," so the parts without dialogue actually seemed funnier. Komada-san in particular made great facial expressions this time… They really were wonderful. *laughs*
Takeuchi: Komada-san's face was always there during the close-ups.
Hatano: Koutaro's close-ups were also nice… and funny. *laughs*
Nishiyama: It didn't feel like there were that many during the first half (which I commentated)…
Komada: No, there was definitely at least one *laughs*. It wasn't just the two of us, though.
Nishiyama: Yeah, everyone was great! Koma-chan was good at finding the camera. He looked straight at it, as if he knew it was going to be released on disc. A lot of the things I didn't know at the time because of the wide stage became clear thanks to this release.
Hatano: Everyone was competing with ad libs, so even the parts I did know greatly exceeded my expectations. The cameramen captured great moments, like when we weren't speaking and turned to the side to hold back our laughter. Even though it's in video form, it feels like you're watching it live.
Hatano-san, the senpai who breaks through the sense of security with ad libs, and Takeuchi-san, totally the cute, spoiled youngest sibling♪
Q: By the way, was there anything you noticed about each other due to being senpais and kouhais at the same agency?
Saito: We were all friends to begin with, but when we're on stage, it's not about senpais/kouhais or being from the same agency—we're all equal as "actors." I always genuinely think, "Wow, they're really good."
For example, Hatano-san has an unwavering sense of stability, and even when the rest of us go off-track with ad libs, he'll always bring us back to the main story. Or so we thought, but then he took the initiative to force ad libs in, making the rest of us go "Oh, fine!" "We'll do it too, then."
Takeuchi: It was like we were given the green light. *laughs*
Komada: Among all the chatter, in the end Hatano-san was enjoying himself the most. He also added things without telling us, making us laugh too. *laughs*
Nishiyama: He came out of nowhere. Despite that, Hatano-san's presence kept the scene together. If he weren't there, we'd get even more off-track, so I think he showed us the "logic" of acting.
Saito: On the other hand, Shun-chan laughed too much *laughs*. If you look closely, he's hiding his laughter behind his hair.
Takeuchi: I really want people to watch the footage *laughs*. I couldn't hold back my laughter, so I was trying to minimize risk and ended up looking down at my script the whole time.
Saito: That makes you like the youngest sibling; it's cute.
Hatano: Right, when we see Takeuchi-kun during recordings, he seems like this cool, mighty character with a deep voice, but in this series he has the innocence of the youngest child. Seeing him suddenly smile brightly makes my chest tighten.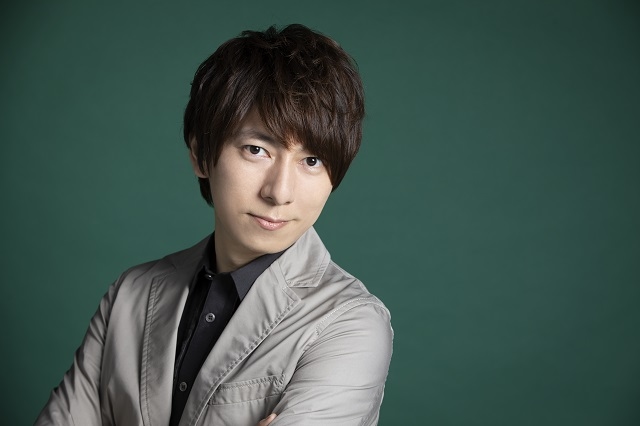 Nishiyama: In a way, it's like his age is showing, and it feels like everyone's doting on him.
Komada: Rather than the cool aura he gives off during work—please write "in a super low voice" here and make it bold—it constantly felt like he was approaching me like "(in a super low voice) Komada-saaan!" and I thought something like that was only possible because of this particular work.
All of us are from the same agency, we see each other regularly at various jobs, and we've known each other for a long time too, so we can relax around each other.
We also spent time making suggestions (including ad libs), and on the day of the show, rather than "It's time for the real show!", it felt more like "We finally get to do this." I think Takeuchi showed that kind of cuteness.
What did the cast think was great about Saito-san, Komada-san, and Nishiyama-san?
Takeuchi: But when it comes to cuteness, it has to be Ayame…
Saito: …*peers at Takeuchi-san* Do you really think so? Look into my eyes and say that without hiding behind your bangs. *laughs*
Takeuchi: *laughs* Ayame really was amazing this time! Even during the picture drama recordings, Ayame's always opening new doors. In response to that, Soma-san always "opens the doors for real," not halfway.
Saito: Ayame was originally more normal, and had the impression of the second son that balances everyone out. Why did he end up like this? *laughs*
All: *laughs*
Takeuchi: But since you open the door all the way, it became convincing. The script was amazing too.
Saito: Yeah, I was generally acting according to the script.
Komada: Soma and I debuted around the same time and I know him well, so when I see the way he interposes lines during funny scenes and presents himself to the camera, I think "Well done." *laughs*
Nishiyama: Soma made me laugh just from the picture. I think he also has the power to move us back on track when the conversation gets derailed.
Hatano: Honestly, starting from the rehearsal I thought each and every one of them was amazing. When I got the script, I initially imagined the stage and how it'd go, but when we actually did it, it greatly exceeded my expectations. And our guest, Komada-kun was excellent too.
Takeuchi: He has a sharp mind and a sense of humour.
Saito: During the evening session, Kouji evaluated the brothers' costumes and adjusted them one-by-one, and that was all Koma-chan's ad-libbing. The four of us did our own ad lib comments, and it was amazing how nothing missed its mark. It would've been impossible without considerable determination beforehand. I thought, "This guy's amazing!"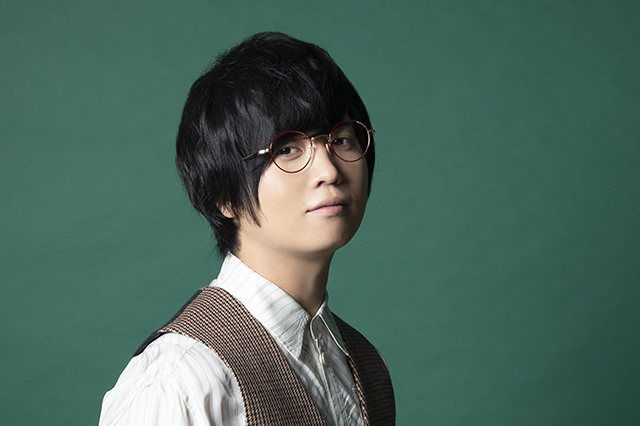 Komada: I suggested it after the day session. Since the four of them were posing, I figured the audience would want to see more of it, and I did too. Plus, it's hard to put on the costume on stage without a mirror, so I thought I could straighten out their costumes while everyone else was enjoying their poses. Even though I suggested it, I didn't actually think about what I was going to say, so I gave my honest impressions on the spot. *laughs*
Nishiyama: You did it so well; it was hilarious. *laughs*
Komada: That was my highlight of the day. The "Well done, Komada!" scene.
Hatano: It was incredible! Koutaro was crazy, too. I wondered what was going on with his mental state.
Takeuchi: My personal highlight was Nishiyama-san's bow during the curtain call. Normally you have your hands at your sides when you bow, but Nishiyama-san alone had them in front, like he was reaching down.
All: *laughs*
Hatano: It turned into a diving posture. *laughs*
Takeuchi: It looks like the start of a match, so we'll need the judges to take a look at it.
Hatano: With instant replay.
Saito: In slow-motion.
Komada: I think he did it on purpose. *laughs*
Nishiyama: I wasn't! It'd be insane to do that on purpose by myself. *laughs*
Takeuchi: Nishiyama Koutaro-san really is different. He's a genius. I don't think I'm the only one who thought that, so please chime in. *laughs*
Komada: His bow was just one example of how it feels like he claims things for himself.
Saito: I think it happened because he wanted to make people smile. The video footage tells it all, so please pay attention to Nishiyama-san.
Nishiyama: *laughs* I don't mind at all if you watch me!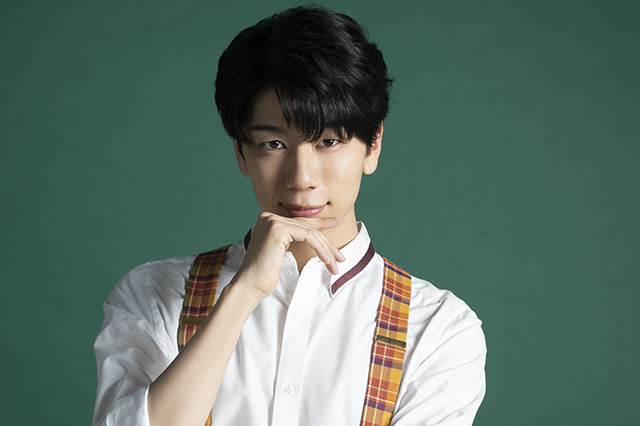 The setting for the next show…?
Q: This is something you'll have to check in the footage. So, the next reading theatre is planned for autumn. Are there any situations you'd like to try, or things you want to challenge?
Hatano: Autumn has a lot of possibilities, huh?
Takeuchi: It's said that autumn is the best season for reading, too. When you think of autumn, you think of the arts, and when you think of the arts, you think of singing…
Saito: Can we make mascots again like we did for the first show? Then again, a monster was created back then.
Nishiyama: What about the food? We've had onigiri and roast beef, so for a taste of autumn, how about fruit?
Komada: That's good, and baked sweet potatoes. We'll have a veteran from 81 Produce sing the baked sweet potato song, like Genda (Tessyo)-san, and it'll be like "You can't pass by the food cart without stopping!"
Q: That sounds like it'd become an amazing reading theatre. *laughs*
Nishiyama: The original concept we heard for this series was that it was seeking to be bright and fun. Omikuji Yon Kyoudai is something that's comforting no matter when you watch it, so I want to continue having fun with it.
Hatano: Indeed.
Takeuchi: Oh, how about another set of four brothers?
Saito: Themed after cards, like diamond, spade, et cetera?
Hatano: They come from America, and the oldest son is Genda Tessyo-san.
Saito: That sounds interesting. "YOU guys call yourself the fortune BROTHERS, but you don't pull fortunes very often, huh? HAHA"
All: *laughs*
Back to the original intent, and look forward to Omikuji Yon Kyoudai's future developments!
Q: I'm excited to see how much of this gets implemented *laughs*. Lastly, please give a message for the fans looking forward to the BD/DVD.
Komada: Since it's the first disc release, the selling point is that if you wanted to see it again or couldn't come on that day: "Don't worry. Everything is shown." *laughs*
The making-of also shows a little bit of our planning before the show, so you can get a candid view of how it was put together.
Omikuji Yon Kyoudai is bound to keep doing new things, so I really hope I'll have the opportunity to participate again.
Please enjoy the BD/DVD from various perspectives!
Nishiyama: This is the first time our reading theatre is being released on BD/DVD, so those who came to the event will be able to see it more thoroughly, and those who couldn't make it can expand on their enjoyment of the picture dramas.
This time, we had Koma-chan as a powerful helper, and I think we were able to put on a bright, fun show. I hope we can act with Koma-chan again, so please watch the BD/DVD a lot and show your support.
Takeuchi: Please enjoy the audio commentary on the BD/DVD too.
Also, Omikuji Yon Kyoudai began with the voiced fortunes on the website, so I'll be happy if this reading theatre encourages everyone to pull their daily fortunes again.
"Don't forget your initial intent." I want to continue trying to create those opportunities.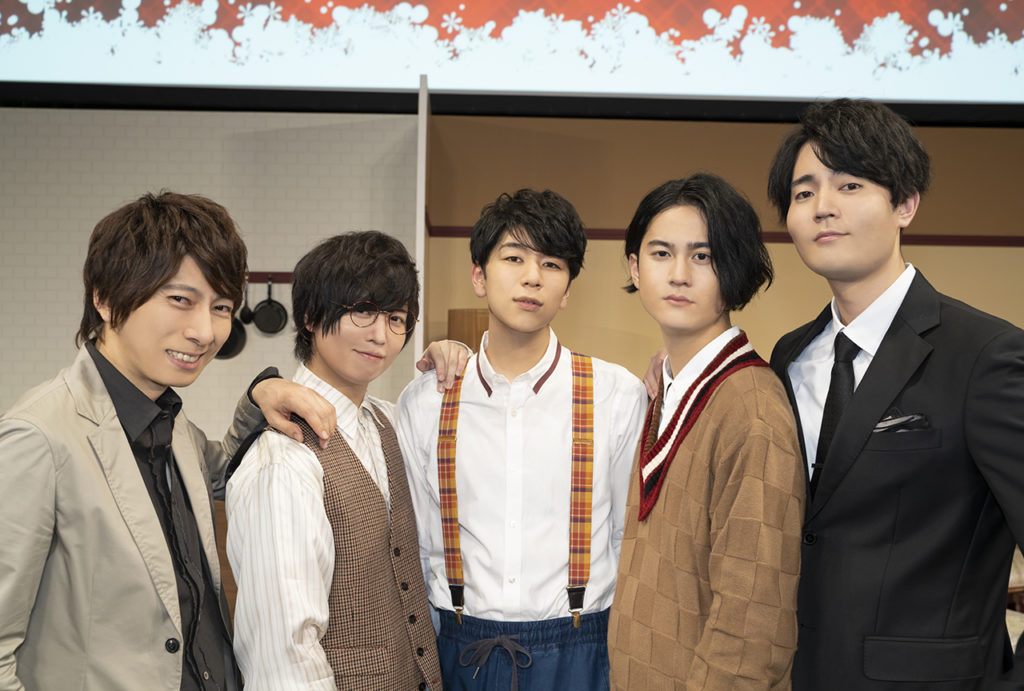 Saito: Indeed. I'd forgotten because this time we were making roast beef and having a Christmas party. *laughs*
This series has gone on for about four years, and it's uncommon to have the chance to voice a single series or character for so long. I hope we can continue doing this forever at a relaxed pace.
This time we had Komada-kun too, and despite all that was said, the four of us were able to let loose (in an extremely good way) and have fun while putting all our effort into the show.
Thankfully, the next show is already confirmed, although there are still things we don't know, like what it'll be about and what Omikuji Yon Kyoudai's next developments will be.
It's probably going to be an autumn full of laughs, huh…?
All: *laughs*
Hatano: It might be ultra serious for all we know. *laughs*
Saito: That's possible. You don't know what fortune you'll get until you draw it, so I hope we get a "very lucky" story.
Please continue to support Omikuji Yon Kyoudai!
Hatano: Omikuji Yon Kyoudai began as voice content that was enjoyed through the website. When we had our first reading theatre, Omikuji Yon Kyoudai: Haru wa Omusubi!, I thought "This might be the first and last time," but thanks to each and every one of the audience's support, we were able to perform again, which I'm thankful for.
This series teaches me how it's important to do your very best every time. There's entertainment that can only be created during those instants, and I hope we can continue to work together creating that.
Please look forward to the BD/DVD and the next reading theatre!
※This interview was conducted before the COVID-19 state of emergency was declared.