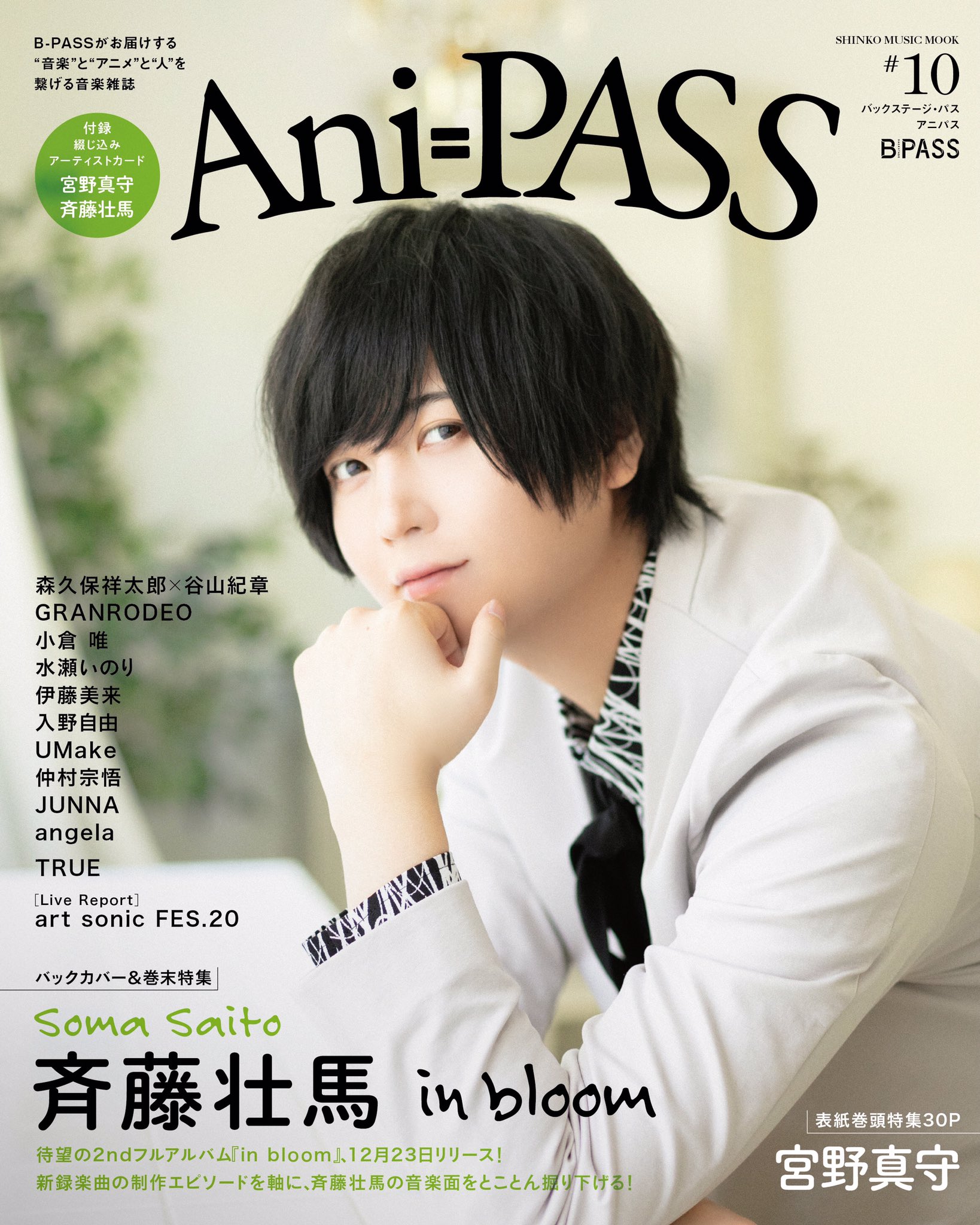 Released: 2020/12/9
Soma was on the back cover and had a stunning 21-page feature. There is also a laminated artist card inside, as well a postcard that came with purchases from Animate.
※Since this is still a recent release, I will not be providing scans. The magazine is in stock on Amazon Japan.
---
I decided to stop following physical restrictions and personal rules
Q: Two years from quantum stranger, your long-awaited second full album in bloom is finally being released. Last year in December, you released the mini-album my blue vacation. Every December, Santa Soma delivers a present in the form of an album. *laughs*
Ahaha, you're right *laughs*. My releases often end up being in June and December. After my blue vacation, I was vaguely planning a full album next, but while I was preparing a single for my third anniversary in June, the world fell into a pandemic, making it so that I couldn't release a physical CD. In the end, I was able to release the tracks "Petrichor," "Summerholic!", and "Palette" (which are also on in bloom) as a series of digital singles starting in June. And then my album would be released in December. The releases have gone mostly as planned, which is a relief.
Q: It's true that this year has been irregular in every way for the entertainment industry.
It really has been. But for me, there was a positive outcome in that I realized the advantage of digital singles. Normally, my albums always end up being released in December. That makes it really hard to include new songs that are based in the middle of summer. But through digital singles, I was able to link the songs to the seasons and release "Summerholic!" in summer. It's really good that I was able to do that, since the digital single series was themed around seasons. For us creators, it's more constructive to think about what we can do based on the current circumstances. Especially in this troubling time, I was able to proactively work on my music.
Q: You were proactive during the stay-home period too, right?
Yes. I bought a new computer for making music, as well as various tools.
Q: You composed and wrote lyrics for all of the songs on in bloom. Come to think of it, during the release interview for my blue vacation, you said that your demos evolved from singing to your own accompaniment to programmed tracks with an iPad and GarageBand.
Yes. And now they've evolved even further, to a computer and "Logic Pro"! *laughs*
Q: Finally, the addition of a true DAW (digital audio workstation)!
Indeed. Now I can express my ideas more clearly at the demo stage…and way more of my songs get scrapped now *strained laugh*. I have the production team listen to my idea sketches more often now, which means that there are more fragments that get rejected. But in that sense, it means that we're working more like a band this time.
Q: Is there anything else that changed about your creation process?
One thing would be that I decided to stop following physical restrictions and personal rules. Before when writing lyrics, I had a personal restriction on myself to not use vocabulary that I already used in another song. But I decided to remove that restriction and not be afraid to use what I felt was most appropriate for each situation. But on the other hand, this resulted in "a restriction of not setting restrictions," or "a rule to not follow rules," which made things much more difficult up until halfway through production, especially when it came to writing lyrics. *strained laugh*
I was glad that I was able to write a standard guitar band song
Q: Which was the most difficult?
"Schrödinger Girl," perhaps. I'm releasing eight new songs this time, and in April, I posted a video of a work-in-progress on Twitter and said, "I'm working on this new song right now!" Since the chord progression was based on Swedish pop, I gave it the tentative title of "Hokuou" (Scandinavia)… but I really could not come up with any lyrics for it *strained laugh* so I put it off for quite a while. The melody ended up having the dry feel of a band in winter, so I think it matches the season. This song was actually a candidate for the lead song until "carpool" was made.
Q: Really?
This time, I mulled over what to use as the lead song up until the very end. At first it was between "Schrödinger Girl" and a song that wasn't included on this album, but neither of them felt quite right. I wanted the lead song to be a bit dark, something like Spitz or ART-SCHOOL, with a composition you'd see from a traditional Japanese band. I spent about a week thinking of new songs every night, when the melody of "carpool's" chorus popped into my head. It's an orthodox chord progression that I like. I quickly sent it over to the producer Kuroda-san and the arranger Saku-san. Saku-san replied with, "I can feel that this is going to be a masterpiece," and we went through with it… The next day, I finished the song in a flash, lyrics included. It's a really good song, if I do say so myself *laughs*. A lot of the songs that Saito Soma writes are niche. I intentionally hadn't written songs that immediately grow on you like this one does, so I was glad that I was able to write a standard guitar band song.
Q: As with your other songs, "carpool" really feels like it tells a story.
I'm always happy that my listeners each visualize their own scenery, but personally, the keyword "carpool" makes me think of adolescence. Like The Notebook by Ágota Kristóf.
To the boy, his "bad friend" was like another version of himself. But that bad friend died in the sea, and after that, the boy felt like he was living out of sheer habit. Then, after growing up into a young man, he drove to the sea where his bad friend passed away. The driver's seat used to be "your exclusive seat," but now it's "my exclusive seat." And it ends with "I'll catch up soon, so wait for me there."
Q: The line that goes "You're calling out to me from between the waves" is both nostalgic and profound.
Indeed *strained laugh*. That said, this is ultimately only my interpretation, so please don't restrict yourself to it when you listen to the song.
Q: The song really is like a short film. Do you have a favourite line?
"I never wanted to know what lies beyond the sea's horizon." I think I wrote a really good lyric there. Kuroda-san was with us when the song was being mixed down, and when I tried to talk to him, he was so moved by that phrase that he shed tears. *laughs*
Q: It must've resonated with him. The MV takes place on a coast too.
Yes. It was filmed at the coast near Helena International Hotel in Fukushima Prefecture, where King Gnu-san's "Hakujitsu" was filmed. I wanted to have a cut where I walked along the shore, just like in the lyrics, but it was right after a typhoon, so the sea was too stormy. It resulted in good footage though, so that was nice *laughs*. I feel bad singing my own praises, but it's the first time in a while that I wrote a song that I'm completely satisfied with.
Q: In terms of being like a film, "Kitchen" feels more like a cut from everyday life than a story.
I struggled the least with that song's lyrics *laughs*. Also, it wouldn't have existed if it weren't for the stay-home period. I've cooked for myself before, but I took this opportunity to get back into it and I bought a lot of appliances. I like casually drinking alcohol in my kitchen while making snacks to go along with it. One of the themes of this album is "delusions," and this song is a fleshed out "kitchen drinker" delusion from my own experience.
Q: The chic bossa nova arrangement feels fresh too.
The song itself is from the hobby band I was in when I was a student, although the lyrics were written anew. The guitar chords are also my unique chords—they're strange ones that take a long time to explain how to play. Also worthy of mention is that the rhythm section is made up of kitchen utensil sounds. I created sounds during the stay-home period and Saku-san sampled sounds from things like ladles. The snipping sound is from scissors, and there's also the sound of a coffee grinder. It's a playful toy pop song, and when you listen closely to the lyrics, it makes you think there must be something wrong with the protagonist's head, which is fun too. *laughs*
Q: The unique vocal work that feels like it's wafting in the air is lovely too. It's perfect for the bossa nova atmosphere.
I often used to ask the engineers and technicians I met through work, "How does live singing differ from recorded singing?" I was told that I tend to be too loud in front of the mic. I was also taught that singing more softly would make the low harmonics resound more richly. So, I tried to sing softly for "Kitchen." All of the vocals are double-tracked and I sung in an extremely relaxed way to get that floaty feeling.
Q: You didn't establish rules for singing style either.
Right. So it was done quickly, probably in about five takes. We recorded "Canary" on the same day, but that one only took around two takes.
Q: That's fast! "Canary" has a simple accompaniment centered around the acoustic guitar, and the swaying vocals are quite impressive.
I wanted to make the song feel ambiguous, and the lyrics have that kind of setting too. Up until now, I've enjoyed singing over and over again to achieve higher accuracy, but for this song, if my pitch wavered, I left it like that. I wanted it to be a bit distorted. Personally, I wanted to do whispery vocals like Elliott Smith.
The chord progression goes Em7, D, C. Everyone likes this kind of progression, right? I love it! It's a simple composition.
Uchida Kirin-san, who also played the cello for "Rutsubo," provided a beautiful, emotional solo. It stood out a lot against the stillness in the rest of the song.
Q: The lyrics are also a bit distorted. It feels like you're drifting through an imaginary dream world.
A lot of the songs on in bloom blur the boundary between dream and reality, or delusion and reality.
Q: As with "carpool," "Canary" also ends with unsettling words: "poison" and "I lose my senses."
Indeed *strained laugh*. Actually, there's a song that didn't make it onto this album called "Rakuen" (Paradise), which I wanted to use as the last track. "Rakuen" is also about limbo—a place where people go when they leave this world that isn't heaven. The song says that it's the final paradise; the garden of beginning and end. I'm sorry for talking about a song you can't listen to yet, but I think that that "interspace" feeling is present in all of the songs.
Q: The threshold between life and death, fantasy and reality… in bloom's songs do have those themes. When I listened to this album, I thought, "Saito Soma's gone all out!" *laughs* How does Saito Soma arrive at these songs?
Hmm… I think it has to be because I'm twisted in some way *laughs*. I find myself drawn to things with a sense of loneliness, though this doesn't apply to everything, of course. So even though my stance of "not including personal messages in my music" hasn't changed, I think the number of introspective songs has increased.
Q: You've always liked shoegazing music, which is characterized as introspective and floating, right? Since your heart and mind are free from restrictions now, it feels like you've dug deep into your true nature.
I really wanted to make "Isana" a shoegazing song. "Isana" is an ancient word for "whale," and I included a guitar choke in the intro of the demo that sounded just like a foghorn or a whale's cry. That's where the whale motif came from, and I decided to sing about a Spaceship Earth-esque world view. So, I think the scope of the song is wider than my previous albums. It's also spiritual.
Q: Whales are mystical creatures, right?
Indeed. I don't know why, but they seem very sci-fi. And to me, they feel nostalgic. My mother is from a place that's famous for whales, so I was very familiar with the word "isana." And when my grandfather was driving, he'd talk about what happens to whales that stray into the harbour. Whales bring back fond memories for me. The "you" I sing about in this song could be a whale, or it could be something more cosmic… The song is also about the people in each of the in bloom songs. I think this song can be experienced in many ways.
Q: Since the album title is written in hiragana in "Isana's" lyrics, it did feel like it was depicting a vaster world. And sound-wise, the arrangement was done by The Florist, a well-known artist in the Japanese shoegazing world.
Yes, it was Kuroda-san who introduced me to The Florist-san. My song "Kesshou Sekai" also had strong shoegazing elements, but it was still closer to guitar rock. For "Isana," rather than going for a thundering sound, the arrangement used a thick reverb to create a wall of sound. There are also elaborate details in the sound. They also slowed the BPM quite a bit from the demo I first created, and said, "We might as well take it past 8 minutes!" *laughs* It's long as far as pop music goes, but well, the Beatles's "Hey Jude" is over 7 minutes too *laughs*. I hope that those who don't usually listen to shoegazing music will find it a pleasant song and see what I was aiming for.
Rain fell upon the world that once ended, leading to the sprouting of new life in "in bloom"
Q: in bloom has a lot of reverb-heavy songs in general, right?
Yes. Saku-san said so too: "There's reverb on basically everything this time!" *laughs* There's also frequent use of chorus for spatial effect. "Schrödinger Girl" has chorus all the way through.
Q: It gives off an organic feel, though.
I think it's because instead of trying to match the BPM exactly, I aimed to give it "fluctuation." It also used a lot of live, unedited instruments. The only tracks that were fully digital were "Vampire Weekend" and "BOOKMARK." Oh, but we had live guitar for both of those as well.
Q: "Vampire Weekend" is a light funk song. It gives off an urban scent.
I boldly used an existing band's name for the title *laughs*. This song implements a strange structure in a different way from "Kitchen." I made the demo on my iPad with GarageBand, trying the feature that lets you create a song by looping a resource. It's a Western-style idea of repeating the same chords while changing the melody and creating a groove.
Q: Where did the vampire motif come from?
I was reading a book and it said something along the lines of "living like a vampire." Vampires' true nature may deviate from the norm, but instead of denying that they're deviants, they pose as humans while possessing their own traits. It's a form of life hack. I was inspired by that and made the protagonist a "vampire" who has an abnormal mentality of not being satisfied with their normal self. In accordance to that, the song's structure is abnormal too *laughs*. I asked ESME MORI-san, who I worked with in Hypnosis Mic, to handle the arrangement. The guitar is by Morishii-san from Awesome City Club, which ESME MORI-san also provides music for.
Q: The vocals are sexy, too.
I made the lyrics more mature to match the arrangement. My favourite word in them is "damashiai saretai." It takes "damashiai" (which means to deceive each other) and replaces the "ai" (each other) with "ai" (love). These five syllables "da-ma-shi-a-i" are layered with a whispering voice, and I hope you enjoy the "o-mo-te-na-shi" feeling it gives off *laughs*. I think it's a danceable song, so the beat feels really nice when you turn up the volume.
(TL note: "o-mo-te-na-shi" refers to a presentation given by Takigawa Christel to the IOC when Japan was bidding for the Olympics. She used "omotenashi" (hospitality) as a key word and stressed each syllable individually, which left a big impression on Japanese people—who proceeded to do the same thing on social media with other five-syllable words.)
Q: The other digital track is "BOOKMARK." What can you tell us about "J-san" who performed the rapping?
J-san is my friend. He's not a professional musician, but he's always been good at rapping and he writes music too. He wanted to try writing a song based on a guitar loop, so we made the track together. I already had the basis for the song itself from back when I wrote "Petrichor," and when I passed it to J-san to do the arrangement, it came back to me with programming and rapping included *laughs*. It sounded really cool, so I asked the record label to include it on this album.
If you listen closely, you can hear the sound of pages flipping in a book, which relates to the "BOOKMARK" title.
Q: So that's why there's the sound of turning pages. It's a stylish presentation. Are the lyrics about a protagonist who's drinking alcohol?
Yes. It's rare for me to be so direct, right? *laughs* This song is about a student who stayed up until 4 a.m. and is reminiscing about his youth. It's about a once-real dream that is now a memory of the past.
Q: This song brings back authors' names with the line "Kafka, Pelevin, Dick, Vonnegut." The choices seem a bit student-like too. *laughs*
(Victor) Pelevin is the only one of these that's still alive, though *laughs*. (Philip K.) Dick and (Kurt) Vonnegut were named because I remembered when J-san asked me for sci-fi novel recommendations, I said he should start with Dick and Vonnegut. That was what led to us becoming good friends.
These lyrics feel like a pair of drunk students having a pointless, immature debate. Like, "Was Dazai writing his stories seriously or abstractly?" *laughs* J-san and I wrote the lyrics together, and I think mine were a bit more nonsensical. I figured that since it's students singing, I should tone down the rap part because they'd be too embarrassed to go all-out. It's an early-morning song about someone around 20 years old, who says "I've woken up from my dream!" but is actually thinking that he really doesn't want to wake up. *laughs*
Q: Perhaps that's why he wants to put a bookmark there—he never wants to forget that memory. Finally, the last track of in bloom is the new song "Saigo no Hanabi" (Last Fireworks).
This is sort of a song about birth. I was allowed to do whatever I wanted for in bloom, and that had its advantages, but I didn't really think any of the songs were catchy and easy to familiarize with on the first listen. This kind of contradicts what I was talking about earlier, but I wrote a j-pop style song with "happy end" imagery.
…That said, it takes some sharp turns, so you'll be thinking it's pop music when suddenly it shifts to rock. That non-straightforwardness is fitting for the end of this album, and I think I was able to write an interesting song.
Q: The lyrics are about fireworks even though it's winter.
Yes. It seems impossible at first, but there actually are sparklers designed for use in winter. That's really lyrical in itself. The person in this song is mostly likely setting off winter fireworks by themselves. So, they're probably pretty eccentric. *strained laugh*
Q: A lot of the in bloom protagonists are people you can't lower your guard around. *strained laugh*
The line "If a meteorite were to come down today" is conspiratorial…or rather, it's an absurd thought, right? But that doesn't mean there's a zero percent chance of it actually happening. The line "The last fireworks fall in the winter sky" is made up of everyday words, and yet it feels out of place. The things that this person is saying and thinking could all be delusions, but there's also the possibility that today really is the end of the world. Nothing is happening on a global level, but his personal world could be ending—it's the scope of his thoughts. But since the ending goes, "Look, they're lighting up again," I hope that'll ease your concerns *laughs*. It's rare for me to include a message—and this isn't really to the point of being a "message"—but I hope my feelings of, "Thank you for letting me release this album; I promise there's more to come" will get across.
Q: Saito Soma's world of music is unending.
Yes *laughs*. The title in bloom also has a strong nuance of "this is a good period of time" rather than flowers blooming. Up until my blue vacation, the world view was faded and decadent. In "Epilogue," rain fell, and the rain continued at the start of this year's "Petrichor." Rain fell upon the world that once ended, leading to the sprouting of new life in "in bloom". I hope you thoroughly enjoy this album.
---
Keyword Q&A
Q1. carpool – Where would you go on a drive? Tell us your recommended drive destination.
I'd like to see the autumn foliage, if there's a place where you can still do that in December. If not, then… I never thought this at all before, but recently I've been wanting to visit the remote islands of Okinawa. I want to drive in a quiet, deserted place with sprawling fields… but I don't have a driver's license, so if a big-wig listens to "carpool" or reads this article and starts a TV or YouTube program where I get my license, you might see "Saito Soma is taking action!" *laughs*
(TL note: This is a reference to a phrase "(name) is taking action" which was popularized online by an entertainer.)
Q2. Schrödinger Girl – Schrödinger is associated with cats. Which animal would you compare yourself to?
There are a lot of animal horoscopes on the internet, right? When I did one, it said I was a black panther. Is it a dog or a cat? It's called both, but I think it's more often designated as a cat. Personally, I'd like to be a jellyfish, just floating around. That's how I feel sometimes.
Q3. Kitchen – What's your favourite part of cooking?
Huh?! It's…obviously the eating part, right?! *laughs* If I have to pick a part of the actual cooking process, I think it'd be seasoning. When I get the seasoning just right, I think, "Yes!"
Also, while it's not strictly part of cooking, I used to hate washing the dishes—but since I cooked more often during the stay-home period, I started to enjoy optimizing cooking and washing at the same time, thinking of it as a game. I like it the most when the food's ready and everything's clean at the same time.
Q4. Canary "This poison is a bit lukewarm" – Do you eat piping hot things as they are, or do you let them cool first?
I really have a cat's tongue. I guess that's why I'm a black panther? *laughs* The skin on my fingers seems to be thin too, so I'm sensitive to hot things. I love piping hot foods like ramen, though… Maybe I'm the type that doesn't mind getting burnt. I want to eat delicious things in their best state.
Q5. Vampire Weekend – What kind of fantastical person would you want to become?
I would like to try being a vampire, but if I was going to become something… It's not really a fantastical person, but something like a silicon-based lifeform? Or a data lifeform that can't be confined to 3-D. Something that only exists on the net. I'm a sci-fi fan, after all.
Q6. BOOKMARK – What are your favourite types of alcohol or cocktails, and how do you like to drink them?
I often drink highballs at home. During the stay-home period, I bought a carbonated water maker because I wanted to make delicious highballs…but when it runs out of gas, you have to send it to the manufacturer for an exchange, and it's annoying so I haven't done it. Now I'm buying carbonated water from the store like a normal person *laughs*. If I'm not home, I like bottled beer in the winter. I like drinking it at diners and hole-in-the-wall Chinese restaurants. If they have Sapporo's "Red Star" beer (Sapporo Lager Beer), that's the best. It's good to choose the right alcohol to go with your food.
Q7. Isana "Like a long film" – What's your favourite feature-length film?
Stanley Kubrick's works, perhaps. A cliche pick would be 2001: A Space Odyssey. The one I want to watch right now is Eyes Wide Shut. The film itself is great, and there are also a lot of fascinating stories revolving around it. I haven't been able to watch many films lately, so I'd like to properly settle down and focus on watching some.
Q8. Saigo no Hanabi – Did you see fireworks this summer?
Fireworks, huh… I haven't seen them or set any off in a while. When I'm out, I might hear the sound of fireworks coming from somewhere and catch a small glimpse of them, but that's about it. So, I really want to try out the winter sparklers. Summer fireworks have their charm too, but I want to use the sparklers in the winter, when it seems like they can go out at any moment, while saying, "It sure is cold!" Since the winter air is crisp and clear, I'm sure they'll be beautiful. I'd also like to use fireworks in a place covered in snow, although it might not be possible in Tokyo. I wonder if we can film a "Saigo no Hanabi" MV up north. *laughs*
Q9. in bloom – What's your favourite flower?
Delicate flowers like violets are nice, but if I had to say, rather than lovely flowers, I prefer peculiar decorative plants like staghorn ferns, or bizarre ones like cacti and carnivorous plants. I often used to use cacti as a motif in lyrics, and the word comes up in "Reminiscence" too. Isn't that unusual appearance great? *laughs* I like looking at plants, so I might use in bloom as an opportunity to bring some into the house.
---
Behind the Scenes: Soma-san appeared in two styles for us, one with a long coat and one with a white jacket. The first part of the photo shoot had him holding flowers in a garden, while the second part was in a room with beautiful lighting. There were so many wonderful shots that we struggled until the last minute trying to decide which ones to use and where to put them. By the way, the flowers in the birdcage are themed around "Canary."
---
Bonus: Animate-exclusive postcard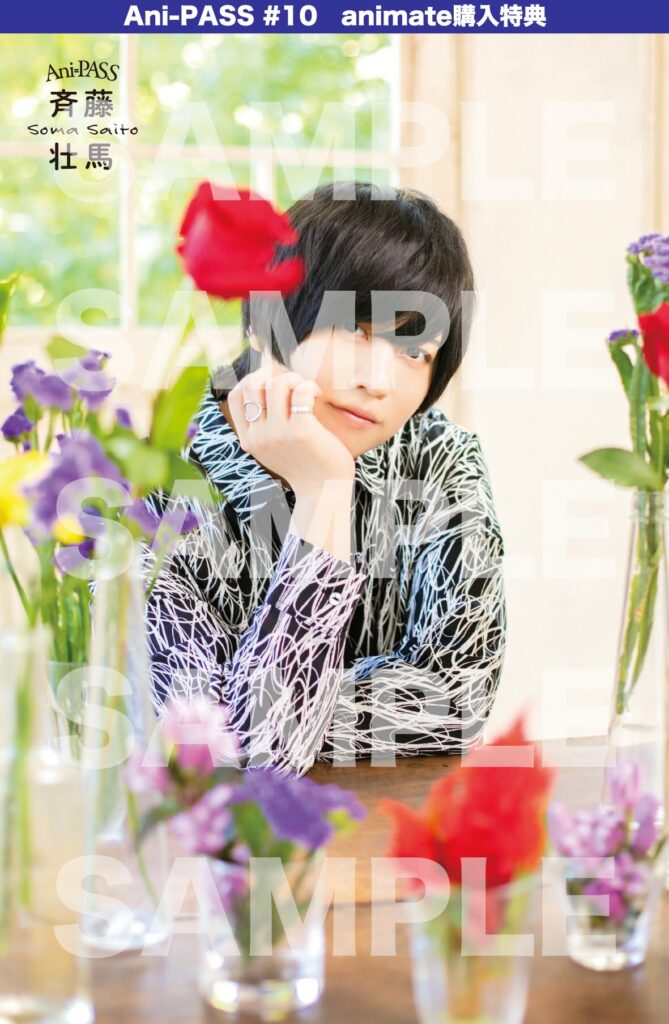 Bonus: Off-shots from Soma's stylist, Honda Yuuki
---
Extra