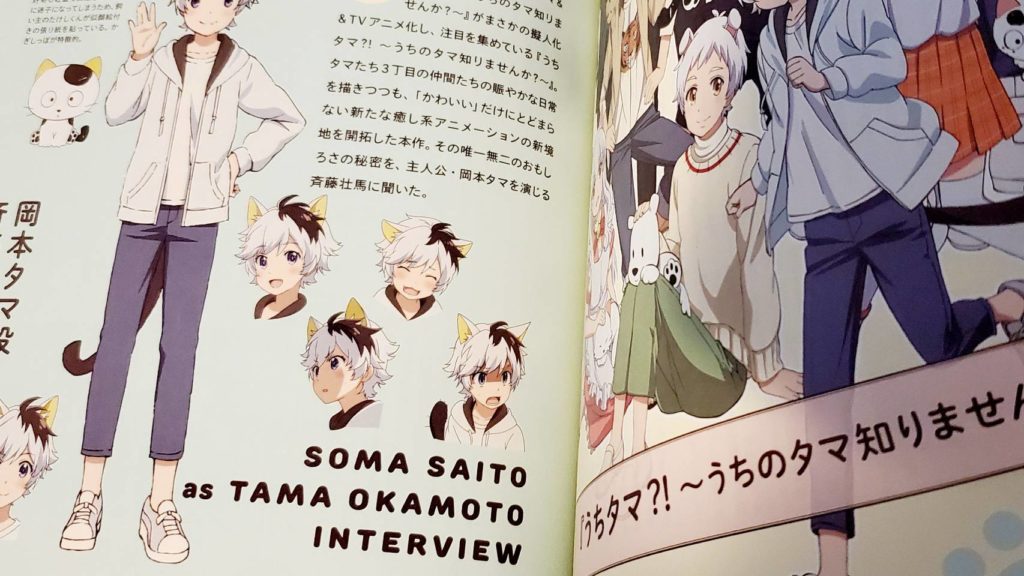 Released: 2020/2/25
Features:
Saito Soma (Tama in Uchitama?! ~Uchi no Tama Shirimasenka?~)
Mentioned:
Kurosawa Tomoyo (Koma in Uchitama?! ~Uchi no Tama Shirimasenka?~)
Hanazawa Kana (Momo in Uchitama?! ~Uchi no Tama Shirimasenka?~)
Uchida Yuma (Beh in Uchitama?! ~Uchi no Tama Shirimasenka?~)
Shirai Yusuke (Tora in Uchitama?! ~Uchi no Tama Shirimasenka?~)
Hatano Wataru (Gon in Uchitama?! ~Uchi no Tama Shirimasenka?~)
Ono Kensho (Pochi in Uchitama?! ~Uchi no Tama Shirimasenka?~)
Maeno Tomoaki (Bull in Uchitama?! ~Uchi no Tama Shirimasenka?~)
Yashiro Taku (Waka in Uchitama?! ~Uchi no Tama Shirimasenka?~)
Nanami Hiroki (Kai in Uchitama?! ~Uchi no Tama Shirimasenka?~)
---
Q: After voicing Okamoto Tama thus far, what do you feel is this anime's appeal?
When we were recording Episode 1, we were told, "The theme of this anime is 'bringing healing and relaxation.'" When I was taking the audition, I also had the impression that it was going to be a relaxing show about the daily lives of the cute characters from Tama & Friends. And of course, it does have that straightforward kind of healing, but it's more than just that. It also healing in the form of extremely wild scenarios that make you laugh in a way different from regular comedy. It has a wide range of appeals that don't fit in the peaceful slice-of-life genre.
Q: What did you take into consideration when voicing Tama?
I feel that a crucial aspect is how I depict him living by his cat-like instincts. What makes him catlike and cute is his lack of consistency, like how he suddenly leaps towards anything that catches his interest. I acted while considering what he would be feeling and thinking.
Q: Like how in Episode 1, he goes to a stranger's house and eats their food.
Episode 1 really made me feel, "He's in human form, but he's still a cat." As you mentioned, he'll trespass on someone's property and eat their food, or hear a sound and ditch Pochi. Those aspects are what make him catlike, and you can really feel that he's whimsical (in a good way). Since he's a cat, I naturally have to bring out traits that I don't possess, so it was fun to voice him.
Actually, the recording sessions themselves were a lot of fun. Everyone was really friendly, and it truly felt like "Third Street" there. Kurosawa-san was just like Koma with everyone doting on her, and Hanazawa-san was like an older sister watching over us. Yuma-kun and Shirai-kun were having fun too. Our camaraderie was there from the very first episode.
Q: You've worked with many of these voice actors before. Did you talk to them about the project beforehand?
If I ran into them at other recording sessions, then we'd of course acknowledge it. Hatano-san is my senpai from the same agency so he'd often talk to me about how it was going to be a struggle speaking Kansai dialect for his character. But, I think everyone talked more after the recordings began. We talked a lot about how Uchitama?! wasn't what we were expecting *laughs* but also that that was what made it really interesting. As the recording progressed, we'd talk about the past episodes we enjoyed.
Q: I'm sure the viewers also thought it betrayed their expectations in a good way.
Oftentimes when we read an anime script and think "This is clearly comedy," the voice director will actually ask us not to make it too comical. But for Uchitama?!, we were told at Episode 1 that it was okay to make it funny, and I think we were all just like, "Oh, okay." After that, in Episode 2 when Kuro and Gon were talking about breasts while Beh was playing tag with an otherworldly creature in the background, we realized, "Oh, it's this kind of show," and everyone had a lot more fun with it. *laughs*
Q: Indeed, Episode 2's "Peace" section was shocking.
Even the recording session became kind of incomprehensible *laughs*. First off, the amount of laughter during the test run wasn't something we normally see. Even though it's just a test run, people generally try not to make any noise besides the dialogue. But here, we'd burst out laughing.
Q: What kinds of things did you laugh at?
They explained to us that Kuro and Gon's conversation would be the main focus of the recording, and Beh's whole part would be recorded separately, so he should step back from the mic. Despite that, Yuma-kun stood proudly in front of the mic and started the test run with a super loud voice. We had no idea what was going on and burst out laughing. That carefreeness of his does resemble Beh. *laughs*
Q: It sounds like there were many instances of the cast challenging themselves to express their characteristics during the test runs.
The sound director, Koizumi Kisuke-san seemed to be enjoying it. Sound directors each have their own direction styles, and Kisuke-san is the type who first asks to show him how we want to do it. It's a lot of responsibility on us, but it gives us the opportunity to experiment. So, during Episode 1 it really felt like we were the ones creating it together. It was great. After the test run, Kisuke-san came into our booth and asks, "Hey uh, how much of that was serious?"
Q: Hahahaha.
We'd gone overboard with the ad-libbing, to the point where he couldn't tell how much of it we were actually planning to do in the real thing. Were we serious about it, or were we just experimenting with different approaches because it was the test run? No one knew anymore *laughs*. That added to the humour of the show, and the recording sessions were a lot of fun.
Q: It sounds like you were raising hands to volunteer to do the next ad lib.
The mood at the recording sessions was absolutely great, and I'm sure it's reflected in the anime's mood too. I wish we could show you what it was like somehow. Maybe they could release a blooper reel as a bonus CD, or we could do a dramalogue at an event.
Especially in Episode 1, that scene when Tama trespasses into someone's yard and eats their food and goes "Yummy!"–in the real recording I said it cutely, but during the test run it was completely in the realm of "There's something wrong with this guy" *laughs*. The rest of the cast actually liked it, but I surmised that it probably wasn't going to fly, and said it cutely instead *laughs*. ((Soma demonstrated what it sounded like during the January stream.))
Uchitama?! is full of serious-minded voice actors, so even though they play around during the test run, they usually perform their role properly for the real recording. That means there are a lot of takes that no one else has heard besides us. Personally, I wish we could show you that recording atmosphere in some way.
Q: It sounds like there were a lot of ad libs. What kinds of things did you add for Tama?
Actually, Tama doesn't have room for ad-libbing. If I play around too much with Tama's acting, it gets jumbled up with the other characters and the central axis moves out of place. So for Tama, instead of inserting ad libs, I make a point out of him "not thinking of himself as cute" and often shift my acting in that direction. I'll say things in an unexpectedly non-cute way, or follow the script but in a tone that probably isn't what the script intended. I want to create a gap where "his uncuteness is cute."
So, I use a lot of strange voices too. Not to the point of being a joke, but still within the range of being funny. I try to add elements that aren't purely one-sided to cuteness, but I don't do anything super crazy. In that sense, I'm jealous of Beh who has so much freedom to play around with. *laughs*
Q: Even though you can't play around too much with Tama, were there any scenes when you experienced Uchitama?!'s unique style through him?
The most memorable one was from the drama CD we recorded after doing Episode 1. It's going to be included with Volume 1 of the Blu-ray/DVD release, and the contents are just way out there.
For example, there's a scene about coughing up hairballs. On that day, I happened to run into the sound director when I stopped by the convenience store. I asked, "For today's hairball scene, you want it in a sort of stylized, cute way, right?" and he said "Yeah, that's right!" But, during the rehearsal I messed around with it anyway, voice actor's nature and all. I made a crazy sound like "Kaaa! Puh!" *laughs* No one said anything, but during the real recording when I did a clean, cute version instead, the staff said "Why didn't you do it the messy way you did before?" *laughs* I thought to myself, "Weren't you guys the ones who said to make it cute and uplifting?!" *laughs*
In the end, I had to redo it the way I did during the test run, and I had a premonition that perhaps Uchitama?! wasn't what I thought it was going to be. Sure enough, my suspicions were confirmed in Episode 2.
Q: I'm excited to hear what it ended up sounding like.
I think the anime will have aired up to Episode 7 by the time that volume is released, and if you've watched that far, you'll probably be able to accept it by then. But just know that I had to record that after only knowing Episode 1. I did it nervously, confused as to why it was okay *laughs*. Please listen to it.
Q: When people buy the volume, is there anything you'd like them to pay attention to when they watch the accompanying episodes again?
Uchitama?! has a lot of scenes where multiple conversations are going on at once. Beh's often in the background, and if you look carefully, sometimes he's doing something crazy, and sometimes he's not doing anything at all. Personally, I'd like you to pay attention to him. I feel a sort of horror aesthetic from him, and that's because Yuma-kun is superb. When Beh's staring at something, he'll suddenly bring out a voice that makes me wonder where on Earth he got it from. Maybe Yuma-kun is also secretly connected to an alternate dimension like Beh's bandage is…
Q: Hahahaha. Moving on, can you tell us about Tama's character song "Hidamari wo Sagashite" that you sung for the ED?
When I sung it, I wanted it to be an upbeat, relaxing song that conveys Tama's simple-minded cuteness. But this song was actually really hard! The range of notes was so wide. The verse was really low, but the chorus was really high. Plus, the key was originally even higher, but I said I couldn't reach that key in Tama's voice, so they lowered it for me. Consequently, the verse became too low, and I couldn't make it sound like Tama. This anime is great on the music side, but I think they demanded a lot from us. *laughs*
Q: Were there any other difficult songs?
The final episode has a song that we all sang together, and it was difficult to align the key because there were both male and female vocals. Also, considering the cast, it'd be impossible for the characters' voices to all match the key perfectly.
For example, if the character's voice was very low and the song went to a very high note, it'd be difficult to sing that part with emotion. In that sense, I think we all struggled to sing that song together. Please look forward to hearing it.
Q: It sounds like you faced several trials. What do you think you gained from participating in this series?
This time, both Ono Kensho-san and I are using voices much higher pitched than our natural voices. I'm the type that produces high tones by tightening my vocal cords, but Kensho-san's the reverse, producing Pochi's high pitched voice by relaxing his throat and using a technique resembling falsetto. I learned that his way of doing it sounded softer and really cute. When you tighten your vocal cords for high tones, it produces a sharp, strong sound, but if you relax them, it sounds cuter. So, I stole Kensho-san's voice acting skill for myself.
Also, Bull has a lot of scenes that said "ad-lib the rest," and Maeno-san's the type who can perfectly output what he's got. Not only that, but his ad-libbing even fits perfectly in the cut. There are many people in the cast who are extremely skilled in their approaches to their roles, so I'm constantly learning new things.
Q: It sounds like a great place to work. Still, learning about these different ways of producing high pitched voices makes me realize how amazing the professionals are.
When you speak in a low tone, there's a high overtone included at the same time, and you can skim that upper layer and make it ring out stronger. That was Kensho-san's approach, and seeing it was enlightening. But in the end, I thought the contrast between Tama's sharp voice and Pochi's soft voice was very fitting for their relationship.
Also, there were a lot of scenes with Tama and Pochi talking to each other, and the timing of Kensho-san's "Huh?" lines were so in sync with me that sometimes I lost track of who was talking. So, we usually didn't have to go through several retakes. It's not like we pre-planned it or anything either, so I could really feel the synergy between Tama and Pochi, which was great. By letting my voice out based on intuition rather than logical thinking, sometimes our timings would happen to match up, and I felt that was very much like Tama and Pochi themselves.
Q: I'm looking forward to seeing more great dialogues in the next episodes. Lastly, please give a message for everyone looking forward to the rest of Uchitama?!.
Uchitama?! will continue in this way… but, I expect more and more guest characters to visit. One of the great things about this series is that even though they can already come up with plenty of entertaining stories with the Third Street crew alone, we get to see even more expressions when the guest characters come in. So, please look forward to the guest collaborations in each episode. And before that, please make sure to watch Episode 8! *laughs* I think you'll find that Uchitama?! has the potential to be even more. Also, the style of the series means that it can continue for a second and third season, so please watch until the very last episode. I'm sure we'll be able to meet the Third Street residents again if you buy the home video releases, so please give us your support!
Soma's Favourite #1
From Episode 2: "Peace"
Story: One day, Kuro and Gon are lying on the river bank and reflecting on Third Street's peacefulness. Meanwhile, Beh is chasing a butterfly, and the bandage on his cheek peels off…

Soma's Comment: The scenarios in Episode 1 had a "wait and see" feeling to them; there were a few parts that were a bit tricky, but the content was relaxing. However, Episode 2 is where Uchitama?!'s true direction starts to become apparent. Beh's multidimensional game of tag is one of my favourite scenes!
"My Name is Bull"
Story: Bull has just moved to Third Street, and he's practicing his introduction so that the other animals will respect and fear him. Kuramochi-kun takes him out on a walk, and they go to Third Street's animal oasis: Cafe Tulip. There, he has a fateful encounter.

Soma's Comment: It was a very fitting scene for an insert song. Even though it was a comedic scene, it gave me a strange, almost heart-rending feeling. As a viewer, I wanted to feel sorry for poor Bull, but at the same time I wanted to laugh at the ridiculousness of the scene. The mixed emotions it created left an impression on me.
Soma's Favorite #2
From Episode 3: "The Weakest Guy on Third Street"
Story: One day, Kuro and Gon spot Pochi being glum in the park. When they ask what's wrong, he says that he's depressed because he couldn't show off in their tournament to see who the strongest animal on Third Street was. Gon tells Pochi about the legendary delinquent wolf.

Soma's Comment: Wasn't the Pochi episode adorable~? Kensho-san's always saying that "cuteness can be created," but when I asked how, he said "Determination! I have to believe that I am cute!" *laughs* In this episode, there's a scene where Pochi makes a very un-cute noise, and Kensho-san said he learned it by finding a "weird dog and cat noise compilation" on a video site. The result was superb, and I could really sense his professionalism.
Soma's Favorite #3
From Episode 6: "Battle of Dogs and Cats"
Story: The Third Street Crazy Cats are an intimidating force that keep the peace on Third Street. But one day, Bull falls to major injuries, and explains that their territory is being targeted by the Seventh Street Young Kings, led by Waka the husky.

Soma's Comment: First, I wondered why they suddenly broke out into rap *laughs*. For Tama, I just prioritized rapping cutely. There was a guide provided, but I think everyone changed the flow themselves, so each character's rap showed originality.

Yashiro Taku-san (who voiced Waka) was really funny. His voice was thicker and stronger than what I was imagining while reading the script. I thought he was going to use a lighter voice, so the unexpected aggressiveness turned it into a serious rap battle for me, no laughing allowed.

Shirai-san wanted to rap too, but was sadly rejected. Yuma-kun threw a product name into his ad-libbing and it was absolutely hilarious, but wasn't allowed. This episode's recording was a lot of fun too. *laughs*
Soma's Favorite #4
From Episode 7: "Cat Cafe Violet"
Story: Momo sighs, looking at the empty seats in Cafe Tulip. When she finds out that the reason why customers aren't coming anymore is because of a cat cafe that opened in the neighbouring town, she springs out the door to investigate. The other Third Street animals chase after her, and Nora guides them to the cat cafe, where they find…

Soma's Comment: Kai is so handsome! Nanami Hiroki-san's voice was a great match for this beautiful, androgynous character, and I could feel the compassion radiating from his acting. All of us were wondering how he could express that kind of coolness. Nora's unintentional attitude was cute too.