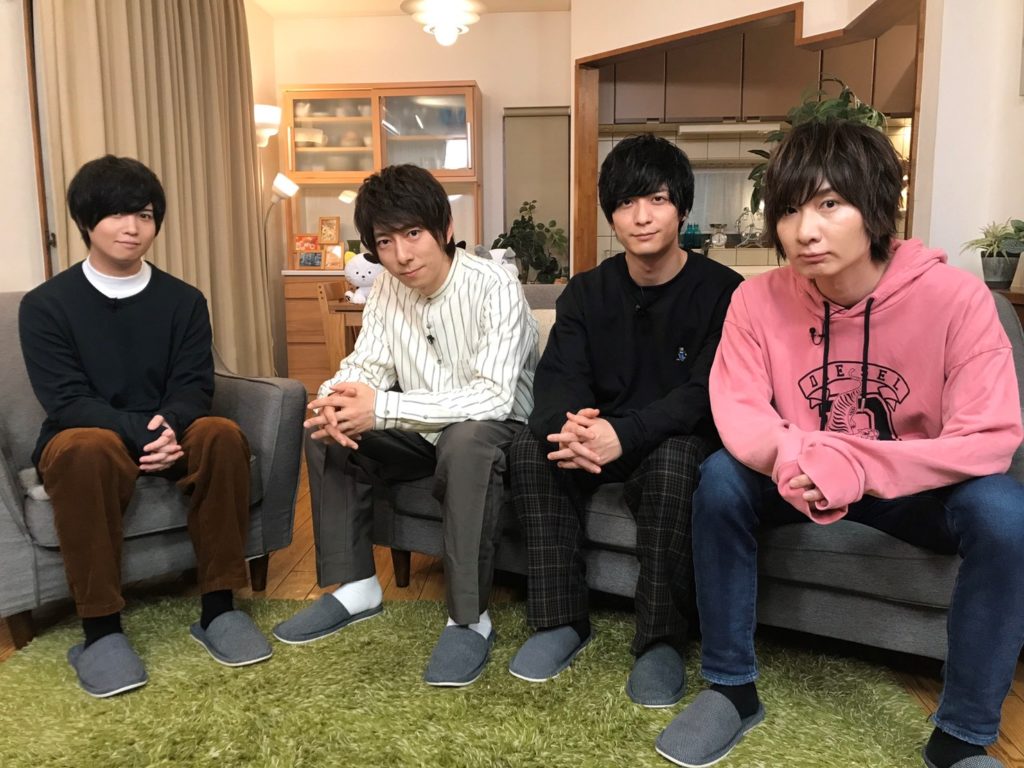 Broadcast: 2020/1/29 @ 9pm JST
Original URL: https://live.nicovideo.jp/watch/lv323443554 (no longer available)
Original Name: うちタマ?! 3丁目通信 1月号
Guests: Saito Soma (MC), Hatano Wataru (MC), Umehara Yuuichirou, Maeno Tomoaki
---
Choice Quotes
(Cast is talking about Episode 2)
Hatano: So like, before the real recording, we do a test run, and most voice actors will use that time to perform their dialogues for the director to hear, right? That's the point of the test run, right?
Everyone: Yeah (already starting to laugh)
Hatano: So normally the people ad libbing in the background will stand back from the mic and keep the volume down, right? They'll be louder in the real recording, but during the test run they don't want to get in the way. But like… Beh (Uchida Yuma) was SO into it.
Ume-chan: He was such a nuisance that we couldn't hear our own conversation…
Hatano: He kept going "Wait~! Wait~!" and we couldn't hear anything else
Soma: But it's hard to stay smiling like that the whole time, and even though he was suffering, he still wouldn't stop
Maeno: His heart is so strong
Hatano: He has that actor's determination, going all-out during the test run… well, it was annoying though
Soma: LOL
Ume-chan: But then during the real recording, Beh was recorded separately, so during our conversation it felt like something was missing
Hatano: Yeah! It felt wrong because I got used to that background noise…
(Still talking about Episode 2)
Soma: When we recorded Episode 1, their initial description was that it was a healing anime, so I kept that in mind. Then I got the script for Episode 2, looked at it, and went "Huh? 'Healing' is a really broad term…"
(Talking about the chaotic test runs)
Soma: In Episode 1, it starts with Tama and Pochi going on a walk, and Tama gets distracted, goes into someone's yard, eats their food, and goes "YUMMM!" (said in a really weird way)
Everyone: *bursts out laughing*
Ume-chan: That's what it sounded like during the test run
Soma: Yeah and that was kind of… They were like "What do you think this is?"
Hatano: We all knew the director well, but even that director went to Soma right after the test run like "What're you going to do for the real recording…?" He wasn't sure if you were serious LOL
Soma: As the episodes progressed, the test runs got to the point where he'd check first to see how serious we were
Maeno: Like "you're not actually going to do this, right?"
Hatano: He was concerned LOL
(Corner where they practice taking photos with "pets" (Uchitama plushies) following themes drawn at random)
Soma: *unfolds paper* WHY IS THIS SO LONG?! "Theme: a 2-shot with the owner that has cuteness appeal. While you're at it, making eye contact with the camera will make it great for social media. Since you live together, put your faces together and make it a nice scene full of love. It can be either a selfie or a normal photo."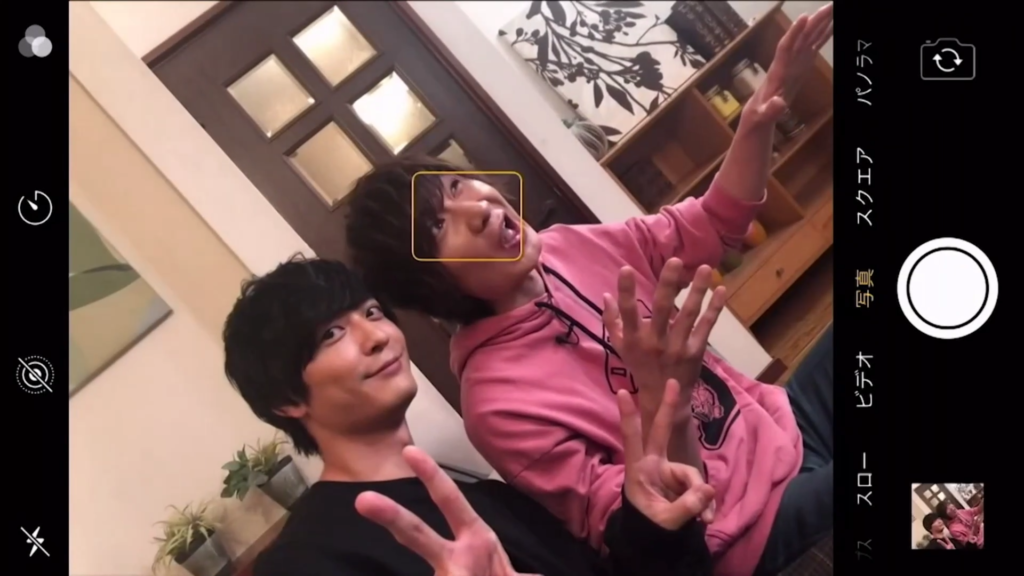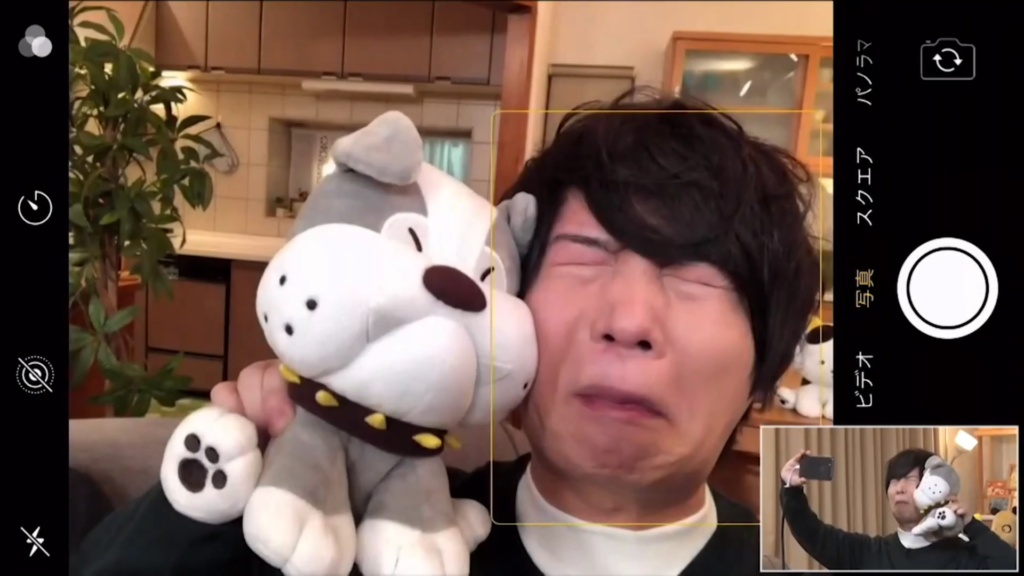 Ume-chan: *pulls from the box* "Theme: Playing with his owner. Photos of owners and pets playing without looking at the camera are popular online too. It's just a stuffed animal today, but please play with it somehow."
Everyone: LOL
Ume-chan: Does this mean someone has to take the picture for me?
Soma: Or you could be the director
Hatano: You can have someone model for you
Soma: You could also have someone be your pet
Hatano: Wow… Saito-sensei is really something
Soma: Oh but it says to use a stuffed animal
Hatano: We're actors though, so we can become stuffed animals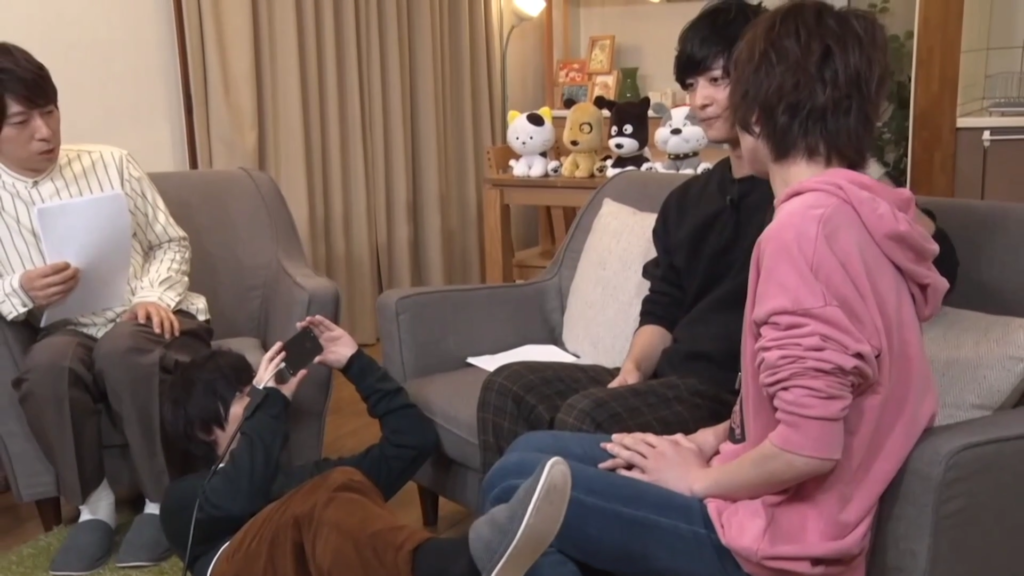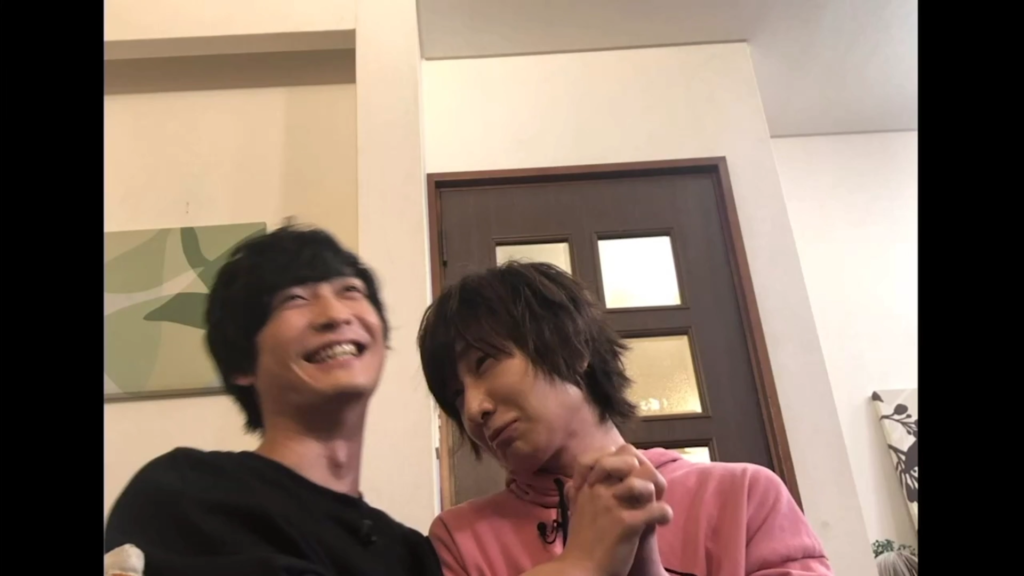 Maeno: *pulls from box* "Theme: Cuteness appeal on top of the owner's lap. A playing or sleeping scene will have explosive cuteness. Take a photo of the pet on your lap from your own point of view. It'll be even better if it has a daily life feel to it."
Ume-chan: It doesn't say "stuffed animal"…
(Hmm…)
Maeno: Well then… I have three pets, you know?
Everyone: *nervous laughter*
Maeno: Oh hey, there's exactly three of you! What a miracle!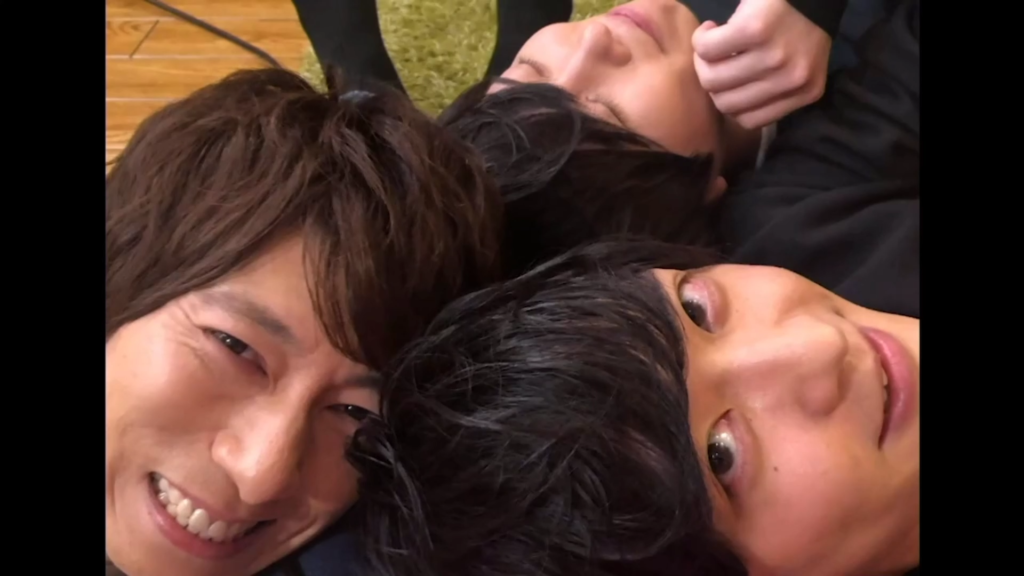 ---
Premium Corner: Do you know our Tama? (Hatano, Ume-chan, and Maeno have to guess how Soma would answer the questions)
Soma: Let's start with a beginner level question, that anyone who knows Soma would know
Q: What comes to mind when you think of a place that's easy to get lost in?
Soma: You see, our Soma gets lost pretty easily
Soma: *writes his answer* When you think of Soma, it's gotta be here
Ume-chan: Huh? There's a place like that?
Soma: I'm pretty confident in this one… *laughs*
Ume-chan: Confident? What does that mean??
Soma: I think you'll probably get it right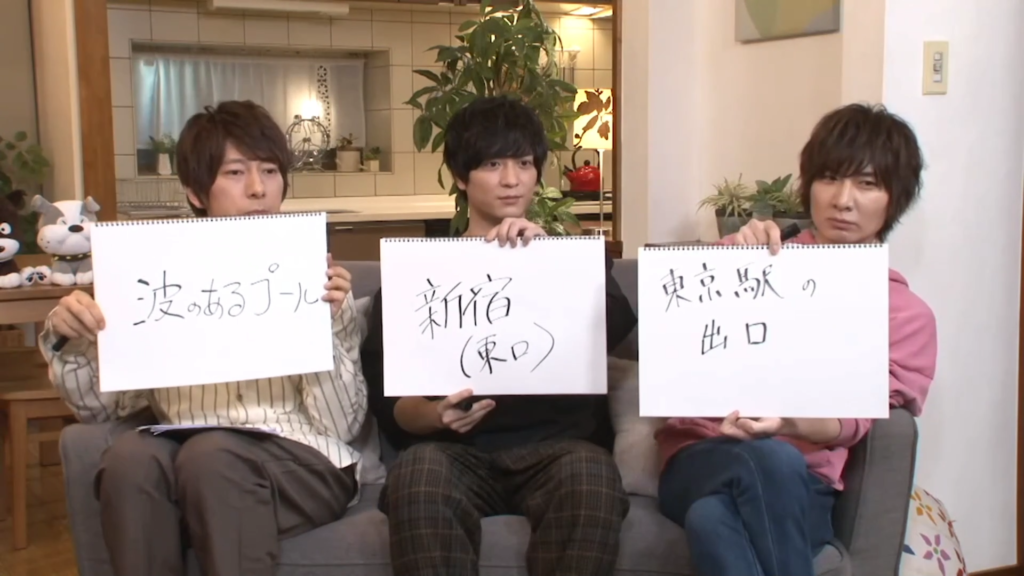 Hatano: My thought process was completely different
Soma: What a clean 2-vs-1… Umehara-san and Maeno-san picked stations, and yeah it's easy to get lost there. They're pretty much correct
Hatano: Mine's correct too, right?! A wave pool
Everyone: What…
Hatano: When you look at the videos, sometimes you can only see people's heads above the water! You can get lost there
Soma: Uh, anyway… allow me to present the correct answer: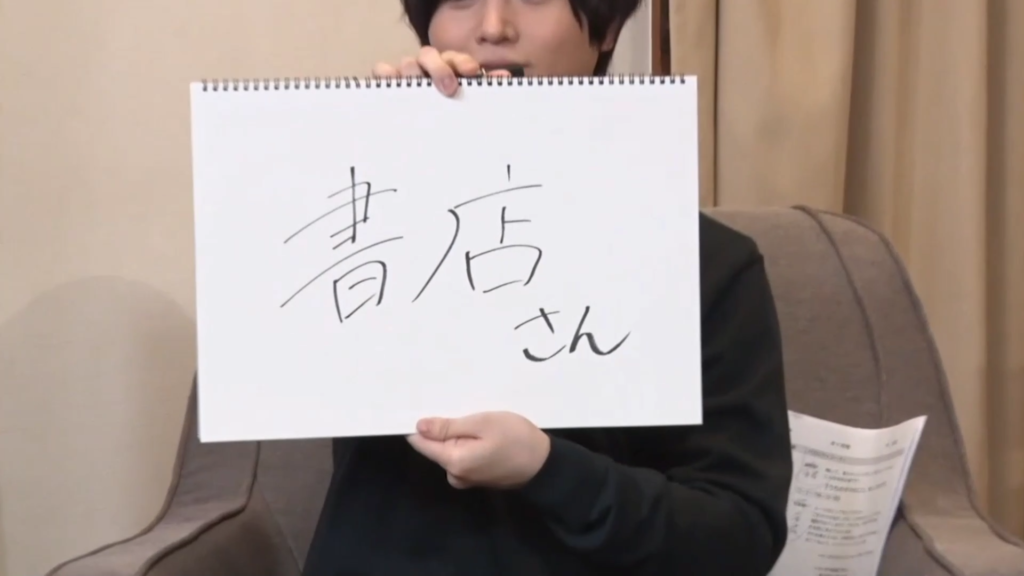 Everyone: What?! How???
Soma: I like going to the bookstore, and everything catches my eye, and I end up wandering deeper inside
Maeno: This is beginner level?!
Hatano: In a way, my thought process was the closest!!!
Q: When thinking of house pets, there's cats, dogs, and _____. What's the third animal that comes to mind? (A pet that Soma would own)
Maeno: Do you like animals?
Soma: I'm not good with them… ah yeah, I might pick something unconventional
Soma: *writes answer* Wait, am I allowed to write this?
Everyone: Huh? Is that what's going on? Because it's a premium stream?
Ume-chan: I was kind of avoiding that kind of thing though
Maeno: I'm avoiding it too, please don't misunderstand my answer
Soma: Wait, I'm not avoiding anything though… ok then I'll write something that does avoid that
Hatano: Seriously??
Soma: Oh, but the answer is essentially the same thing
Everyone: Wha…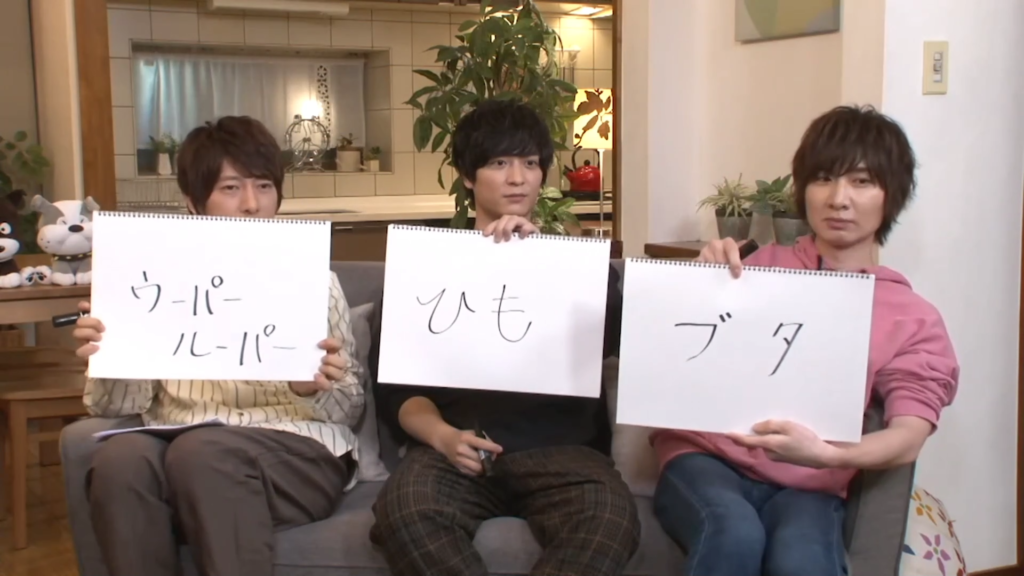 Soma: What……
*staff laughing in background*
Soma: All of you are weird
Everyone: No we're not!
Hatano: LOL pig
Maeno: Pigs are clean animals! So I thought it'd suit him… Don't interpret it as something weird!!!
Soma: Okay yeah, pigs are pretty cute
Hatano: So you meant an actual pig LOL
Hatano: Okay so what about the middle one…
Ume-chan: I figured he'd have a string
Hatano: You mean like a regular old string?
Ume-chan: Yeah, of course, definitely
Soma: I don't think you can run from this anymore Umehara-san
Hatano: What're his friends going to think when he introduces a string as his pet?!
Maeno: Okay so Hatano-san…
Hatano: I put axolotl
Soma: I get it though, they ARE cute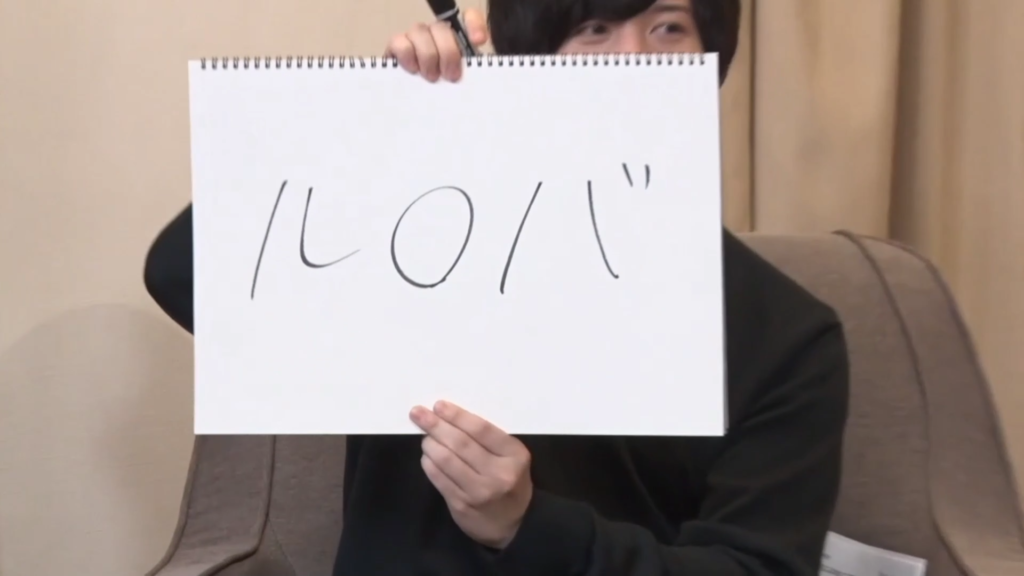 Hatano: Oh, THAT'S what you meant…
Soma: I think Umehara-san was actually the closest LOL but Maeno-san was right in terms of keeping things clean, and the axolotl has a cute form too, so you were all right
Q: Describe Uchitama?! in a single kanji.
Everyone: This is a tough one…
Soma: Hmm… well, it's probably this, but I don't know if I can write that kanji…
Everyone: The kanji?!
Hatano: Can you not pick a difficult kanji 🙁
Soma: Okay well, let's make it acceptable to write the kanji in hiragana
Soma: *writes his answer* Is this kanji right…? *shows it to staff to ask if it's right*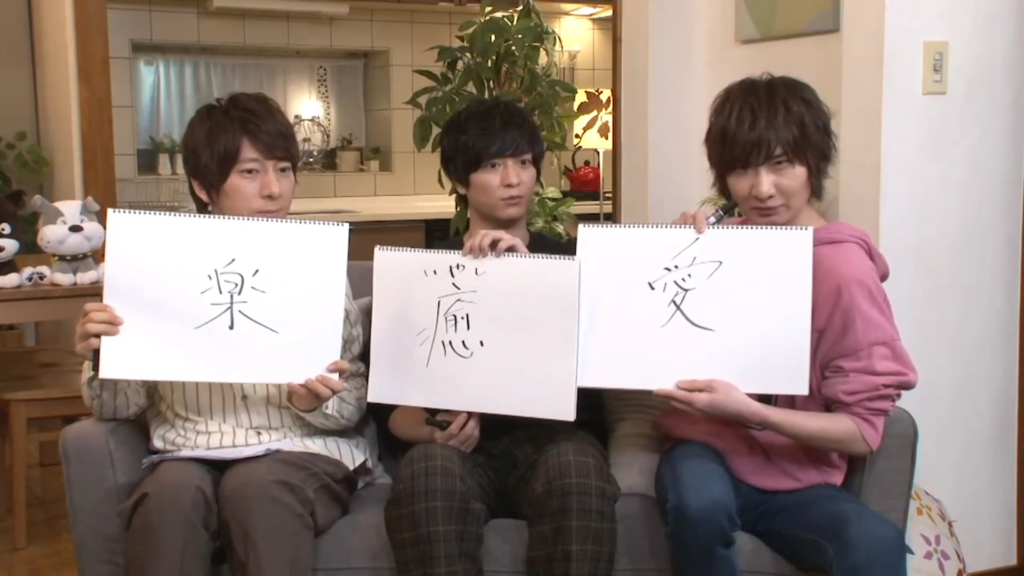 Maeno: It's a series packed with love, and we put so much love into it, so I thought Soma-kun would definitely write "love"
Soma: Thank you
Ume-chan: Is this kanji right?
Hatano: I'm impressed you were able to write that!
Soma: Indeed, Uchitama is a healing show
Hatano: The recording sessions were so fun, after all. We never stopped laughing
Soma: Well… first, let's look at my answer: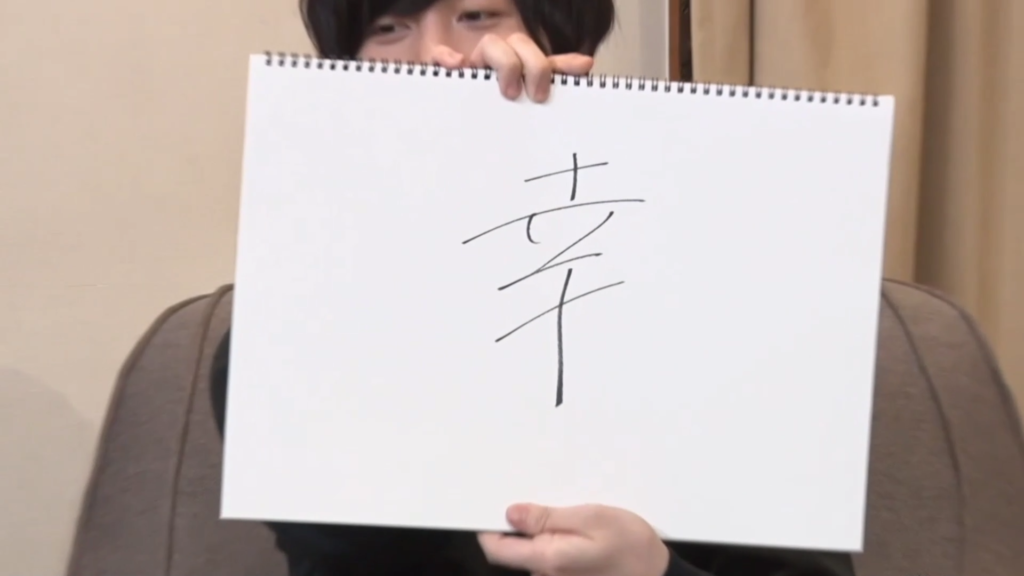 Soma: Soooo, everyone was right! We all pretty much thought the same thing 🙂