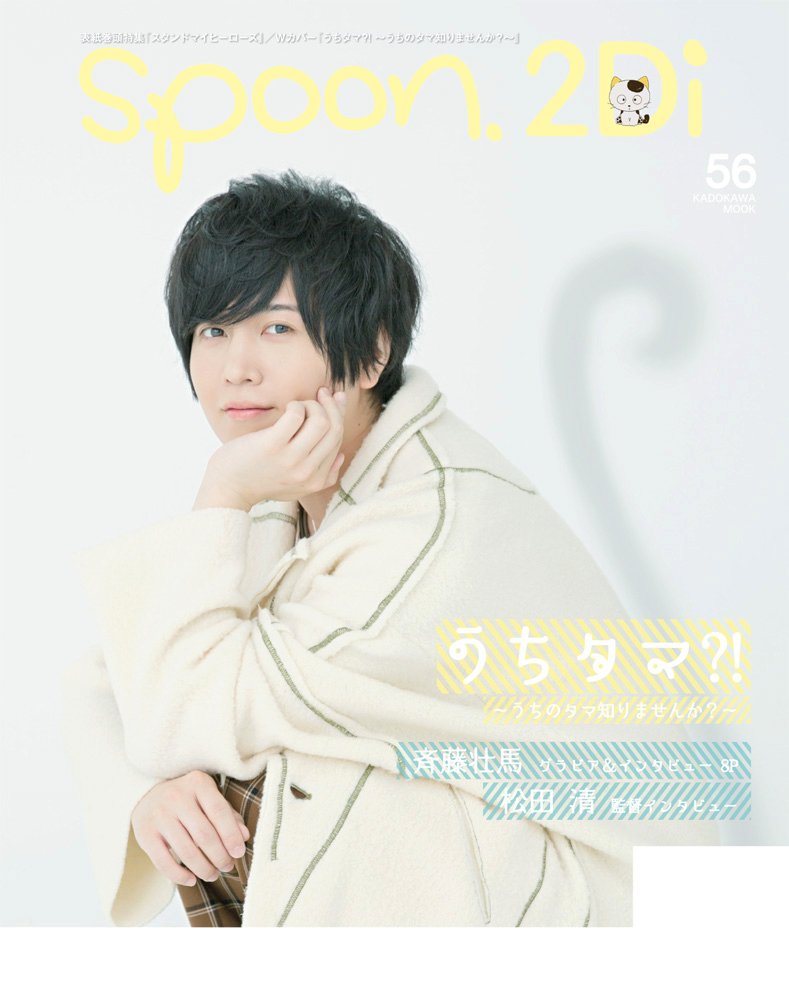 Released: 2019/11/30
*Soma was on the back cover of this magazine and had a 10-page feature. There was also a pin-up poster.
---
Q: Voice recording is currently in progress for the TV broadcast beginning in January. What's your impression of the story?
When I asked the staff about Uchitama?!'s concept, they said, "We want it to be an anime for people in need of everyday healing and relaxation after a long day at work." And after doing the recording, I found that it really is that kind of anime. It has more comedy than I was expecting, and the characters' fun, energetic daily lives make you smile and chuckle. I act my part with the desire to make it that kind of healing anime.
Q: What's the appeal of Okamoto Tama, the character you voice?
This anime is about animals that have been anthropomorphized, and Tama is in his human form in Episode 1 already, but he's still a cat on the inside. He acts based on instinct and reflexes. Of course, he doesn't think of himself as cute, but his free-spiritedness looks cute from an outsider's perspective. His nature results in him getting lost a lot, but that helplessness is also part of his cuteness.
Q: You voice both the human and animal forms. What do you take into consideration when voicing them?
When we think of cats, we imagine them saying "meow," but they don't actually meow cutely like that. I did research videos beforehand, but when it comes to animated works, I don't consider "realism" that important, and instead believe that having "a sense of reality" is what matters. If you put too much of the real world in, you lose room for imagination. Tama's a character who immediately expresses what he's feeling, so I try not to think too much, and strive to directly output what I feel.
Q: What kind of direction or post-recording feedback did the director give you?
There wasn't really any… *laughs*. A positive interpretation of that would be, since Uchitama?!'s cast was decided by audition, the Tama I proposed was probably close to what they'd envisioned. Also, this project itself was very ambitious, and I felt that the creative team didn't want to lock Tama into a specific voicing style either. So, the characters and the anime will be developed as the recordings progress, with the director's ideas as well as our ideas as the cast. I think this is the most exciting part of creating something new, so I'm really looking forward to the upcoming recording sessions.
Q: Do you have anything in common with Tama?
I usually don't look for common points between myself and the characters I voice, not just for this anime but for others as well. Of course, I do think about it when I have to, but for example, in Tama's case, a lot of his actions won't make sense as a human. It's only natural, because he's a cat. Since these actions are normal for him, I have to think about how his mind works when I act. So, I don't really feel that I have anything in common with him. Oh, but Tama's full of curiosity, so he's often shown shifting his attention to anything that catches his interest, and we might be a bit similar in that sense. There are times when I find something interesting and instantly become obsessed.
Q: Do you ever get lost like Tama does?
I don't really get lost. Smartphones are truly amazing *laughs*. But for some reason, I often make electronics go haywire. In fact, earlier when I was on the way here, it kept showing me as still in Tokyo Station. I guess the me inside Google Maps often gets lost. *laughs*
Q: Which characters besides Tama are you interested in?
They're all very charming, but I'm sure the other cast members would all say Bull. He's a peculiar one, and I think he broadens Uchitama?!'s potential. By Episode 1, he's already making you think, "So Uchitama?! has this kind of vibe too." His voice actor, Maeno Tomoaki-san also seems to have a lot of fun voicing him, and he's allowed to ad-lib freely as long as it fits the character. So, please keep an eye out for Bull.
There's also the adorable Beh, voiced by Uchida Yuma-kun. I had my own impression of the character when I read the script, but he took it in a very different direction–in a good way. I'm always wondering, "Where does Yuma-kun pull that acting from?" and I'm thinking that his brain might be connected to an alternate dimension… That's how uniquely cute his acting is.
So, I'm interested in Bull and Beh. That said, all of the other characters are weirdos too, really. *laughs*
Q: What's your impression of Tama's good friends, Pochi and Tora?
Ono Kensho-san's high-pitched voice for Pochi is very cute. Character-wise, Pochi's got a tough life… He's prone to getting dragged into things *laughs*. Tama's a free spirit, so Pochi gets pulled into his antics, and that relationship between them is one of the central pillars of Uchitama?!. I'm looking forward to working with Kensho-san more.
Shirai Yusuke-san's Tora is a very energetic character, but he's careless at times. I didn't get to have these kinds of lively dialogues with Shirai-san in the other works we've shared, so it was refreshing. Also, since Shirai-san and I both like the colour green, we exchange news every time we meet. *laughs*
Q: Finally, a message for the readers, please!
Whether you've always been a fan of Tama & Friends or Uchitama?! will be your first time meeting them, I'm sure that it'll bring you healing and smiles. There's still some time before it starts airing, so please look forward to it until then. Thank you for supporting Uchitama?!.
---
Bonus off-shots from Twitter/Instagram (Insta ones have multiple pages):