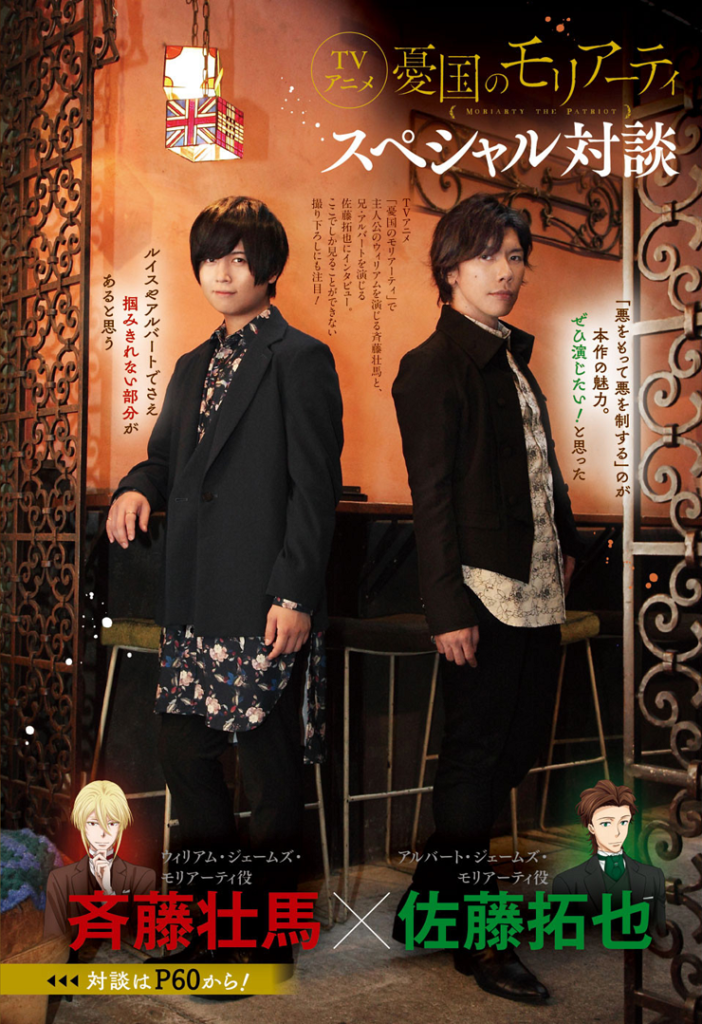 Released: 2020/11/4
Features:
Saito Soma (William James Moriarty in Yuukoku no Moriarty)
Sato Takuya (Albert James Moriarty in Yuukoku no Moriarty)
※Can be bought digitally on sites such as Bookwalker (I have included the first scan because it's in the free preview). There is one more black-and-white photo of Soma on page 60.
---
—Have you two read the Sherlock Holmes series before?
Soma: It's a common topic in anime, so I read the books whenever I have the chance to appear in a series that references them. They're extremely high quality entertainment, easy to read, and it's refreshing to watch Holmes easily solve cases with his brilliant mind.
Takuya: I read it in elementary school in the form of children's literature at the library. Holmes is an eccentric with much better perception than the average person, so I've wondered, "If I were his friend, would I be able to conduct myself as well as Watson?" It's as if the charming characters are living in another world, and I wonder if that's why anime, dramas, and movies continue to be made from the series, generation after generation. The original illustration of Professor Moriarty also appears in this anime's first episode…but it had quite the impact. *laughs*
Soma: He wasn't actually young. *laughs*
—Did you know about the Yuukoku no Moriarty manga, then?
Soma: I like going to the bookstore and buying books based on their covers, so I bought Volume 1 because I was attracted to the cover illustration of William pointing a gun at his head. It's interesting how it adds bold interpretations to Sherlock Holmes' framework, turning it into a stylish crime suspense story that appeals to a modern audience as well. When I heard about the audition, I thought, "I knew it was going to get an anime adaptation!"
Takuya: As for me, I first read Volume 1 because of the audition, and I was so interested in the rest of the story that I bought all of the volumes that'd been released at the time (around ten) *laughs*. I like the showiness when new characters like Moran are introduced to Moriarty's circle. Also, it's definitely not a story about a "hero of justice"—it's about using evil to control evil. That's one of the reasons why I really wanted to be part of it.
—What's your favourite story from the manga?
Soma: I love all of them, but one of my favourites is the one where the young man from the printing business sneaks into William's university to take the exam ("The Adventure of the One Student"). Mathematicians often say that "a beautiful formula resembles poetry." I felt something similar from this story, and it gave us a better look at William's nature. I also love the relationship between Irene and Sherlock, and I'm curious about how Hudson-san really feels about Sherlock *laughs*. William's group does their work calmly, while Sherlock's side is always noisy. It's a nice contrast, like stillness and motion.
Takuya: The story about the Burtons, which was adapted in Episode 4 of the anime, left a deep impression on me. Rushing to your lord with your child who has a high fever, only to be turned away, is too cruel… It makes me wonder how it would feel to live in a world like that.
Soma: That story was heartbreaking. When we're recording for the anime, we're told that we're allowed to ignore the "boards" (indicators showing how long the lines should take), and the two voice actors who portrayed the Burtons performed wonderfully, pouring their souls into it.
—Who are your favourite characters?
Soma: Mine is Von Herder, aka "Q"! I think he's the only character who can truly be considered comedic relief. I also like that slight pitifulness!
Takuya: I totally understand! *laughs* I like Sherlock's older brother, Mycroft. When I was reading the manga, he was first introduced as just "Mr. Holmes," so I thought, "Huh…? It's the same person?!"
Soma: "Did he change his hairstyle?"
Takuya: Yeah, it deceived me into thinking that Sherlock also had a hidden side. I like how they have completely different auras despite being brothers. As the voice of Albert, the politics between him and Mycroft are appealing to me as well.
Soma: They have mature conversations.
Takuya: Right. I like how he isn't straightforward, how both of them want to follow through with the plan, and how they stick to their beliefs.
—Please tell us about William and Albert's charms and personalities.
Soma: William is sharp-minded and there's an aspect of him that even his brothers Louis and Albert can't understand. That character profile makes him an appealing protagonist, and I'm curious about his future.
Takuya: William has an alluring charm that draws people to him. Whether that's a beneficial medicine or a strong poison depends on which side you're on, though… But I think that for Albert, meeting William was something like a divine revelation. The reassurance of having him as an ally, how convincing it is that he really could change the world, and the confidence behind his words… These are his charms, but they also tend to be frightening.
Soma: Albert has the broadmindedness you'd expect from the eldest brother. I'd say that generally, William formulates the plans and Albert handles the fine-tuning and necessary follow-ups. If you ask me which one of the brothers I'd marry, I'd definitely choose Albert.
Takuya: …Kyaa! *laughs*
Soma: *laughs* Just think about it! First of all, William would make an attractive boyfriend, but when it comes to marriage… *laughs* I like him, but he's pretty much an oddball, right? And when he works his brain too much, he falls asleep. Louis is cute, so he's the type I'd want to dote on. On that note, I want to be doted on by Albert. But on the other hand, sometimes I have no idea what he's really thinking. When he's talking to Mycroft, I find myself wanting to explore how many layers he has inside him. Albert also has that "reassuring yet mysterious" charm.
Takuya: As the eldest son of the Moriarty family, he surely would've received gifted education. It makes you speculate as to why he came to hate aristocrats to the point where he wanted to change the world. If it's his form of kindness after once experiencing despair, then I think he's a highly sinful person.
Soma: Albert is peculiar too, in a way. I think he's the best business partner that William could've hoped for.
—The anime has currently aired up to Episode 4. What were your notable scenes?
Soma: Episode 1 ends with William's signature phrase, "the perfect crime." Internally I was thinking, "This is a tough line to pull off!", so that was a memorable scene for me *laughs*. I also thought it was interesting that the anime began with an original story to broaden the scope. Please pay attention to when William compliments Louis's omelette in Episode 1!
Takuya: Right after the recording for Episode 1, I suddenly had to audition for the role of "Child Albert."
Soma: Ahahaha! *laughs* Yeah.
Takuya: William and Louis are younger, so their child forms were played by female voice actresses, but apparently they wanted to see if I could do a suitable voice for Albert first. Thanks to that, in Episode 2 and 3, I got to play a pubescent child for the first time in quite a long while, which was a challenge.
Soma: Everyone except for Sato-san was grinning. *laughs*
Takuya: I was like, "Oh no, Soma-kun… They said I'm going to do it…!"
Soma: *high-pitched voice* We wanted to do it too, you know?! I wanted to at least try…!
Takuya: *laughs*
—Lastly, please tell us what to look forward to in the rest of the series.
Takuya: The story's pace quickly accelerates when Sherlock Holmes, the Moriarty side's balance breaker, takes the stage. I hope you'll enjoy the anime's unique charms!
Soma: William's team is working to reform the British Empire through theatrical crimes. The series' appeal builds with each passing episode, so please stick with it until the end. There are still a lot of characters for whom the cast is unknown to us, so I'm looking forward to finding out who they are—and I hope you will too.
---
Q: What did you focus on while voice acting?
Soma: Since I'm turning 30 next year, I want to broaden the range of the characters I voice and try different things with my new roles, using the experience I've accumulated as a foundation. Among those, William seemed like he'd have a lower voice than my natural voice, but rather than overly constructing the voice, I wanted to try using my acting instinct for this character. I was happy that that got me the role.
Takuya: When I was voicing Albert's child form, I had to study the physical development of a pubescent boy who was raised as a noble, whether his voice would have changed yet, and so on. I also had to consider why he formed a brotherly pact with William and Louis, and how it would have affected him to witness Louis sear his own face in the burning building. I feel that these will be very helpful when voicing Albert.