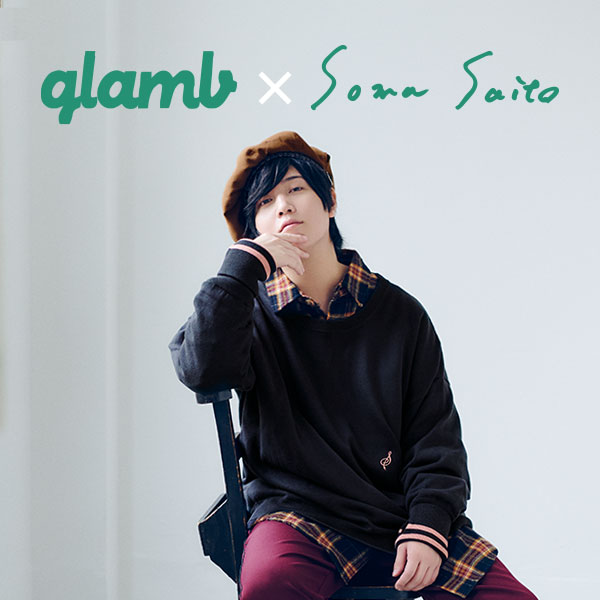 Soma's first apparel collaboration! glamb is a designer brand that he wears quite often for photo shoots and in everyday life. The clothes in this lineup are designed around what he "really wants to wear."
General Information
Preorder period: 10/30 19:00 ~ 11/16 23:59 JST
Release date: Late January
Store: https://kuumaa.jp/index.html (Accepts international credit cards! You will need a Japanese address to ship to though, such as Tenso)
*Since items are made-to-order, cancels and returns are not permitted.
Purchase bonus:
Spending more than ¥5,000 before tax (¥5,500 post-tax) in

a single order

will net you one (1) bromide A (see below).
Spending more than ¥15,000 before tax (¥16,500 post-tax) in

a single order

will net you one (1) bromide A

and

one (1) bromide B (see below).
Due to system restrictions, each order can only get you one of each bromide. If you plan on buying a lot of items, it would be wise to split your purchase into multiple orders (e.g. splitting a pre-tax ¥30,000 order into 2 x ¥15,000 orders would get you two of each bromide instead of just one). Just make sure that you don't drop under the minimum per order. There is no limit to the number of orders you can make.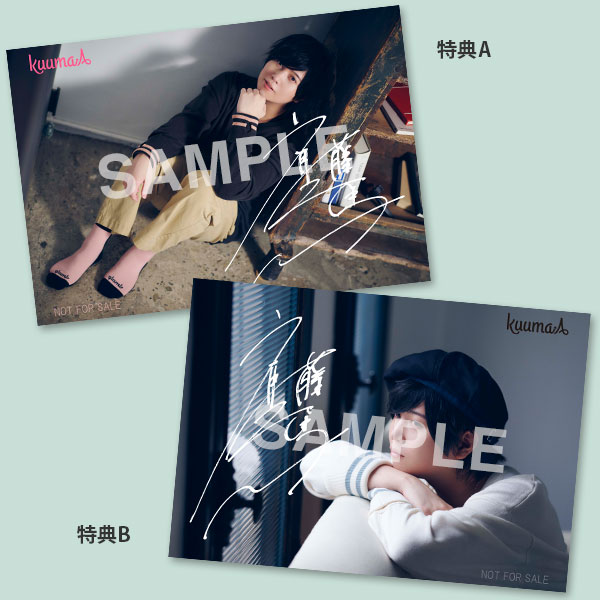 Catalogue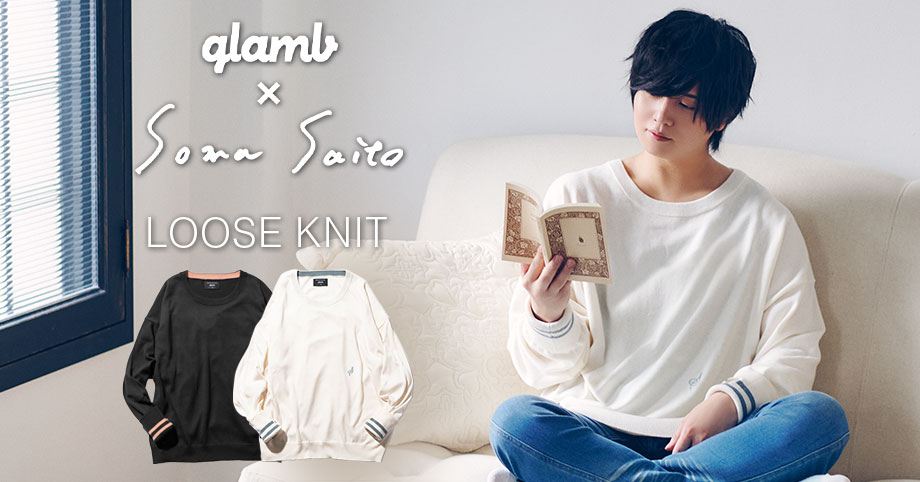 Product page: https://kuumaa.jp/soma-s/loose-knit.html
Price: ¥14,800 + tax
A unisex light knit pullover with extra long sleeves. Comes in two styles: Sepia Black and Ecru White.
This is the first item that Saito-P requested: a light knit top. The neckline is wider and looser than glamb's standard lineup, while the cuffs are tightened with ribbing, making for an outline with exquisite contrast. The cuffs have two modes: a solid colour extra-long mode with thumb holes, and if you fold them back, it reveals coloured stripes. The pullover is versatile with layering and can be used in a wide variety of outfits.
Also note the front logo position: normally these are placed on the chest, but this one is purposely shifted far down to promote the feeling of looseness. It's a design with ennui and a hint of deviousness.
Many meetings were had to perfect the colours, design, and feel. Why not add Saito-P's ideal top to your wardrobe?
Product Name
glamb×斉藤壮馬 LOOSE KNIT(ルーズニット)
Colours
Sepia Black, Ecru White
Size
Ladies' : Length 65cm, Bust 126cm, Shoulder Width 60cm, Sleeve Length 57cm
Mens' : Length 72cm, Bust 140cm, Shoulder Width 67cm, Sleeve Length 60cm
Material
55% Acrylic, 45% Cotton
Washing
Hand wash (preferably by itself)
Country of Origin
China
"It feels really nice, and you're bound to wear it all the time! Since it's not tight around the body, it'll be invaluable for recording sessions."
Since it's loose, you can wear it over shirts and innerwear, or layer outerwear on top.
It's also comfortable enough to wear when relaxing at home. The light material will be suitable for indoor wear until the beginning of spring.
The sleeves have thumb holes. Stylish while also protecting from the cold without hindering your hand movements.
At the back of the neck is an embroidered cursive "S.S" in Saito-P's own handwriting. The embroidery is subtle, matching the colour of the fabric.
Sepia Black: A dark, yet warm-feeling colour scheme with salmon pink accents. The logo placement is Saito-P's preference.
Ecru White: An exquisite colour scheme with dusty blue accents. Saito-P mulled over the enormous selection of colour samples before picking these out.
The logo symbolizing this collab is a combination of Saito-P's initial "S", a treble clef, and the tip of a fountain pen.
Each colour scheme's logo colour is also used on the inner collar and the inside of the long ribbing at the end of the sleeves. The two stripes appearing when the sleeves are folded back were also Saito-P's idea.
There's a glamb logo tag on the front right made of Jersey stitch. Saito-P likes its sleek texture.
You can tuck in the bottom for a mature look. The loose, drop shoulder form is cute. (Model for the ladies' size is 154cm tall)
A smooth, sleek back side. The ladies' size is long enough to hide the butt.
The right hand shows the thumb hole being used, while the left hand shows the sleeve folded back. Choose the style that fits the occasion!
The Ecru White is a great casual colour for spring. You can even wear the mens' size for a baggier form.
Eligible for digitally signed bromides! See campaign details above.
Message Video from Saito-P
Hello everyone, voice actor Saito Soma here!
I was given the opportunity to collaborate with glamb, and they helped me create clothes that I've always wanted to wear. Thank you very much!
Now then, this time we've created three items.
First is the loose knit, which I'm also wearing right now. There was quite a lot of thought put into the material, logo position, and stripes, and I took up a ton of everyone's time *laughs*.
As for my impressions now that I'm actually wearing it, the neckline is fairly loose, so it's easy to put on and take off. The material is also very stretchy. It's relatively thin, so you can wear it by itself or add more layers as the weather gets colder. I think it's very versatile.
Colour-wise, there's a black base and a white base. Both of them have very exquisite, desaturated accent colours. It might be hard to tell here, but please see them up close in person, and I hope you'll think "exquisite" when you do. We all looked through the infinite colour variations in the colour sample book and decided on these, so please buy them and see for yourself.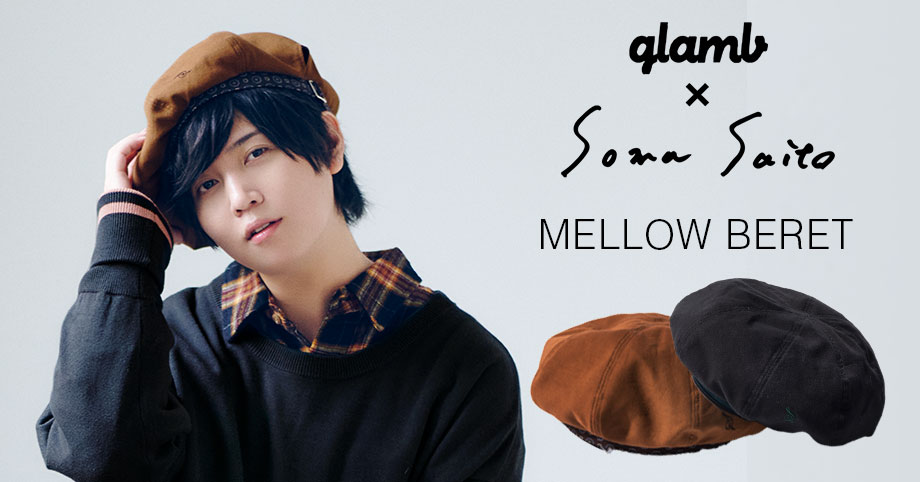 Product page: https://kuumaa.jp/soma-s/mellow-beret.html
Price: ¥9,900 + tax
*Limited to 1000 due to material availability. Currently sold out, but they are looking into whether they can increase the cap.
Designed from the ground up! A beret focusing on form and texture. Comes in Matte Black and Caramel Beige.
Saito-P's request was "a beret that will appeal to both those who want volume and those who want something compact." So, this piece of headwear was designed from scratch for Producer Saito Soma.
We analyzed the ideal form by referencing glamb's past releases as well as Saito-P's own berets. Additionally, Saito-P selected the materials from a huge assortment of samples, saying that the outer material should have "just the right amount of tension, to support a beautiful form" and the lining should "feel nice on the face." Thanks to the careful consideration towards the material, we were able to achieve the perfect shape!
There was also focus on the design. In typical glamb fashion, the belt shows a glimpse of the inner lining. Original embroidery was added as a detail as well.
Originally, there was only going to be one size available, but it was changed to two sizes at the last minute so that it could fit more people. It's truly a beret designed to meet the needs of the wearer. Please try out this magnificent, meticulously-created item.
Product Name
glamb×斉藤壮馬 MELLOW BERET(メロウベレー)
Colours
Matte Black, Caramel Beige
Size
Ladies' : Head Diameter 56-58cm
Mens' : Head Diameter 58-60cm
Material
Body: 91% cotton, 9% down
Lining: 100% polyester
Washing
Not washable (wipe stains with a dry cloth)
Country of Origin
Japan
"A design that can match any type of outfit, and my ideal sense of size"
The caramel version has a playful, antique-patterned belt. Its mellow aura is a bit different from the black version's.
Its beautiful form was achieved after many rounds of close examination. The collaboration icon is neatly embroidered on in each version's belt colour.
Matte Black: Easy to use in everyday life. The solid dark green used for the belt distinguishes itself nonchalantly.
Caramel Beige: Uses a patterned brown belt. "I think it'll fit fashionable people's wardrobes as well!"
The tightness can be adjusted at the back. Choose from two sizes according to your head diameter.
On the inside are Saito-P's handwritten "S.S" embroidery and glamb's tag. The embroidery is gold on the caramel version as well.
The inner lining uses the same material as the belt. Since the materials are suitable for all seasons, the berets can be worn all year round. Also note the delicate tailoring by a Japanese artisan.
Ladies' size. Note the stylish logo over the left ear.
It's also cute with the logo brought to the front. It's easy to shift the beret to one side or make it more compact.
Eligible for digitally signed bromides! See campaign details above.
Message Video from Saito-P
(September 29, somewhere in Tokyo)
Q: What's the key point of the Mellow Beret?
I like the word "mellow" and I wanted a hat, so we had a beret made this time. There's this beige one as well as a black one. Can you see here? The accent colour has a different pattern. The black one has green around here instead. I think the black one can be worn normally, and I recommend that fashionistas try using the beige one with a variety of outfits.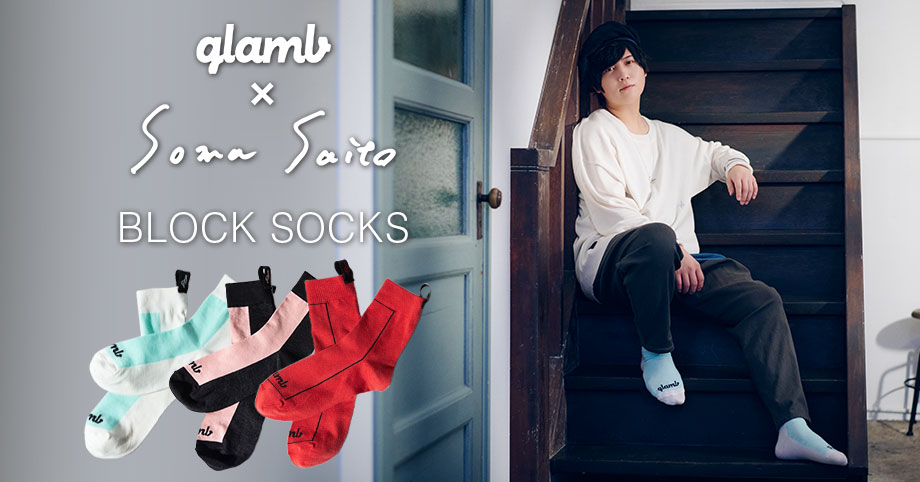 Product page: https://kuumaa.jp/soma-s/block-socks.html
Price: ¥2,800 + tax
Socks that add some spice to your feet, accented with loop tabs at the top. Comes in Black x Blissful Pink, Off-White x Blue Waltz, and Paprika Red.
These colourful socks can be matched with the Loose Knit from the same lineup. The highlight here is the loop tab at the top. When you wear the socks, the ribbon loops with the embroidered collaboration logo stick out from the top of your feet. It's a chic design.
Also, glamb's socks are usually made from thick knitted fabric, but this time it was requested to make them thin. They work well with sneakers, short boots, and now pumps as well. You can use them in a wide variety of outfits no matter the season.
In addition to the two colours matching the Loose Knits, there's also Saito-P's beloved red. They're bound to add stylish new accents to your daily two-to-three-colour arrangements!
Product Name
glamb×斉藤壮馬 BLOCK SOCKS(ブロックソックス)
Colours
Black x Blissful Pink, Off-White x Blue Waltz, Paprika Red
Size
Ladies' : Foot Size approx. 22-24cm
Mens' : Foot Size approx. 25-27cm
Material
55% cotton, 25% acrylic, 15% polyester, 5% polyurethane
Washing
Machine washable (net recommended)
Country of Origin
Japan
"They use the thinnest material possible, because I wanted them to be usable by men and women alike!"
The outfit's sense of unity and completeness go up when you combine the socks with the Loose Knit. They also go well with the black Mellow Beret.
Matching the black Loose Knit with the red socks. "I added playfulness to this exquisite surface area."
The loop tags at the top add a glamb-esque trendy accent. The socks are made of thin material, so they can be worn all year round.
The black version has a mature colour scheme. Black x Blissful Pink is the only one where the fabric is mottled where it switches from one to the other.
The Off-White x Blue Waltz version uses a refreshing mint green tone.
Saito-P often wears red socks as an accent colour. It's fun to have them peek out from the hem of your pants.
The collaboration icon is embroidered onto the tabs as proof that they're produced by Saito-P. The embroidery colours match the body colours and contrast nicely against the black loops.
glamb's logo is by the toes. The socks use domestically-made Jersey stitch and feel soft against the skin.
A combination with high-top sneakers. The tabs sticking out increase the casualness of the look.
Also works with women's shoes such as pumps. Since the material is thin, you can combine them with your usual heels without discomfort.
Eligible for digitally signed bromides! See campaign details above.
Message Video from Saito-P
Q: What kinds of outfits do you want to match them with?
I think that socks work well as accent colours, so we have here a red base, a blue/green base, and there's a pink base too. For example, if you wear one of the knits with pants that have a bit of texture too, then I think it'll be extremely effective to have these socks peeking out underneath.
The material is also quite thin, so I think they can be worn by men and women alike. They come in three colours, so I hope you can mix and match them with various outfits.
The key point is this… what do you call this? This part *laughs* Tag? I think the way it sticks out makes for a cute accent.
I wear glamb's clothes often, both personally and for work, and I never thought I'd be able to collaborate with them like this as a voice actor. I think the photo shoot went very well. These items were created with versatility in mind, so please buy a lot *laughs* and wear them every day. This has been voice actor Saito Soma; thank you very much!
Twitter Campaign
Follow, retweet, and reply by 11/16 23:59 JST for a chance to win 1 of 3 autographed bromides.
Other
Soma shared some items from this collaboration with his fellow voice actor friends, who tweeted/instagrammed about them!
Nakajima Yoshiki (embed not working for some reason)
https://www.instagram.com/p/CGrhiDMMVaC/
"I got something nice from Soma!! I regularly wear glamb's clothes, so this makes me happy. The colour scheme is cute too. The beret and knit are also cute… It looks like orders will start on Oct 30. Please check it out!"
Nishiyama Koutaro
"I received glamb x Saito Soma collab socks from Soma! I put them on right away~
He also took a picture for me☺ The other items are really cute too!"
Uemura Yuto
"I received a beret from Saito Soma-kun and a shirt from Nakajima Yoshiki-kun♪ Thank you for the wonderful presents✨"
"Hello everyone! It's a fall day today☀ The weather is comfy♪ Let's have fun and do our best this afternoon (^_^)v The beret I got from Soma-kun looks good✨"
Takeuchi Shunsuke (under his Amadeus name)
"Socks I got from @SomaStaff the other day. Cute😎"