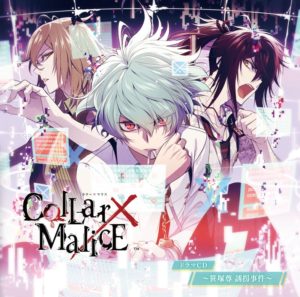 Original Article: https://www.bs-log.com/20200324_1405514/
Published: 2020/3/24
Features:
Morita Masakazu (Yanagi Aiji in Collar x Malice)
Kaji Yuki (Okazaki Kei in Collar x Malice)
Saito Soma (Enomoto Mineo in Collar x Malice)
Namikawa Daisuke (Sasazuka Takeru in Collar x Malice)
Kimura Ryohei (Shiraishi Kageyuki in Collar x Malice)
Nagase Yu (Yoshinari Hideaki in Collar x Malice)
Ono Yuki (Saeki Yuzuru in Collar x Malice)
Enoki Junya (Kurose Shu in Collar x Malice Unlimited)
---
Q1: What are your impressions after finishing the recording?
Morita: *Aiji voice* It's been a while since the last drama CD recording; maybe that's why I still can't get out of Aiji's voice. I'm going to write my impressions in Aiji's tone. All right?
Kaji: I'm happy to keep having opportunities to interact with the world of Collar x Malice. Thank you!
Saito: I was basically shouting the whole time *laughs* During the test run, the moment I said a single word, I could already tell that it was going to be a shouting Mineo this time. Aiji-san's ambiguous aura where you can't tell if he's joking or serious was as great as ever!
Namikawa: It's been a while since the last recording, and I had a lot of fun. I felt happy to be able to play this role for so many years.
Kimura: Since the characters are so well-developed, these alternate situations are a lot of fun too!
Nagase: I was extremely nervous, but it was fun. All that nervousness made me hungry, so I want to eat something before I collapse. Like palbochae!
Ono: It's been a while since I voiced Saeki, and the other cast members were there too…! The recording was fun and progressed quickly. We finished in less than half the time that the staff expected. Everyone was amazing…!
Enoki: I hadn't gotten to voice Kurose in a long time, and I had a lot of fun. I recommend this CD to Kurose fans, because you get to see both his outer and inner sides.
Q2: Please tell us what you think the highlight of this drama CD is.
Morita: *Aiji voice* Let's see. This drama CD is supposed to take place in a parallel universe… but I didn't see it that way. It'd fit into the original story just fine. That's how serious it is. …Yes, perhaps that's the highlight.
Kaji: Kei's on-off switch, as well as his usual trespassing performance *laughs*
Saito: I thought it was going to be a comedic story like parallel universes tend to be, but…?! The rest of that sentence is the biggest highlight. It's also got a lot of content, so I think it's definitely worth the listen!
Namikawa: Sasazuka has a hard time in this one. He talks more than usual. More than when he's talking about donuts.
Kimura: It makes good use of the character settings from the original story, so people who played the original game will enjoy it more.
Nagase: My personal highlight is the battle scene! I recorded it while covered in blood, and I hope the listeners will be able to tell! Also, there's a historical moment for Yoshinari-kun that involves Shiraishi-san! It's a must-listen!
Ono: The "multiple Saekis." I don't know how much I'm allowed to say, but it starts off in a parallel world, so you think it's going to be a comedy, but then…
Enoki: Kimura-san's well-enunciated lines as Shiraishi! Listening to them feels nice.
Q3: Lastly, please give us a comment for the fans eagerly awaiting the drama CD's release.
Morita: *Aiji voice* The fact that you're looking forward to this CD has already been investigated. We also found one more thing during the investigation. That would be… that your smiles as you look forward to the CD are what we were looking forward to the most.
Kaji: Thanks to you, I had another opportunity to voice Kei! Thank you so much. We'll bring you another very Collar x Malice experience. Look forward to it!
Saito: Thanks to you, we were able to bring you another drama CD! Before I knew it, I'd already been with Mineo for so long. I hope we'll be able to bring more of Collar x Malice's world to you again sometime! Thank you for your continued support!
Namikawa: It's a very cool story! It's also very Collar x Malice, so look forward to it!
Kimura: Since the series was able to keep going, it's even expanded to alternate world stories like this. Thank you! Please look forward to a slightly different side of the guys!
Nagase: Thank you for all of your support! I'm so happy to be able to voice Yoshinari again! Please keep supporting Collar x Malice!
Ono: I'm happy that everyone will be able to experience another Collar x Malice work after so long, and that I was able to participate. Please look forward to the release!
Enoki: I'm happy that Kurose got to appear in a drama CD. I hope there'll be a third one, and that Kurose will appear in that one too… I'm counting on you, everyone *laughs*