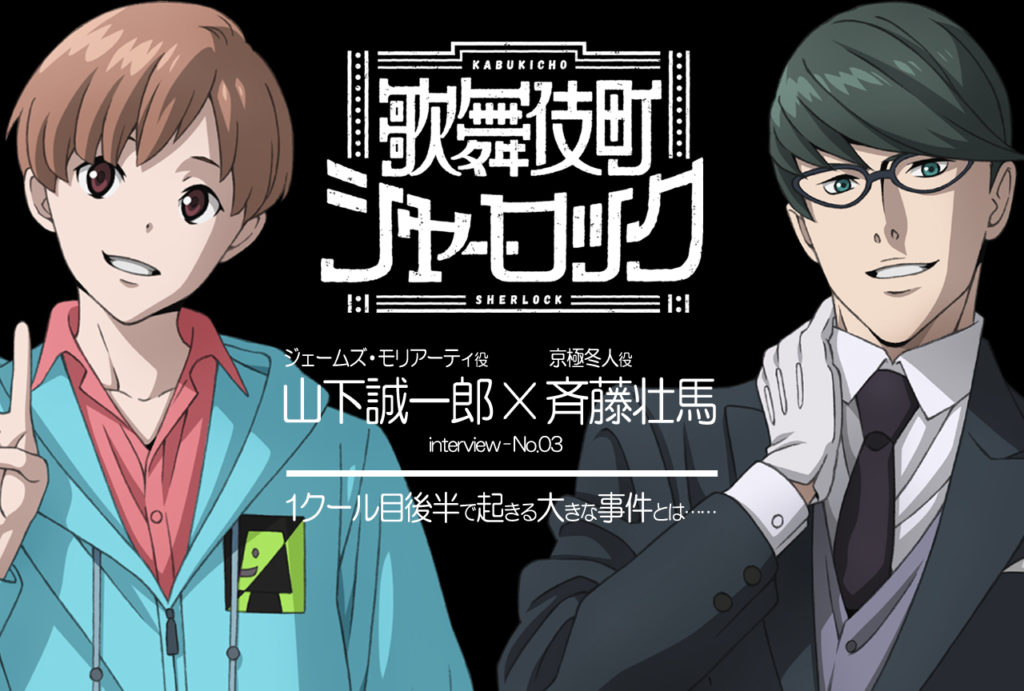 Original Article: https://www.animatetimes.com/news/details.php?id=1573202514
Published: 2019/11/11
Features:
Yamashita Seiichiro (James Moriarty in Kabukichou Sherlock)
Saito Soma (Kyougoku Fuyuto in Kabukichou Sherlock)
Mentioned:
Konishi Katsuyuki (Sherlock Holmes in Kabukichou Sherlock)
Nakamura Yuichi (John H. Watson in Kabukichou Sherlock)
Tachibana Tatsumaru (Kobayashi Toratarou in Kabukichou Sherlock)
Suwabe Junichi (Mrs. Hudson in Kabukichou Sherlock)
Murase Ayumu (Hokari Maki in Kabukichou Sherlock)
Seki Tomokazu (Uchida B-zou in Kabukichou Sherlock)
Horii Chado (Chinkill Masumi and Potter in Kabukichou Sherlock)
Aoyama Yutaka (Michel Belmont in Kabukichou Sherlock)
※Contains spoilers up to Episode 7.
---
The director's advice for Moriarty was "honesty and boyishness"
Q: First, please introduce the characters you voice.
Soma: *looks at Seiichiro* Shouldn't we start with Morimori?
Seiichiro: Are we starting with Morimori?
All: *laughs*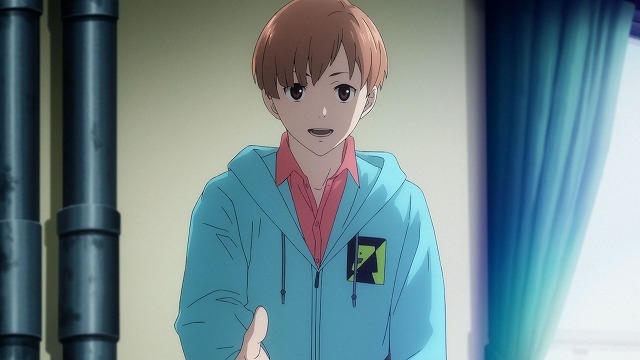 Seiichiro: Moriarty appears from Episode 1, but he has the role of an extremely ordinary high school student that drops by the misfit-filled Detective's Row House.
That said, he's capable of interacting on equal terms with Sherlock, understanding the man's quirks that even Watson has difficulties with. So he seems like a strange, clever boy… at the moment. *laughs*
Soma: If you've been keeping up with the show so far, you should already know that Kyougoku is the steadfast ace of the Detective's Row House. A keen wit, superior intelligence, smooth moves, and a cool demeanour—he's got it all. Among all of the eccentric members of the Detective's Row House, he plays the role of the lady-killer.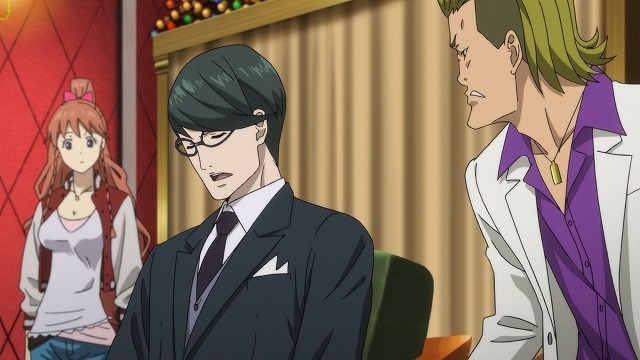 Q: Was it easy to grasp how to act as the characters?
Soma: Moriarty had some pretty detailed directions at the start, right?
Seiichiro: Yes. I was also informed of some of Moriarty's future plot developments at the audition. But that said, calculating backwards from that didn't feel right, nor did over-creating the role by myself or acting eccentrically to match the other detectives.
I tried to act with pure feelings, to make him come off as an honest person similar to Watson, while making the viewers wonder what his role would be. Director Yoshimura Ai also told me to emphasize that honesty and boyishness.
Q: We were told that at the auditions, Sherlock, Watson, and Moriarty were selected by looking at the balance between them. How was it for you?
Seiichiro: There was a really wide range of Sherlocks. I took the audition with Konishi-san who voices him, so I saw the prototype for Sherlock and there were various different types. There was a more "evil" Sherlock, and I thought it was amazing how each actor had unique sensibilities and rakugo styles.
I also auditioned for Watson, but I didn't experiment much with that one. On the other hand, when I considered Moriarty's age and disposition, I thought he'd have more possibilities and more people capable of voicing him, so I'd have to compete with a Moriarty of my very own. I usually don't feel that kind of reaction at the audition stage.
Kyougoku Fuyuto's character was established after Saito Soma was chosen as the voice actor?!
Q: What about Saito-san?
Seiichiro: There wasn't an audition for Kyougoku, right?
Soma: Right, Kyougoku didn't have an audition. I auditioned for Moriarty as well. Due to the audition time slots, there were a different number of people coming for the three main characters. When I went, there weren't many people auditioning for Moriarty, so I kind of forcibly went, "I have free time after this, so…"
Seiichiro: I see.
Soma: I probably acted out Moriarty five times with five different patterns, thinking "I have to get Moriarty after this!" …but I was wrong.
All: *laughs*
Soma: I think they probably took those suggestions into account when they made me Kyougoku.
At first, I took the audition with the intent of voicing Moriarty, but back then, I didn't know the full extent of how the series was going to link rakugo and mystery-solving. When I found out, I thought they were making something very interesting and novel. The director, the sound director Nagasaki Yukio-san, the screenwriter Kishimoto Taku-san, and all of the rest of the staff were having a lot of fun creating it.
A long while after I got the role of Kyougoku, I was talking to Kishimoto-san who I've worked with a lot, and he said that when they had the script meeting, all of the staff agreed that "If Saito Soma's voicing him, let's make him a total nutcase."
The result is what you see now.
All: *laughs*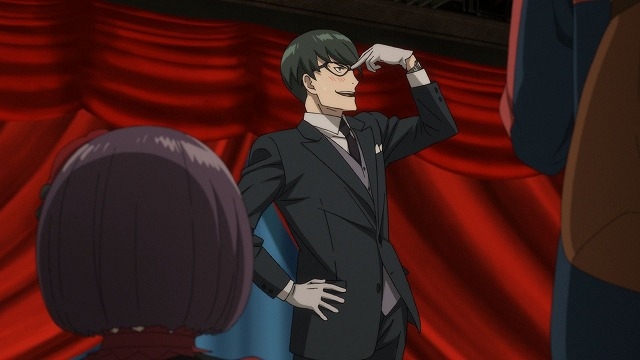 Soma: The recordings are a lot of fun, because there're so many oddballs. Kyougoku acts cool, although the initial direction I was given was, "Just talk in an ikemen voice. It's funnier the more seriously he believes that he's cool." *laughs*
I think that his dialogues will have a more natural, on-the-spot tempo if I don't solidify his character too much. I let his dreams of rising up in the world and his virgin naivete symbolize his inflated ego. Each episode, I aim to strike a balance where others see him as a huge narcissist, but he doesn't see it himself.
I'm not sure if I'd call his character "easy to grasp," but whenever Kyougoku speaks, Konishi-san and Nakamura-san would be like, "Hey, can you stop messing around? We're being serious here." *laughs*
Seiichiro: Right, during the test run. *laughs*
Soma: They'd tease me like, "We have someone from the wrong series here," so I thought I had the best role in the show, recording-wise.
Seiichiro: Even when you were ad-libbing, they'd tell you "Shut up."
All: *laughs*
Soma: It's true. There were a lot of "ad lib the rest" parts in the script, and I tried my best, but I'd get loving retorts in return.
Seiichiro: Someone would whisper "Kyougoku's such a nuisance," and the room would calm down. *laughs*
Soma: And "I'm trying to solve a mystery right now."
Seiichiro: "Can you stop being like that?" Of course, we were just kidding!
All: *laughs*
Soma: Anyway, the recordings were full of endless laughter.
Seiichiro-kun and I are close in age, and we often sat together with Tatsumaru-kun who voices Kobayashi Toratarou. Konishi-san, Nakamura-san, and Suwabe-san kept things rolling, so it was a good recording atmosphere. I think that's why it was so satisfying to mess around as Kyougoku.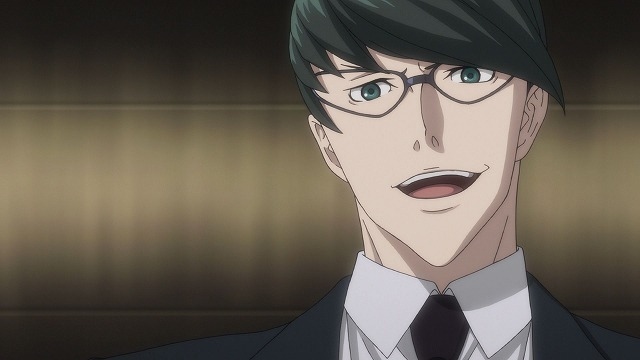 Q: After hearing this, I now understand how Kyougoku's "doesn't think of himself as strange" mindset makes him seem even stranger.
Soma: Most strange people are like that. I want to emphasize that it's the fact that they think they're normal that makes them weird.
Seiichiro: They lack the self-awareness, just like geniuses do.
Saito-san likes Yamashita-san's smooth ad libs
Q: The two of you were also both in Haruchika ~Haruta to Chika wa Seishun suru~ among other series. What did you think of each other in Kabukichou Sherlock?
Seiichiro: Soma-san has been helping me ever since my debut. In Haruchika, my character was the senpai, but we were also together in various other roles and series. This time, we got to work together as characters with a new degree of closeness, and returning to the topic of Kyougoku, it was unknown how Soma-san was going to flesh him out.
At the audition, there was only the cool-looking artwork. I never thought he'd be a character like that… and when Soma-san got to voice him, he completely exceeded my expectations. I was frustrated but happy.
Soma: *laughs*
Seiichiro: I was able to see Soma-san's vivid depiction of "an actor repaints their role." I was impressed all over again. It was such a weird Soma-san… role!
All: *laughs*
Seiichiro: I think this might be my first time seeing Soma-san playing a weird role.
Soma: That's true. Most of the other series we were in together were on the serious side.
Seiichiro: In Haruchika, Soma-san was a proper, genius type. The character had a bit of a quirk, but nothing to the level of Kyougoku. *laughs*
Soma-san, if you were to rank your characters by eccentricity, how high would Kyougoku place?
Soma: I actually don't think Kyougoku is that eccentric; he's just a pure fellow. I've seen the completed footage up to Episode 12, and the episodes starting here make me think he's cute. But, people aren't one-sided. He has an unpleasant side to him too, and his outward appearance really is cool, and he's fairly young at the age of 23, so I thought it'd be good to include that inexperience in life…
I think it's partially my fault that he ended up being gross *laughs*. I think it was Episode 7? He's sitting at the bar with Maki-chan, and while she's looking away, he does that to her cocktail… That was dangerous.
All: *laughs*
Seiichiro: The sound?
Soma: They made it really loud.
Soma/Seiichiro: *laughs*
Seiichiro: I'm sure it's because the other sounds would've drowned it out. *laughs*
Soma: During the recording, Murase Ayumu (who plays Maki) was grossed out and laughed. *laughs*
That aside, Seiichiro-kun and I have been cast as friends for a long time now, and while the relationship in this series is certainly unusual, I've always liked his acting from the start. How do I put this… he doesn't bring his desire to the forefront; like, that bundle of desire that makes me try to make my acting entertaining when I'm voicing someone like Kyougoku.
I really like Seiichiro-kun's ad libs. Rather than making it obvious that he's doing something funny, he smoothly brings them in without destroying the overall flow of the work. I think he has a great sense for using minor additions to make it more interesting.
During the series, Watson calls Moriarty a "well-loved character," and when I'm at the recording or watching the finished anime, I really understand what he means. Moriarty feels like he has a normal presence; he doesn't put on airs or try to show off. He's aloof, but acts like a 16-year old would. I auditioned for Moriarty too, but there aren't many people who can express that aura.
Seiichiro: You're too kind, but that makes me happy to hear.
Soma: I always think his acting is wonderful, and we often sit next to each other at recording sessions, but typically, all we talk about is rap.
All: *laughs*
Soma: Like, "I've been a fan of this lately." The whole time.
Seiichiro: Yes, the whole time.
Soma: Every single time we see each other, we just talk about rap.
Seiichiro: Soma-san does it for work too, and whenever I see it, I think "Wow."
In my mind, I think it's the complete opposite of Haruchika. The things that Soma-san thinks about with Kyougoku are things I also did in Haruchika, albeit in a less experienced way. But now, I try to focus on the overall atmosphere with regards to my role as Moriarty.
On the other hand, I also felt the importance and necessity of being more creative when developing a character, without exceeding them, like Soma-san does. So, I thought it was amazing that he can act to that extent, and I was envious of that. The parts where it said "ad lib the rest" represent the expectations the director, Nagasaki-san, and Kishimoto-san have of him, and I've learned a lot from watching him.
Q: There are very seasoned voice actors there too, but since you two are close in age, I imagine he looks like a closer goal to reach.
Seiichiro: Yes, just by being in the same recording session, I feel my nervousness fade away. I'm happy to work with him, and I can rely on him.
At the recording for Episode 3, Yamashita-san witnessed the moment Kyougoku's life changed!
Q: Were there any scenes that left an impression during the recording?
Seiichiro: The guest characters each week are all so unique, and I think Episode 3, when Kyougoku's life changed, was the moment when Soma-san's approach changed too.
All: *laughs*
Soma: The others talked about it in the last interview too, but Seki-san was rushing over from somewhere else and joined us for the B-part. When his lines for B-zou were recorded, it obliterated all expectations, so we went back to re-record the A-part…
All: *laughs*
Soma: But when I saw it on TV, it was incredibly convincing. "Break your shell," really! It really felt like that.
Seiichiro: It's all thanks to the ad-libbing.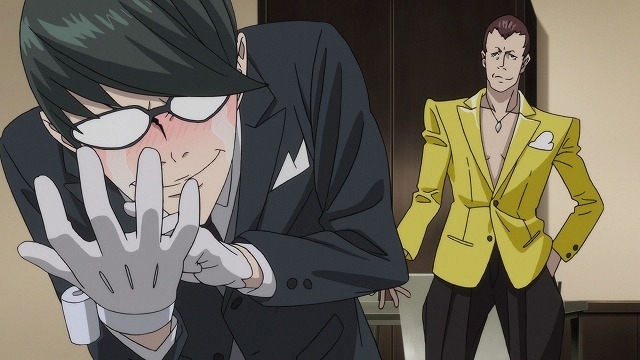 Soma: Partway through, I had no idea what he was saying anymore. "Drinking without water" made me go "What?"
All: *laughs*
Soma: It wasn't written like that in the script. He'd translated it on the spot, and I laughed out loud.
(They look at the script with ad lib corrections made, provided by the staff)
Soma: Most of his lines were corrected.
Seiichiro: "I tried to join them, but they wanted to drink without outsiders ((same word as 'water'))" became "Me tried to be together with them, but they were drinking without water."
All: *laughs*
Soma: Seki-san was amazing.
Seiichiro: It's good that they didn't add subtitles either.
Q: I think Saito-san is amazing too though, for handling that on the spot.
Seiichiro: His adaptability was amazing. I think it takes a lot of energy and brain power to go back to the A-part and redo what you already recorded.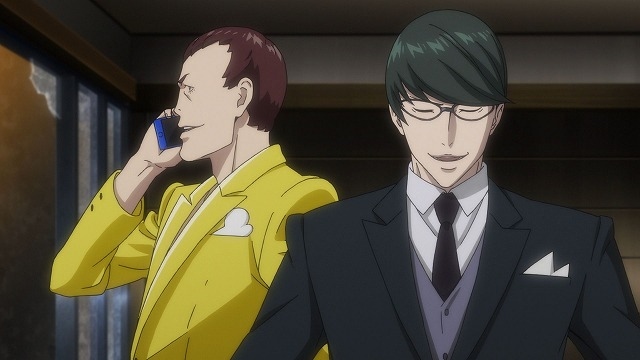 Soma: It would've been off-putting if Kyougoku suddenly twisted out of shape for just the B-part. Since the B-part was recorded before the new A-part, his personality became even more developed, and his character is different between the two parts now.
All: *laughs*
Seiichiro: He became really lively from the start.
Soma: At first in the B-part, I was tentatively acting like a certain rock singer, but the A-part ended up being surprisingly different, so I just rolled with it.
However, Kyougoku doesn't have that many lines in Episode 1 and 2, and since he suddenly started out that way in Episode 3, I thought the viewers wouldn't understand either. Sure enough, there were many comments saying "This makes no sense." But, I think Kabukichou Sherlock is all about that kind of chaos, and it was entertaining.
Was there anything else funny that happened during recording?
Seiichiro: It was always funny. I think the benefit of mystery-solving series is that, when we're all gathered in the same room discussing what the answer is, it builds our friendship and raises morale in the studio.
Each character had their own episodes, like the Mary/Lucy sisters and Kyougoku, and when it came time for the next person to get their episode, it was fun to focus the attention on them. And then there was the sense of security from rakugo tying everything up at the end. Konishi-san's rakugo was fun to listen to, and there'd be ad libs from Watson too.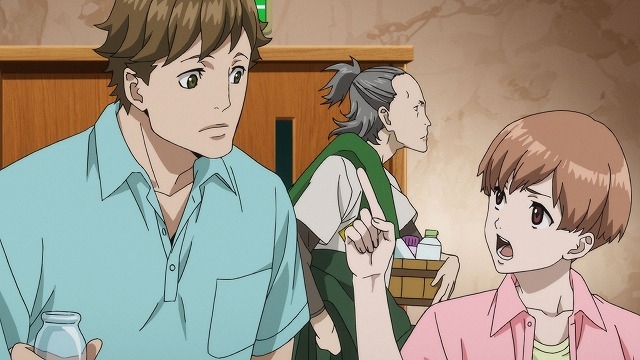 Soma: Those were great. Nakamura-san is really amazing too.
Seiichiro: Yeah. Watson is amazing, and you'll be seeing more and more of how he's not just a simple good guy.
Soma: The mood at the recording sessions was so good, that when I saw Konishi-san or Nakamura-san at other jobs, we'd get excited about how fun Sherlock was and wonder what would happen next.
Seiichiro: Chado-san said so too, right?
Soma: Haha! *laughs upon remembering*
Seiichiro: Why're you laughing?
Soma: No, I'm just really excited to talk about Episode 6 today.
All: *laughs*
Soma: His voice as Potter was exactly the same as his other role in the show, so I thought, "You're kidding me, right?"
Seiichiro: And his character is bad at rapping.
Soma: His "bad" acting was great.
Seiichiro: It was a perfect fit.
Soma: Anyway, we had a lot of fun with the recording sessions.
When you look carefully at the opening movie, there's some obvious foreshadowing…
Q: Since Moriarty is Sherlock's archenemy in the original Sherlock Holmes novels, many viewers were making predictions about him from the very start.
Staff: For example, the butterfly scene at the end of Episode 3.
Soma: When I saw the completed footage, I felt that the foreshadowing was fairly straightforward.
Seiichiro: Same with the OP… that Maki-chan.
Soma: I really laughed at Maki-chan.
Seiichiro: In my head I was like, "There it is!"
All: *laughs*
Seiichiro: Moriarty's smiling a bit too.
Soma: He has a lot of different expressions scattered throughout.
Seiichiro: The Sherlockians are paying a lot of attention to him, and the references to the original work are well-received.
It's the first time I've seen such an elaborate handling of the preexisting Sherlock & Watson lore. It strikes a balance between the mystery-solving, Kabukichou setting, oddball characters, and the gaudiness that's one step away from being indigestible. There's rakugo on top of that too, and I think the anime brings everything together well. There are various parts that strike an impact, and it's really entertaining. There's a Sherlock TV drama airing right now too, so I guess there's a boom going on.
Soma: Seriously, the vanity searching is a mess.
Seiichiro: You can't tell which Sherlock they're talking about.
All: *laughs*
Q: By the way, what image did you have of the original Sherlock and Watson? What was your first Sherlock work?
Seiichiro: I haven't properly read the original novels. So even if I encountered them in dramas and whatnot, this series is my first time formally experiencing Sherlock.
Soma-san seems like he would've read them.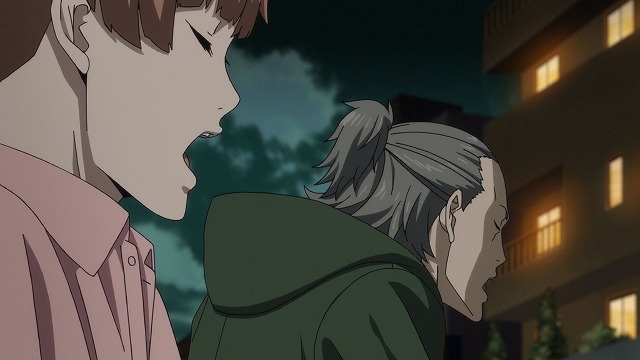 Soma: I think my very first gateway would've been the manga that a popular anime series was based on. The protagonist was a big fan of Sherlock, which caught my attention.
I've always liked mystery works, but when I read that in around middle school, I kind of shrugged it off and didn't read the novels at all.
Last year, I happened to find A Study in Scarlet on Kindle, so I read it… and for lack of better words, Sherlock Holmes is ridiculously OP.
Seiichiro: I see!
Soma: He's such a genius; it's insane. He'll suddenly pose a guess at Watson who just entered the room, saying that there's "three reasons," and all of them will be correct.
It's a great time to read it now, too. Sherlock Holmes is the king of mystery novels, but while people recognize the name, they might find it hard to get into. But it's actually surprisingly good entertainment, which I suspect is why there's so many entry points to it now. I haven't read too much of the original work either, but I'd like to go back and do so.
Q: Kabukichou Sherlock can be enjoyed by both Sherlockians and non-fans alike. But on the other hand, if your impression of Sherlock is too strong, it might be hard to get into it at first.
Seiichiro: Yes, but in a way, I think it's natural for opinions to be divided.
Soma: I think that's how it should be for this work. I'd actually be more concerned if it were universally praised.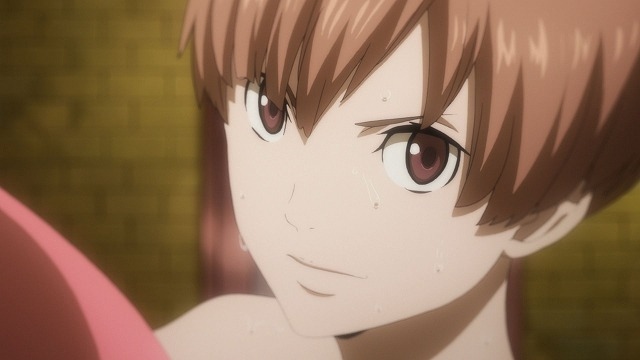 Seiichiro: It'd be like, "Is this okay? It's full of dirty jokes, you know?"
Since we're all creating it with the mindset of making it entertaining in a way that's never been done before, I think it's only right for there to be a clear divide in positive and negative reception. That way, instead of being given a suitable rating and getting buried, it manages to leave a mark. When I look at what people are saying about it and see all of the different opinions, that's what I think.
Soma: I really love 2000s anime, and I get the same kind of feeling from this. The rakugo mystery-solving is a new concept, but it feels similar… I wonder why. Is it the music?
Seiichiro: We talked about that at the recording studio too.
Staff: Could it be the jazz music, or Mrs. Hudson?
Soma: Mrs. Hudson's enthusiasm in animated form is crazy. I laughed a lot at "Give me Pu!"
All: *laughs*
Seiichiro: Her clothes and hairstyle change every episode too.
Soma: Yeah. She actually might seem pretty novel to today's teenagers, while people who liked the anime I liked as a kid would feel nostalgia.
Yamashita-san and Saito-san would like you to at least watch up to Episode 12 first!
Q: From what I've heard so far, there were a lot of ad libs. Saito-san's ad libs were denoted in advance, but were the others also asked to ad-lib?
Soma: I think it depends on the person, but this time, there were a lot of cases where people chose to add ad libs by themselves. We usually aren't expected to ad-lib, but I think everyone wanted to leave an impact, especially the guest actors who only had one episode to make their mark. It was crazy… Seki-san went completely off-script.
Seiichiro: Out of the regulars, Aoyama-san who plays Michel took the initiative the most often.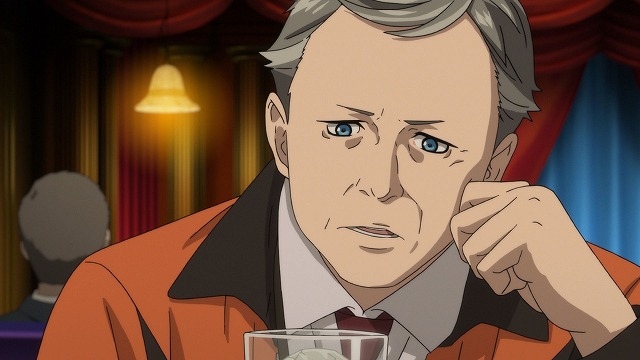 Soma: Yeah! Aoyama-san's the best.
Seiichiro: He is, and the way Michel says everything he wants without ruining the flow is exceptionally charming. It's cute.
Soma: Aoyama-san is a true master of his craft, and his acting pushed us to act more freely.
Seiichiro: His grumbling was amazing.
Soma: This series gives us the room to experiment more aggressively, and I don't mean in the sense of screwing around. It became a battle of ad libs between everyone.
Seiichiro: It gradually started affecting us; for characters like Tora that'd say something stupid and get made fun of, their reactions would change based on spur-of-the-moment judgement, and that was great.
Q: In the previous discussion, Nakamura-san said that all of the characters came into shape as the recordings progressed.
Seiichiro: Yes.
Soma: They did. In this first cour, not every character had their own introductory episode, but by the first half (Episode 6), pretty much all of the Detective's Row House members are brought into the overarching story. When I watched it myself, I really felt that it was taking shape.
Seiichiro: It might be because we've gotten used to Kabukichou Sherlock's chaos.
Soma: Indeed, at first I was like "What the heck is this?"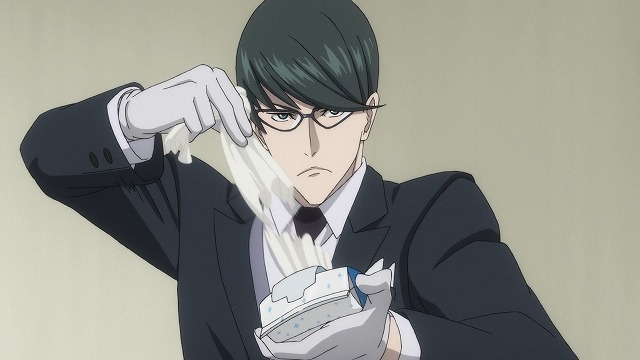 Seiichiro: We gave up on scrambling to figure out what it was.
All: *laughs*
Soma: I couldn't really understand from reading the script, and was left wondering.
Seiichiro: It wasn't until the second half of the first cour that I started being able to accept that. After taking in all of the bizarre and ridiculous conversations each episode, I'm sure the viewers will also get used to the absurdity, and as part of the production side, I'd like them to keep watching until they get to that point.
Soma: I'm begging you, please watch all the way to Episode 12 first. Really, please do. *earnest voice*
Seiichiro: I felt that Episode 1 laid things out well and Episode 2 wrapped it up cleanly, and you can just continue on from there.
Q: The story begins to take big strides in the second half of the first cour, so it pulls you in.
Seiichiro: Episode 3 establishes that Kyougoku is trying to rise up in the world, and from there, more of the detectives' motives and circumstances are revealed, so I think the viewers will be able to sympathize with and understand each of the characters.