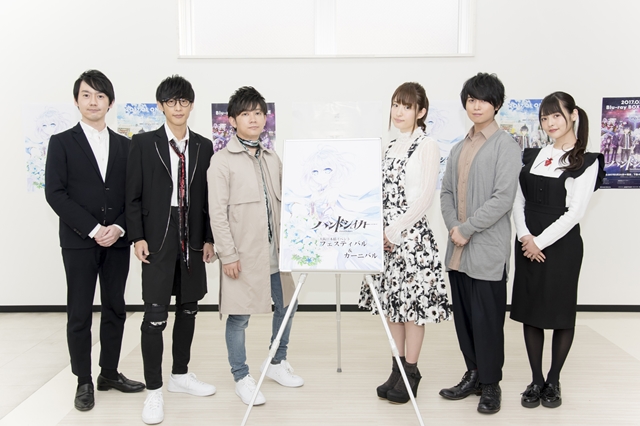 Date: 2017/3/19 @ 12pm, 3:30pm
Event: Osaka Nipponbashi Street Festa 2017
Guests: Kanazawa Hiromitsu (Director), Saito Soma, Uesaka Sumire, OxT, Komatsu Mikako (2nd session only)
Event Reports Sourced: https://www.animatetimes.com/news/details.php?id=1490605106 https://note.com/shuhei_sa/n/n65114bf568a9 https://note.com/shuhei_sa/n/n446e0d79acca
---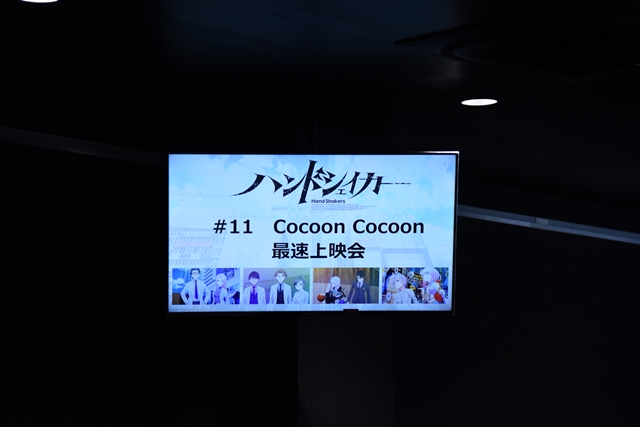 The event consisted of a cast talk, live performance of the OP theme, an advance screening of Episode 11, as well as a surprise screening of the Episode 13 OVA.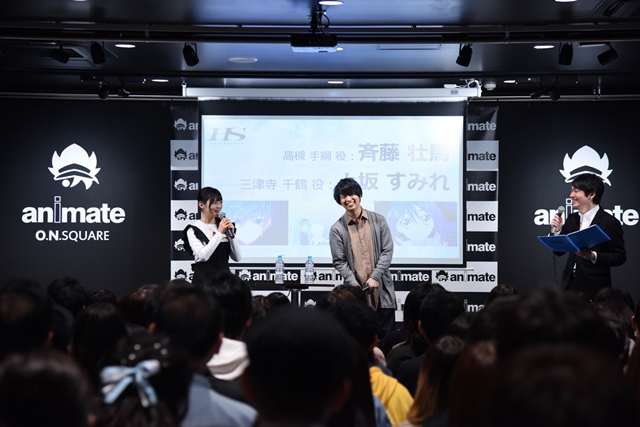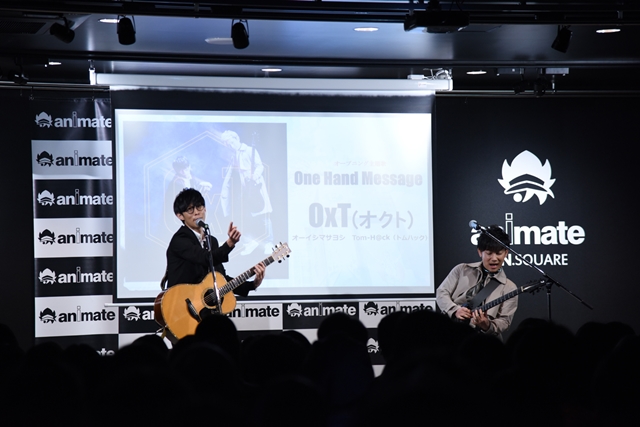 Messages were received from all guests, but only Soma's will be translated here:
"Thank you for coming to today's event! For the previous advance screening (November 2016), I arrived in Osaka the day before and got to eat kushikatsu, but this time I arrived on the day of. I think this was the earliest I've ever woken up in my life haha. This was my third time in Osaka, and two of those times were for Hand Shakers events, so thank you Hand Shakers!
A cour is long, but it goes by so fast. Three months ago I was thinking "It's finally beginning~", but all of the crazy developments happened, and in Episode 9, Koyori was finally able to speak. After watching over her growth for so long, I was all "SHE SPOKEEEEE!!!" with the excitement of a certain hamburger shop's commercials *laughs*. So this is what it feels like to be a guardian *laughs*. I'm glad that Tazuna and Koyori are "meshing" more than ever before.
In today's event, we screened Episode 11, which explained Makihara and Nagaoka's past. The story is finally reaching its climax, and the final episode is upon us. Please look forward to what awaits Tazuna and Koyori at the end of the battle.
…I don't want to call Episode 12 the final episode. The broadcast of Tazuna and Koyori's story will be ending for now, but their lives will go on, and Episode 12 gives hope for their future. So, please don't think of it as the final episode, and enjoy it as Episode 12.
I hope this series will continue on in various forms. That way, I'll be able to use it as an excuse to come back to Osaka and eat horumon-yaki! *laughs*"
---
A Sumipe fan compiled a detailed event report, and I'll list the Soma highlights here:
Soma apparently eats taiyaki from the tail side first.
During the audition, the voice actors were not shown character visuals. The director was surprised by Soma's performance, because it was in perfect sync with Tazuna. The staff chose him unanimously. In the second session, Soma responded by saying "Osaka's a great place, huh~?!" "Please keep praising me. I'm the type that grows from praise."
Since it was an original work, they wanted everyone to create it together. The cast was also included in developing the characters.
When Soma watched Episode 1, Tazuna looked cuter than what he expected, but he certainly wasn't weak.
In Episode 9 when Koyori finally speaks, Soma remarks that Morohoshi-san must've been happy to be able to use her vocal cords more. When he was talking to her at first, she said "Koyori doesn't speak" and his reaction was "Huh?" According to the director, for the audition they used lines from after Koyori becomes able to speak. He apologizes for not telling the voice actors at the time that she wouldn't be speaking at the start of the series.
Soma points out Koyori's enthusiastic breaths when playing Precious Memories, and says that he was happy to be able to exchange words with her.
Tazuna's "mesh" catchphrase was a result of the staff thinking it'd be nice if each character had their own keywords. "Mesh" was chosen for Tazuna because of the dual reference: his Nimrode being gears, and "hand holding" which corresponds to forming a new relationship and synchronizing feelings.
Soma: "There was a line about 'meshing' at the audition. They didn't provide any supporting materials at all, so I didn't know what it meant, but saying things we don't understand in a cool way is an important skill for us voice actors." (Audience laughs)
Regarding the scene in Episode 2 where Tazuna and Koyori go into the bath together, Soma said the director instructed him to make the monologue more passionate.
Soma imitates Hayate a few times during the talk, and says he couldn't understand him (and apologizes to Kaito).
Many of the main cast were around the same age, but there were also respected veterans in the older range. Soma says "There was pressure. They wouldn't show me what the character looked like, and my partner doesn't even speak." (Audience laughs)
Soma drinks from his water, and the audience laughs (the writer didn't see what he did to prompt that, but I imagine it was some kind of funny motion). Sumipe doesn't know what's going on and asks "What're you doing? Shoplifting?" causing the audience to burst out laughing. Soma: "In those few seconds?!"
Sumipe asks everyone to buy the blu-ray box, and Soma says "Please buy spare copies too." Sumipe: "A businessman, I see… What do you use spare copies for?" Soma: "You know, one to appreciate, one to store…" Sumipe: "Do you use them for year-end gifts?" (Audience laughs) Soma: "The recipient will know how good it is *laughs*."
Soma: "The scene where Tazuna and Hayate are talking about bicycles was on a separate script that was around 5 pages long. But on the broadcast version, you couldn't hear it at all."
Soma and Komatsu Mikako both did some background chatter as well.
When talking about the hotel collab, Soma introduces the room's features and:

(Session 1)
Soma: "This… is amazing. When you enter the room, it's like, BAM! Sky Tree! BAM! Character art!"
(Session 2)
Soma: "This… is amazing."
Oishi: "…How so?"
Soma: "…Huh?"
Oishi: "How is it amazing?"
Soma: "Well… when you enter the room…"
Soma+Sumipe: "BAM! Sky Tree! BAM! Character art!"
(Audience roars with laughter)
Oishi: "If you enter the room and the Sky Tree goes BAM!, doesn't that mean there was an accident?"