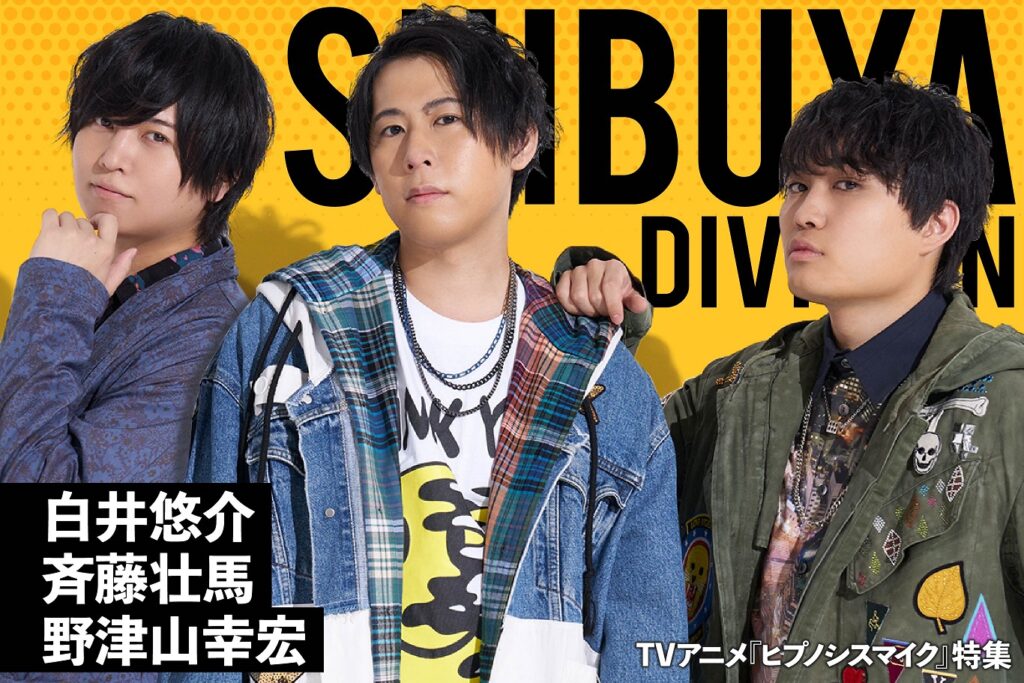 Original URL: https://news.livedoor.com/article/detail/18861841/
Published: 2020/9/24
Features:
Shirai Yusuke (Amemura Ramuda in Hypnosis Mic)
Saito Soma (Yumeno Gentaro in Hypnosis Mic)
Nozuyama Yukihiro (Arisugara Dice in Hypnosis Mic)
Mentioned:
Kimura Subaru (Yamada Ichiro in Hypnosis Mic)
Kijima Ryuichi (Izanami Hifumi in Hypnosis Mic)
Hayami Show (Jinguuji Jakurai in Hypnosis Mic)
---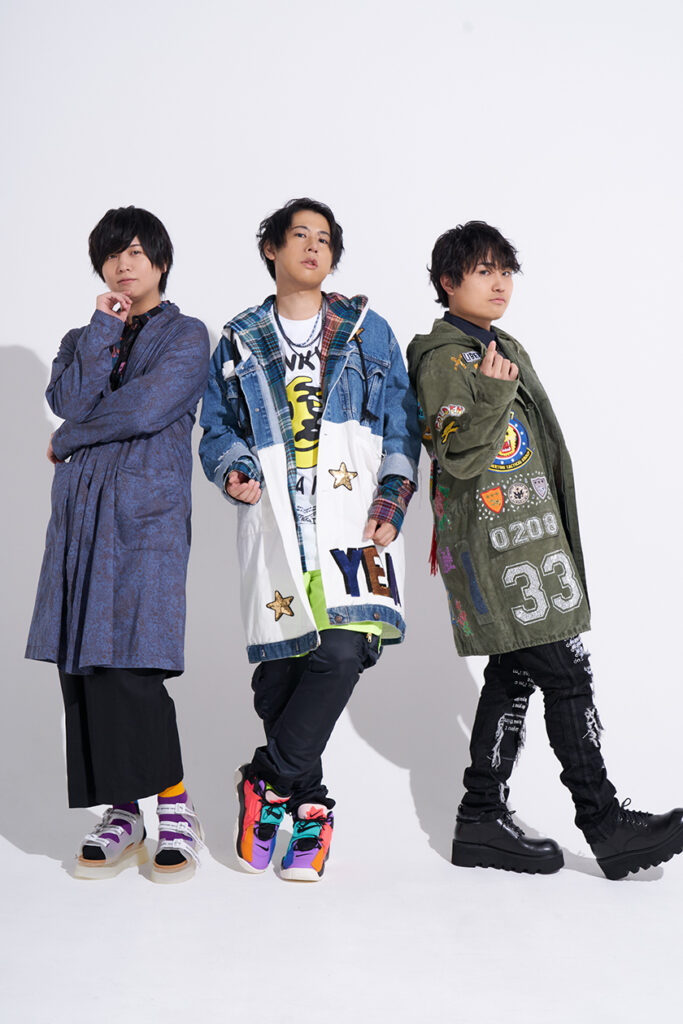 Taking a look at the animated rap battles
Q: At last, the anime Hypnosis Mic -Division Rap Battle- Rhyme Anima will begin airing in October. What were your impressions of the story?
Shirai: The original drama tracks focused on each division individually, but in the anime, the four divisions will all be appearing at the same time. I was curious about how the characters would interact with each other.
I can't give any details, but everyone had their time to shine, in a well-balanced way. The starting point and the characters' relationships are a bit different from the drama tracks, so I hope you'll look forward to that.
Saito: Right. I think it's made in a way that's easy to watch for people who are starting with the anime. It has its own charms that will appeal to people who are already Hypmic fans, while also being a good jump-in point for people who think, "I hear about Hypmic a lot, but where should I start?"
Anyway, I think it'll make an appropriate entry point because Episode 1 gives you the gist of the four divisions' characteristics.
Nozuyama: I think the story will also feel fresh for people who have been listening to all of the drama tracks.
Shirai: Gentaro and Dice are really nice guys in the anime. It's touching to see Shibuya Division like this in the anime after experiencing the drama tracks, so there's an advantage there.
Saito: In one of the episodes, when I said Gentaro's "Maro wa (…)" line at full blast the way I did in the drama tracks, I was told to say it more mildly. Gentaro might be more elegant in the anime than he is in the drama tracks.
Ramuda and Dice had very detailed movements, right?
Shirai: Those two move a lot.
Saito: Both of them are the cute type, but I think Dice is going to increase in popularity. *laughs*
Shirai: *laughs*
Saito: The animation emphasizes his puppy-like character. There was also quite a lot of playing around with ad libs.
Nozuyama: And as always, he's hurting for money… so the acting wasn't much different from the drama tracks.
Since the cast has been doing the drama tracks for three years now, the characters have been solidified in our minds. So, we often suggested phrasings that would be more fitting for the characters. The staff accepted our suggestions, and the recordings went smoothly.
Q: How were the rap battle scenes?
Saito: Since the rap battles were audio-centric up until now, we were excited to see how they would be depicted in animated form.
(At the time of this interview) We've only seen Ikebukuro Division's rap battle so far, but it's really flashy, and it made me want to turn up the volume and watch it on the biggest screen that I can. Each song has its own individuality, and I think that's one of the Hypmic anime's biggest highlights.
Seeing the rap battle in visual, animated form was very new and impressive for us.
Shirai: We also voiced the extras who were defeated in battle.
Saito: Yes, we voice a lot of extras here and there. As for the interesting enemies…
Nozuyama: The enemies have really strong personalities! And as usual, the names were hard to read. *laughs*
Saito: I think the exaggerated characters are really funny.
Q: Every episode is going to have a new song. What was it like recording Shibuya's songs?
Nozuyama: They have the Shibuya aesthetic while also being new genres.
Shirai: There was also a hardcore song. It was a lot of fun.
Saito: It was similar in style to "BATTLE BATTLE BATTLE."
Nozuyama: It's been a while since we had a song that felt like a battle.
Shirai: I didn't expect to be able to sing this much for the anime.
Nozuyama: There was a month when we had recordings every week, right?
Shirai: It's because there's a new song every episode. Our songs are all very "Shibuya," so please look forward to them.
Q: It seems that you were able to record the first half of the series with the whole cast together. What were the recordings like?
Nozuyama: With all of the male cast gathered in the dubbing booth, it really felt like the world of Hypmic, where men are forced to live outside of Chuo-ku.
What I personally liked was that even though no one said anything, everyone naturally sat with their divisions. At concerts, our backstage locations are assigned by division, but that isn't the case at anime recordings. And yet…
Saito: No, that wasn't the case for Shibuya… *laughs*
Shirai: We were all over the place. *laughs*
Nozuyama: Wait, really? *laughs*
Saito: For Episode 1, Shirai-kun was sitting somewhere else, right?
Shirai: Yes, I was somewhere.
Nozuyama: Shirai-san's never around.
Shirai: Wait, you know that's not true! *laughs*
Nozuyama: Saito-san and I often sat near each other.
Shirai: Ikebukuro was always together.
Nozuyama: Yeah, you're right.
Saito: Shibuya's characters all do their own thing, and I guess that goes for us too…
Shirai: Pretty much.
Saito: It felt like we could sit next to anyone, wherever there was an empty space. It was actually comfortable that way. The overall atmosphere was really nice, since they're all good people and we perform concerts together.
Shirai: It was really friendly.
The Fling Posse style is where everyone does their own thing
Q: How has the relationship between the Shibuya Division cast members changed over these past three years?
Shirai: It doesn't feel like anyone's the leader.
Saito: But I feel at ease when Shirai-kun's around.
Nozuyama: His presence is really reassuring.
Shirai: I'm pretty free spirited, so I might be similar to Ramuda.
Saito: I think there was a time when we couldn't start rehearsing because you were eating vegetable sticks…
Shirai: The concert rehearsal? That was… *laughs* They happened to say "Let's begin" right when I finished eating them. Then I was like, "Wait, were you waiting for me to finish my vegetable sticks…? I'm so sorry."
Saito: Thanks to that unique pacing of yours, the rest of us can go "Let's do this!" without feeling nervous.
Nozuyama: You help us relax.
Shirai: It really feels like everyone, not just Shibuya, lets me do whatever I want. It means that I don't have to worry either. I think that these two are acting freely too—no one is leading the way. I've always felt that the Fling Posse style is where everyone does their own thing.
Saito: The three of us also went drinking together, although we haven't been able to recently due to the coronavirus situation.
Nozuyama: Yeah.
Saito: It feels like our meetups have gotten more fun over the years, but then again, I think we were just as close from the beginning?
Nozuyama: Yeah, I don't think our closeness has changed much.
Saito: Rather than "Let's do our best to become friends," it was more like, "Oh, so you're that kind of interesting person; got it." I think there are various different kinds of teams out there, but in our case, it might feel a bit ephemeral.
Shirai: You're right.
Nozuyama: It's like, there doesn't need to be a plan. For example, if someone says "Let's meet at 6pm in Shibuya," I'll head there at around 6pm, even though we haven't decided where in Shibuya we're going.
Saito: We take things seriously when we have to, but we also have a nice, comforting sense of leniency. There's no specific "Shibuya should be like this" in our minds.
Shirai: There's no rules or standards.
Nozuyama: Shibuya is free.
The two-faced Ramuda, the sensible Gentaro, and the honest Dice
Q: Tell us again about what you like or sympathize with about your characters.
Shirai: Amemura Ramuda is very cute, but I think his movements and facial expressions in the anime make his cuteness even more apparent. Also—and I think this word can be interpreted in different ways—he's very "humanlike." I like how he expresses his emotions without hiding them in his heart, and it makes me want to support him.
Q: Since you always act calmly and naturally, it's interesting to see you voice a two-faced character like Ramuda.
Shirai: Yes, I'm aware that I'm not two-faced.
Saito: Indeed.
Nozuyama: At most, there's your "watching soccer" and "not watching soccer" modes.
Saito: I was thinking the exact same thing. "Liverpool" and "everything else." (Shirai-san is an ardent Liverpool FC fan)
Shirai: I don't go through any sudden changes, but acting as two-sided characters feels really satisfying and fun.
Q: What about Gentaro?
Saito: Yumeno Gentaro is an author and his MC name is "Phantom." As you can tell from his catchphrase "That was a lie, though," one of his character themes is "lying" or "fiction." It's difficult to figure out what he's really thinking—he's truly shrouded in fog.
However, that's only at first glance. My personal opinion is that even though Gentaro talks and acts peculiarly, he's actually relatively sensible. It's like he's acting strange on purpose.
I also think he exists to balance out Ramuda—who's shouldering something extremely heavy—and Dice, who's pure and honest with his feelings.
I like literature too, so I think that's something we have in common. But I've never told any lies like his in my entire life, so we're really not the same at all.
(Shirai-san and Nozuyama-san are staring at Saito-san)
Saito: (serious face) …Huh? But I really didn't lie.
Nozuyama: *laughs*
Shirai: I was waiting for you to say "That was a lie, though" at the very end.
Saito: But it's true?
Shirai: What? Is there anyone who's never lied?
Nozuyama: He's been like this his entire life.
Saito: It's true.
Shirai: Ohh.
Nozuyama: He declared it with confidence.
Saito: *laughs* Joking aside, Gentaro talks in the form of several different characters. As an actor, it's fun to be able to use various different voices to expand a single character's range.
Q: What about Dice?
Nozuyama: The Shibuya characters' histories are a mystery, and in Dice's case, he seems like an idiot at first glance and he refuses to talk about his past. The one thing that's easy to understand about him is that he really loves gambling. Although I don't think that gives the best impression…
Saito: That's the only way you can describe him, after all.
Nozuyama: He bets all of the money he has, and he borrows money from other people without returning it.
Shirai/Saito: *laughs*
Shirai: Are you okay with that being the most important thing for new viewers to know about Dice? *laughs*
Saito: Well, he's also pure, like a puppy.
Nozuyama: He's good at being spoiled, since he's not afraid to say "Lend me money"…
Shirai: That? *laughs*
Nozuyama: He's honest and cares about his friends.
Saito: He's passionate, right?
Nozuyama: Yeah. Ramuda and Gentaro are his precious friends. When Ramuda's in trouble, he says "Let's save him." I also like how he's honest about what he likes.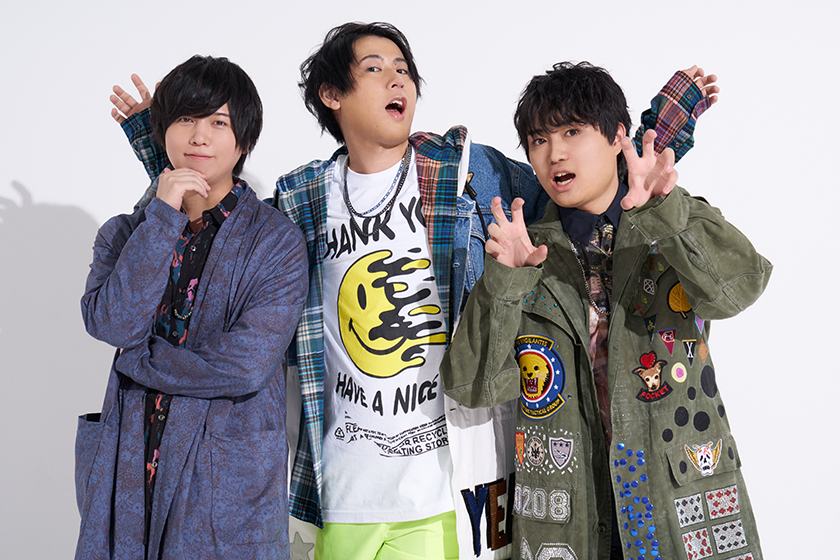 The OP theme would be a real challenge to sing by yourself
Q: What were your impressions when you heard the OP theme "Hypnosis Mic -Rhyme Anima-"?
Shirai: The full group chorus felt different from the previous times. I think out of the 12 people, my recording was first.
Saito: The first take was hard, right?!
Shirai: Yeah. For the chorus, they wanted a different approach compared to previous songs. On top of that, I had to bring out Ramuda's characteristics in the song. It was a difficult trial and error process.
Saito: There was the issue of how much we could maintain character while singing.
Shirai: Right. We were instructed to emphasize the chorus' nuances while keeping the character in mind.
Saito: Rather than singing it however we wanted, we needed to bring the 12 characters' nuances together.
Shirai: I'm interested in what people will think when they hear this song. It is a cool song though; fitting for the opening theme. I hope the fans will try to sing it too.
Q: It's quite fast-paced.
Shirai: It is.
Saito: That's what happens when you try to show everyone's part within the length of a TV anime opening. Compared to the other full group songs, this one is shorter overall, so it switches between solo parts at a crazy speed.
I think it'd be a real challenge to sing all of the parts by yourself. Once you lose track for a second, it's over. It'll probably be difficult to sing live, too.
But, the song felt challenging in a good way. I wonder if it's because they believe that we can handle it.
Q: What do you think, Nozuyama-san?
Nozuyama: As Saito-san said, it switches between characters in short phrases, but it's amazing how each character stands out on their own and you can clearly tell who's who. Part of it is because we've sung as these characters for three years, but I really felt again how amazing Hypmic is.
Shibuya Division's songs are poppy and emotional
Q: Since there will be anime watchers who are new to the franchise, please tell us about Shibuya Division's musical style.
Shirai: Shibuya is… pop music but emotional.
Saito: Right. They're not only bright and happy.
Q: Are there any particularly emotional lyrics in your songs so far?
Saito: Shibuya has a lot of ephemeral lyrics. "Shibuya Marble Texture -PCCS-" has that melody to it and the lyrics are about fleeting moments.
Saito: Then there's "Stella" of course, and its "Saisei no Verse" (verse of rebirth) lyric. That phrase became our mysterious slogan.
Saito/Nozuyama: (at the same time) "Saisei nooo~ Verse!"
Saito: *looks at Shirai-san* …Did you forget? *laughs*
Shirai: No no, I remember.
Saito: We suddenly did it at the ABEMA concert (in March 2020), right?
Shirai: Yeah, we did!
Saito: Right before the show, we were asked if we had a signature pose for the three of us, and Shirai-kun said "We do." Nozuyama-kun and I were like, "Huh? What?!" Then Shirai-kun said, "It's 'Saisei nooo~ Verse!' and we were like, we only decided on that just now! *laughs*
Nozuyama: We'd never done it before. Well, that's how Shibuya is.
Saito: We roll with the flow.
When I received the demo for "Stella," I really liked it, and I remember thinking that Shibuya needed a song like that. I wrote "Did you guys hear the demo?!" in our LINE group chat. They hadn't listened to it yet, so I said "It's really cool, so listen to it as soon as you can."
Shirai: Yeah, he did send that. I was surprised, like "That Soma-kun sent us a LINE message…?!" *laughs*
Saito: I rarely start LINE conversations myself.
Nozuyama: In this group, no one really starts LINE conversations themselves. When Soma-san's LINE message came, I was surprised and immediately went to listen to the demo.
Saito: It was an incredible song. All of our songs were impressive, but with "Stella," it felt like Shibuya had moved on to the next stage.
Nozuyama: I like the line in "Shibuya Marble Texture -PCCS-" that goes "kaerimichi sukoshi toomawari" (taking a little detour on the way home).
Saito: It's nice how it's like, we have to go home, but…
Nozuyama: It's emotional. It's "chill" which is cool. (He says the English word "chill" which is not commonly used in JP.)
Saito: Suddenly bringing up "chill" *laughs*
Nozuyama: I thought it'd be a Shibuya-like word. *laughs*
Shirai: *laughs* "Shibuya Marble Texture -PCCS-" and "Stella" are emotional in different ways, and they're both stylish and cool. Personally, I was touched by the line "tsumasaki wa mae ni muketeoku" (point our toes forward) in "Stella."
I think the more that Shibuya's relationships and story are developed in the drama tracks, the more meaning "Stella's" lyrics hold. I'm sure that the listeners feel that way too.
The lyrics also give us a little push on the back in our everyday lives, and their meanings might continue to change in the future.
…Wait, what are you laughing at? *looks at Saito-san who started laughing beside him*
Saito: No, I was just remembering 4th Live, when we stood on a rising triangular stage. We came up with the name "Stella in the sky" for it, but will the "Stella _____" series continue?
Shirai: Like "Stella on the ground."
Saito: Or "Stella in the water." *laughs*
Shirai: How're we going to do that?! Our voices are going to be gurgly the whole time.
Saito/Nozuyama: *laughs*
Words feel different after three years of Hypmic
Q: I think that this was your first experience with "rap x character" content. How did you become accustomed to rapping?
Saito: I mainly just listened and voiced it out over and over again.
…Nozuyama-kun has a history, right?
Shirai: He's a former rapper, or something.
Saito: His first cry as a newborn baby was rap, or something.
Nozuyama: No! My first cry wasn't "Aaai!" *laughs*
Saito: "Aaai!" could actually be possible. *laughs*
Nozuyama: Yes, but… *laughs* But really, I wasn't that familiar with rap.
Shirai: Really?!
Nozuyama: I'd never rapped before either. Actually, I was the kind of person that would think rap was scary if a friend sung it at karaoke.
Shirai: How come?! *laughs*
Nozuyama: I had this "underground" impression of it. So at first, I listened to rap that was sung by an idol.
Shirai: Huh, that's surprising.
Nozuyama: After I'd gotten a bit used to it, I asked a friend who was a rap fan to tell me their recommended artists and programs. When I listened to them, I thought they were really interesting. Even though I was averse to it for so long, I got completely addicted to it. Hypmic allowed me to meet rap for myself.
Shirai: As for me, before I became a voice actor, I often sung rap songs at karaoke. I liked the sense of achievement and refreshing feeling that came from cramming in all of those words without fumbling, but Hypmic made me realize that it's completely different when you have to do it in character. It's refreshing and satisfying to think about how Amemura Ramuda would express himself when rapping. I kept practicing while thinking, "I want to sound more like this," and at some point, I started coming up with my own ideas too, which made it even more fun.
Saito: I've always loved listening to music, but my formative years didn't include rap. I liked guitar rock songs. As the years passed, I started listening to electronica and hip hop—"chill" songs. *looks at Nozuyama-san* …I'm being laughed at!
Nozuyama: "Chill" songs, right? *laughs*
Saito: *laughs* In the past, I had opportunities to do rap parts in character songs, but I never imagined there would be such a rap-focused series. But as a voice actor, I had a sense of how to rap as a character, so I didn't worry too much about how to rap as Yumeno Gentaro.
Gentaro's rapping isn't what most people think of rap as—it's "poetry reading." He often raps to a calm beat without a set rhythm. So, Gentaro and Hypmic created a new style of rap music for my knowledgebase.
Shibuya's raps have become very diverse. I was glad that I got to do high-speed rap with Dice in the drama tracks.
Nozuyama: We did!
Saito: My intuition towards words has changed after three years of Hypmic. The rhythm and flow of words are important for my job as a voice actor too. I want to keep working hard and enjoying this change.
Q: What do you think about concert direction and performances?
Shirai: I don't know what the other divisions are doing, but I'd say we discuss it a lot. We think it's important to know what we want to show and how we can reach the audience. The three of us have gone out to eat before and had discussions like, "Would it be better to move like this at this part?"
Saito: When a voice actor stands on stage, the question "How in-character should I be?" has no correct answer, so it's difficult… For example, Ramuda's "selfies" have become a recurring act for us, but I'm curious as to what people actually think about our acting there.
Shirai: At first it was on impulse.
Saito: At some point it became a recurring act. In order to show that carefree fun, we discuss to some degree and then act freely on top of it.
Q: "Stella" was also impressive at 4th Live.
Saito: Since "Stella's" lyrics are like a play within a play, I thought it'd be nice for the trio to show different facial expressions than usual.
As I said before, there's no correct way to depict our characters, but when I was performing "Stella" and saw that Ramuda's face was down the whole time and Dice had a pained expression on his face, I realized that we all had a similar idea.
Shirai: Right. We did say in advance that for the division songs, we'd snap into place for the hooks of the songs. But as he said just now, it feels like we naturally had the same mindset on stage.
Deepening bonds and future potential
Q: Lastly, please tell us what Shibuya Division does better than any of the other divisions.
Saito: The characters and songs are really upbeat, but they aren't purely bright and happy. There's a tinge of sadness and darkness as they walk with light steps. I think their ephemerality is why you can't take your eyes off of them.
We talked about "Stella" earlier, and I feel that the original Fling Posse wouldn't have come up with this song. Ramuda originally put together the team for the sake of winning, but their bonds grew deeper, which is how these songs and stories came to be. I think you can really feel their potential future growth.
Shirai: The name Fling Posse also directly translates to "comrades for a short time." That may have been what Ramuda had in mind when he formed the group, but their songs and stories are clearly changing in nature… I'm excited to see what happens.
Saito: In the recent drama track "The Loneliness, Tears, and Hope of a Puppet," they got really heated up, even though they seemed like the most unemotional team until then.
Shirai: You wouldn't have expected them to scream with each other like that.
Nozuyama: Yeah, you can see their bonds becoming tighter. In the original work, we finally learned about Ramuda, but the other characters are still full of mysteries. Please look forward to Shibuya Division's development and their secrets being revealed.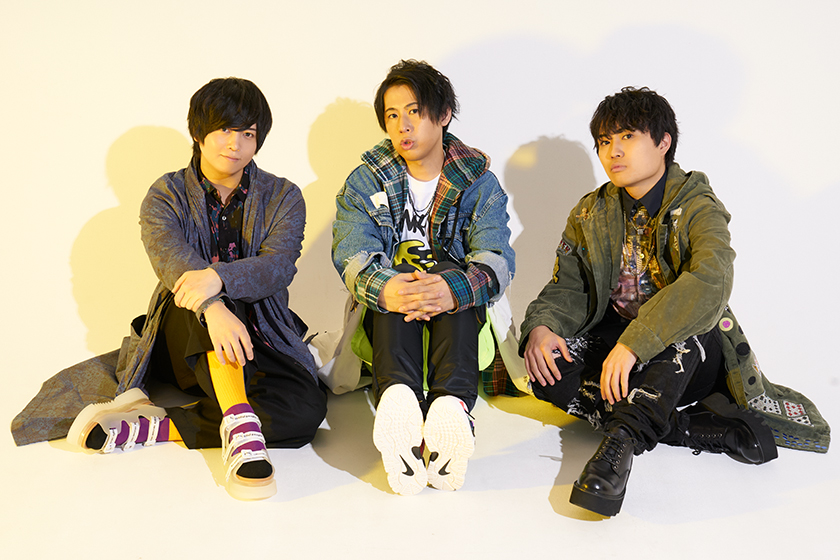 Shibuya Division reveals the cast's charms
Shirai Yusuke → Saito Soma
His stoic professionalism. Once a character is his, he understands how he's going to present it and what the listeners want, and he uses 100% of his power to make it happen. I think I should learn from his example.
Shirai Yusuke → Nozuyama Yukihiro
Nozu has courage. Hypmic is close to his debut work, but he's so brave that I thought he'd rapped on stage before. Plus, I can tell that he's enjoying himself from the bottom of his heart, and I think that's great.
Saito Soma → Shirai Yusuke
Shirai-kun has a unique world view. He can play both the straight man and the funny man, as well as perform "unique movements." He has an incredible sense of humour.
At my first Hypmic concert, I wanted to confirm a detail and asked Shirai-kun, and he said "Well, it'll be fine!" For some strange reason, when he says "It'll be fine," I really do feel like it's going to be fine.
Since he's always level-headed, he's a great influence on the people around him, and I think he's suited to be a leader. But… I also think he's very strange *laughs*. But I love strange people, so that's a plus.
Saito Soma → Nozuyama Yukihiro
Ever since I first met him, I thought he had a lot of kouhai energy. Of course, it's not because he tries to flatter people—it's because he's the type that makes you like him. He's Shibuya's mood maker and he brightens up the place. When the "Shirai Universe" is in full effect, he'll politely interrupt it *laughs*. His pureness comes through in Dice, even though their roles are different. If I had to describe him in one word, I'd say he's cute.
He was good at rapping from the very beginning, but as the dialogues went on, his acting skill got better and better too. That's what's amazing about him, and I think that Hayami-shachou is truly amazing for discovering him.
(*Hayami Show (Jinguuji Jakurai) is the president of Nozuyama-san's agency.)
Nozuyama Yukihiro → Shirai Yusuke
He's level-headed and neutral. I think a lot of people are watching his program, and he really is the same way in his normal life. He's not two-faced and he has the courage to always be natural, which I think is amazing. You can tell that he's truly enjoying himself, and I respect how he shifts into character when he's acting.
Nozuyama Yukihiro → Saito Soma
Soma-san steals the camera *laughs*. He has an amazing ability to produce himself. I don't think many people can analyze themselves to the extent that he does.
Also, he doesn't cut any corners, no matter how small. He confirms and comprehends every detail, and keeps probing until he's satisfied. Even during our concert prep, he had a bird's-eye view, suggesting things like "They said ____ during that drama track, so wouldn't it be better to move like this?"
I learn so many things from the other Shibuya members, and I'm truly thankful to be on their team.
Out of the 18 members, who do you think is the type that can't tell a lie?
Shirai: Maybe Jiro. He's the type that wears his heart on his sleeve, so he doesn't seem like he'd be good at lying. And in that case, Dice is probably bad at lying too. I'm surprised he's lasted so long as a gambler. *laughs*
Cast-wise, maybe Subaru-kun (Yamada Ichiro). He doesn't seem like he'd lie. And it feels like if he did, he'd immediately get awkward and you'd find out right away.
Saito: It'd have to be Dice. As far as I can recall, I don't think he's ever tried to lie *laughs*. We often say among ourselves that Shibuya's story began from Dice losing a gamble, so for better or worse, he can't be dishonest with his desires either.
The cast is full of good people, so I don't think any of them would lie… but personality-wise, I think Kijima-san (Izanami Hifumi) would be unlikely to lie. I can tell that his words are honest and sincere, and I can trust him. I'm the type who's suspicious of praise towards myself *laughs* but I think I can believe what Kijima-san says. But really, they're all nice people.
Nozuyama: I know he's my own character, but wouldn't it be Dice? Even if he tried to lie, he'd probably be exposed right away *laughs*. I really like how he's wholeheartedly devoted to gambling, but he seems like he'd be bad at lying.
Cast-wise, maybe Subaru-san? Part of it is my hope that everything he says is true *laughs*. I get to work with him at a variety of places, and I can tell that he's enjoying himself while entertaining the audience, and that makes me think he wouldn't be a liar.
---
Bonus: Kijima Ryuichi's reaction to reading Soma's answer to the last question
"Soma-kun…🥺…"