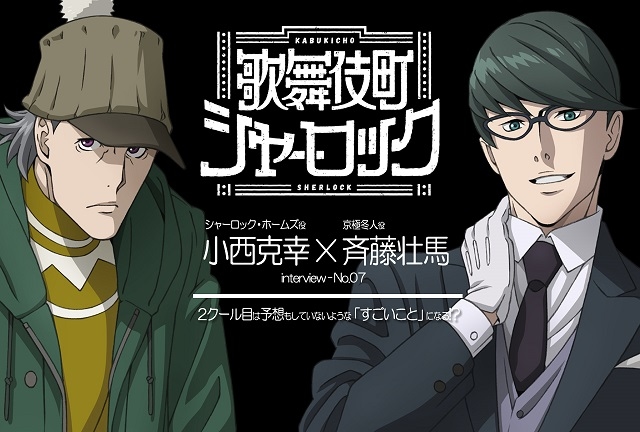 Original URL: https://www.animatetimes.com/news/details.php?id=1579224447
Published: 2020/1/17
Features:
Konishi Katsuyuki (Sherlock Holmes in Kabukichou Sherlock)
Saito Soma (Kyougoku Fuyuto in Kabukichou Sherlock)
Mentioned:
Murase Ayumu (Hokari Maki in Kabukichou Sherlock)
Sakamoto Maaya (Irene Adler in Kabukichou Sherlock)
※Contains spoilers up to Episode 12.
---
Recordings where they felt a strong connection
Q: Both of you have already done one of these interviews before, but since the pairing is different this time, tell us what your impression was of working together on this series.
Konishi: *reading the sample answer directly from the sheet* We see each other often, so there was a sense of security.
Saito: Indeed. *laughs*
Konishi: When we were recording Sherlock, there was a period of 1-2 months where I'd see Soma-kun almost every day.
Saito: It felt unnatural on days when we didn't meet.
Konishi: Besides the work we were regulars on, we'd also run into each other at other jobs.
Saito: I really felt a connection between us in 2019 *laughs*. Of course, we've worked together before as well, but I guess when it rains, it pours.
Konishi: We don't see each other at all now though. *laughs*
Saito: Yeah. *laughs*
Q: As the story got deeper, did your impressions of each other change?
Konishi: We don't rank the cast by skill or anything when we look at them, so… nothing changed there. But with roles like Kyougoku, you just can't help but poke fun at them, and I thought that must be tough. Soma-kun was always laughing in the middle of all that, which I'm thankful for.
Saito: Since Konishi-san and Nakamura-san were messing around with me, it was easy for me to adapt to the recording environment from the start. I'm thankful too, that everyone else joined in on the laughing. *laughs*
Kabukichou Sherlock starts off with a lot of gags and moves towards the serious suspense side in the latter half, but our recording environment was peaceful and I felt comfortable there.
Konishi: Kyougoku started off as a crabby, unpleasant role, but as the episodes progressed, we came to understand that "he's technically smart, but he has the personality of an idiot…"
Saito: Yeah. *laughs*
Konishi: He's become a very well-loved character now, and I think that's part of why we all had so much fun.
Holding back during major developments, and adjusting on the spot
Q: It's clear from what you've said that the recording sessions were fun, but the story itself has taken a heavy turn.
Konishi: It was shocking, right?
Q: When you were recording, did you know what was going to happen later on?
Konishi: They didn't tell us anything *laughs*. We received a basic storyline, but I purposely didn't read it. They did give us some explanation though, and we could ask questions if we didn't understand something in the script, so I did that while acting.
Q: Do you think there's a difference in your acting between knowing and not knowing?
Konishi: I think so. Knowing and not knowing changes your stance and way of acting, and I think that goes for everyone.
Q: On the other hand, Kyougoku had a scene where he changes so drastically that there was a fan theory believing that he was a fake.
Saito: It's certainly a series worth speculating about, but when it went on air and I found out about that theory, I thought "So that's how some people see it!" Although in actuality, he's not a fake.
Q: The truth was revealed later. When you were acting that scene, did you receive any explanation or direction?
Saito: About that, during the first cour, I had a general idea of where the story was going. For example, I knew who the identity of Jack was. But I didn't hear anything about Kyougoku going down that path, so when I received the script I was like "Isn't this a different person?!" *laughs*
Just like Konishi-san, I asked what was going on, and they told me it was the effect of a drug. Then, during the recording, I continued to revise it based on the new information received there.
Q: Was that information shared in front of everyone?
Konishi: Kabukichou Sherlock wasn't particularly closed off; the sound director and the other staff would explain the situation properly. They'd answer all of our questions about things we didn't understand each time, so the information was shared to all of us.
Q: It sounds like it'd be exciting when you find out new things there.
Konishi: When we heard that Kyougoku was brainwashed, that sparked a conversation. We speculated about whether Kyougoku and Maki-chan's relationship was real or fake. *laughs*
Saito: That became a big discussion. "How far did Kyougoku and Maki-chan go?" *laughs*
Konishi: It was a hallucination, a hallucination!
All: *laughs*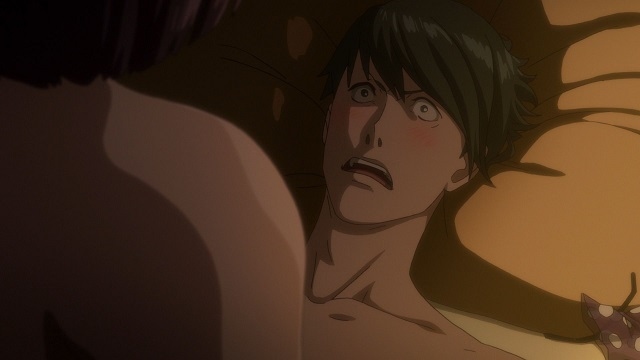 Q: Episode 11 was the solution to the Jack case and much was revealed. Sherlock's rakugo scene felt thorough and complete too.
Saito: That scene looked like a lot of work *laughs*. It went on forever…
Konishi: I was going through the script and it was just page after page of rakugo. I laughed at how long it was. *laughs*
Saito: You really were amazing.
Konishi: During the recording, I didn't know what the visuals were going to end up like, so I did it the way I wanted to. It wouldn't be interesting as rakugo if it was just mystery-solving, so I did what I could and left the rest to the production staff.
Q: It was the return of the stunning rakugo.
Konishi: Even just among the rakugo scenes, it's interesting that there's various different ways they can play out, like the time when he tried to do rakugo but got interrupted. Personally, I like the faint, light feeling during the rakugo scenes.
Saito: Because the animation is normally quite vivid, right?
Konishi: Since it's Kabukichou, there's bright neon lights and the darkness of back alleys and bars. So, I like the soft feeling it gives when it suddenly brightens up with the light colours. It's also nice how there are a lot of rakugo titles featured.
Saito: The character description says that Sherlock likes rakugo but he isn't good at it, and I thought that must've been difficult to work with.
Konishi: It's fine, because I'm not good at it either. *laughs*
Saito: That's not true!
This isn't related to rakugo, but during the scene where Sherlock gets embarrassed by Irene and starts reciting Jugemu, the script just had one section of Jugemu written out and said to read however much would fit in the allotted time. And then Konishi-san defied expectations by reciting it at hyper-speed. It was so fast; I was floored, thinking "This has to be an art."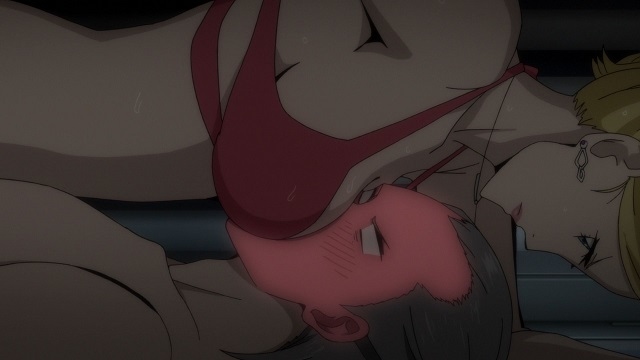 Konishi: Soma-san, that was because there was no need to say it clearly.
All: *laughs*
Konishi: It didn't have to be properly enunciated.
Saito: It just had to be clear that he was embarrassed *laughs*. Even though the rakugo scenes had varying assigned lengths too, Konishi-san usually got them down in a single take, and I thought that was amazing.
Konishi: During recording, they told me not to worry about it, but in the end it still has to fit the anime's time, so it was difficult to match that. As for the what and how, I made the clear distinction that this rakugo is for mystery-solving, not for telling an interesting story to entertain the audience. It's a place where he displays the deductive reasoning that he went through.
Murase Ayumu-san's ad-libbing continued into Episode 11's ending?!
Q: The latter half of the first cour had many highlights, but some of the most memorable ones were Kyougoku's with Maki-chan. What did you think of those two?
Konishi: Kyougoku really is a cold guy. A cruel man who passed the florist's request because it was the minimum fee. *laughs*
Saito: *laughs* His first priority is to complete his objective. And after he starts dating Maki-chan, he suddenly starts acting high and mighty towards Watson.
Konishi: He became an adult, huh?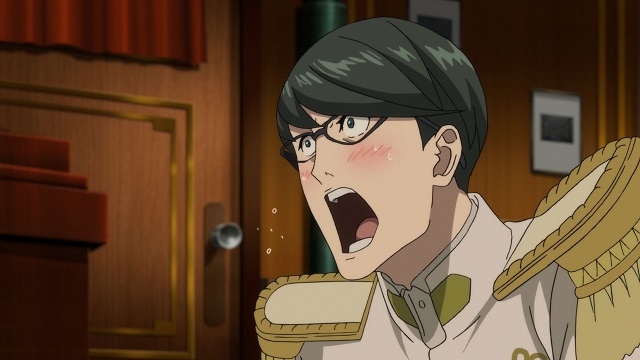 Saito: His "Don't be afraid of failure" there was funny because it reminds you of something else. *laughs*
His outfit at the time also caught my interest… It reminded me of a character I voiced in another one of Director Yoshimura's works. ((Probably referencing Dance with Devils))
The scenes with Maki-chan were definitely memorable, and the bed scene had perfect facial expressions and body lines even at the storyboard stage. The scene where Sherlock chases her down and she redoes her lipstick reminded me of a villain from a certain famous work when I saw the storyboard version, and even the completed version felt similar.
Also, Murase Ayumu is skilled at voicing characters like that. At the end, the ending theme crossfades in as the voiced lines fade out, but during the recording, he kept ad-libbing even after that.
It was an impactful character, fitting for the first cour's boss.
There were also tons of little references, like the "HIGH QUALITY" card and the AMA Hotel. I think many of them were added after everything else was complete.
Konishi: The streets and small items didn't have text on them during the recording, and sometimes there was only the outline. We didn't know it at the time, but the staff love playing around with those. They added many things that we wouldn't know about, so I'm sure the viewers have been discovering a lot of them.
Q: The characters and overall impression created by the cast during recording and the staff's playful additions expand the fans' imagination. Regarding Sherlock, I'm sure many people were struck by the scene where he apologizes after getting punched by Watson. What was it like voicing that?
Konishi: Sherlock wasn't the type to get involved with people, but being with Watson is slowly changing him, and I don't think he's fully aware of that. I think he wants to know what emotions are and how they work, but he's truly unconcerned about what those emotions lead to or how other people feel. That's why he has no issue interacting with people unsympathetically, but now he's gradually becoming more and more humane. This was discussed at the recording too, and the way he was able to say "I'm sorry" was a major thing.
Later on when Watson declares himself Sherlock's assistant, the former Sherlock would've instantly said "Hell no," but the fact that he instead accepts it by saying "Screw it up and you're fired on the spot" proves that Watson has a major effect on him.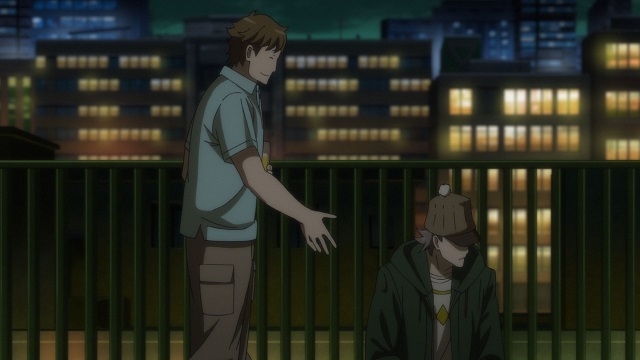 Q: Watson had been dejected ever since Irene's entrance, so as a fan, I was happy to see him become Sherlock's assistant.
Konishi: It was depicted with extreme care in that sense. While they had something of a duo going on from the start, they weren't formally a team yet… so, please keep watching.
Saito: Watson was surprisingly good at handling Sherlock from the very start. It's like when Sherlock asks "Do you want to know?", Watson tries to get on his good side by acting interested. *laughs*
Konishi: He doesn't know what to do with that person *laughs*. He buys a ton of weird canned food only to get told "I don't like these ones."
Saito: Watson's cute, huh? Nakamura-san's acting was a perfect match for those lines like "There's nowhere for this old man to go," or after getting his picture taken without permission, "What are you doing?!"
The viewers are mainly following the story from Watson's perspective, so the way their partnership makes a comeback after that excessive downturn has a dramatic flair to it.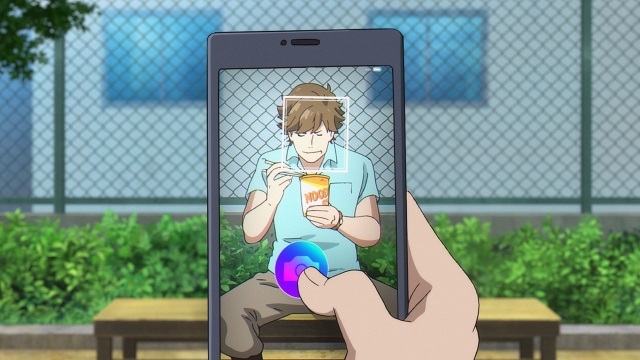 Konishi: Now it's a matter of what happens next.
Saito: Indeed, and Episode 11 feels like a temporary stopping point.
Konishi: Even though the air date for the next episode is already displayed, many people thought this series was ending after one cour.
Saito: If it ends here, then Kyougoku would remain out of the game, and he'll be the only one not redeemed, so… (we can't let it end here).
Q: Since a lot of people were talking about Episode 11 when it aired, it looks like there are people who are going to get into the series now, as well as more people expressing excitement for the second cour.
Konishi: The viewers have varying perspectives. Since it's a work where we do what we want, the opinions are actually quite clearly divided. But we all thought it was really interesting when we voiced it, so I hope more people will watch it, even if they're only jumping in now.
Konishi-san's waiting for the return of Irene (CV: Sakamoto Maaya)
Q: The story was laid out quite cleanly up to Episode 11, but I'm interested in seeing what'll happen with the remaining unsolved mysteries in the second cour.
Konishi: Haha, it's crazy.
Q: I'm really curious, so please give us a little hint!
Konishi: Kyougoku gets his chance to shine, Sherlock gets into trouble, and I'm sure it won't go the way everyone's expecting.
Saito: Indeed *laughs*. When you watch Episode 12, you'll probably think "What was everything up until now for? It's going back to a slice-of-life?" That's how it leads into the second cour. I recommend honing in on Moriarty's jail part, because you might be able to notice some things.
Q: Are there any interesting characters in the second cour?
Konishi: Plenty. At the end of Episode 12, a suspicious character voiced by Otsuka Hochu-san makes his appearance, and there are also characters that whisper mysterious numbers.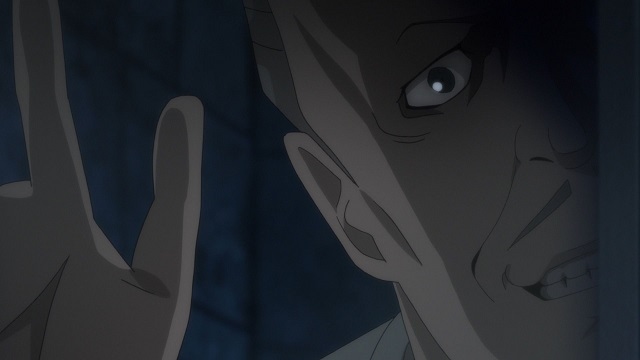 Saito: Oh, I also whispered those numbers as an additional role. There were a lot of extra roles in the second cour, huh?
Konishi: Yamashita-kun also got those extra roles thrown his way, and I felt bad for him *laughs*. There was an otaku, a policeman, etc. It seemed like a struggle.
Saito: You'll have me and Seiichiro-kun doing our dialogues with each other, but when you listen closely, we're also the policemen that're scattered around.
All: *laughs*
Saito: It's something you can enjoy besides the main story. "Was that voice just now…?!"
Konishi: It's hard to list upcoming characters without getting into spoiler territory. Personally, I'm wondering if Irene will show up. *laughs*
Saito: She's a lovely character.
Konishi: Sakamoto Maaya-chan who voiced her also talked about how interesting Kabukichou Sherlock was, and said she'd definitely watch it when it aired on TV.
Saito: When we met at another workplace, she was interested in how the story was going in parts that she didn't appear in. And when I see the other cast members in other places, we always talk about how fun it is.
Konishi: It's well-received among the cast. And since the recording finished before the show began airing, we were even more anxious about the broadcast. We couldn't do the recording while watching the aired version and debating our opinions, so I'm curious about what the rest of the cast thinks after seeing the broadcast version now.
Q: After the series finishes airing, there'll be an event held in April, and as a fan, I'm looking forward to hearing what you all have to say. Lastly, here's a personal question: This series incorporates elements of traditional Japanese culture, such as rakugo and lucky items (daruma dolls, beckoning cats). Do you have any personal connection or interest in anything from Japanese culture?
Konishi: This is the exact kind of thing I did on Soma-kun's personal variety show. Like candy crafting. *laughs*
Saito: Yeah, it's about Japanese culture after all *laughs*. We also visited shrines and whatnot.
Konishi: I said I wanted to do falconry or horseback archery on his show, but they couldn't organize it at the time. Those are the kinds of things I'm interested in though.
Saito: Have you ever done horseback archery before?
Konishi: No, which is why I want to. There are apparently places where you can experience it, though.
Saito: I see. I experienced a lot of different things on that show, like sword fighting. Playing the taiko was fun.
The idea for the program came about because I had a "traditional" image and looked like the type to wear traditional Japanese clothes. I did have a considerable interest in it beforehand, but through that show, I learned that there were many things I didn't know as well as I thought I did, such as shrine etiquette.
Now I'm a lot more interested in it. For this series, I went to see a few rakugo shows, and I'd still like to see more.
Lately I've been interested in ukiyo-e, so I'd like to get involved with something related to that, like an exhibit narration.
Konishi: You should draw a shunga (erotic ukiyo-e).
All: *laughs*
Saito: That… would probably sell *laughs*. A collection of 48, each drawn by a different male voice actor. That sounds really fun!
Konishi: Drawn by 48 voice actors and combined into a single book. *laughs*
Q: That sounds like something the female fans would be interested in, for various reasons.
Konishi: I wonder if it'd get banned from being sold.
Saito: Maybe it's too aggressive?
All: *laughs*
Q: Thank you. We'll be talking about the second cour in the next interview.