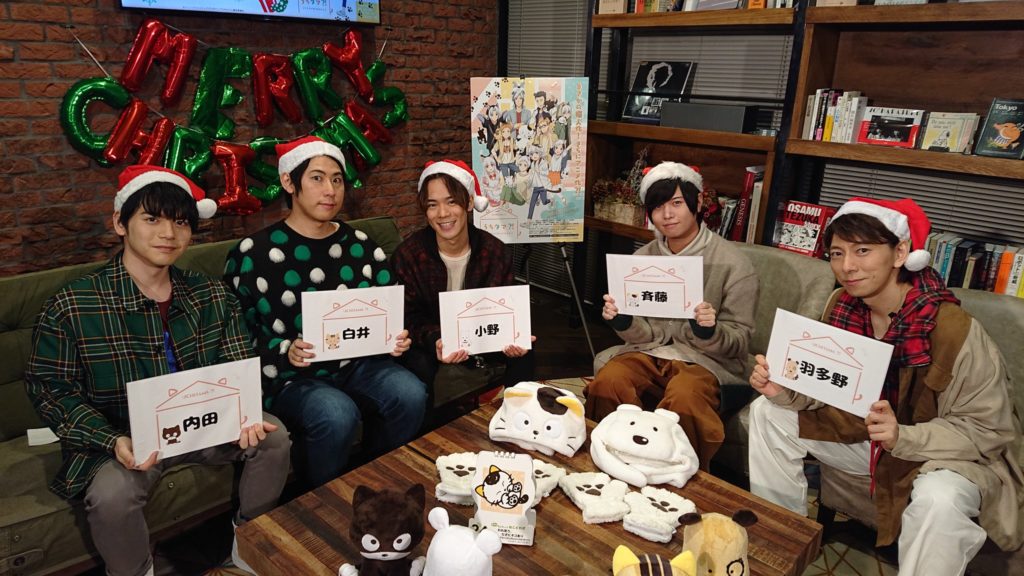 Broadcast: 2019/12/24 @ 9pm JST
Original URL: https://live.nicovideo.jp/watch/lv323313275 (no longer available)
Original Name: うちタマ?! 3丁目通信 クリスマス特別号
Guests: Saito Soma, Ono Kensho, Shirai Yusuke, Uchida Yuma, Hatano Wataru (MC)
---
Choice Quotes
(Cast is drinking drinks based on their characters)
Soma: There's something solid in here!
Everyone else: What?
Soma: *takes another sip* Oh, never mind, there isn't.
Everyone else: ???
Soma: Sorry, I lied.
Everyone else: Why???
(Cast is talking about Tama)
Kensho: The PV was way too cute
Yuma: (softly) Yeah…
Kensho: (softly) Yeah…
Soma: Why are you whispering among yourselves?
Hatano: But it wouldn't be an exaggeration to say that he's so cute, it's like the role was created so that Saito Soma could play it
Soma: Well, that's just how it is sometimes… *makes cat pose*
Everyone else: AAAAAAA welp, Merry Christmas!
Hatano: Presents for everyone!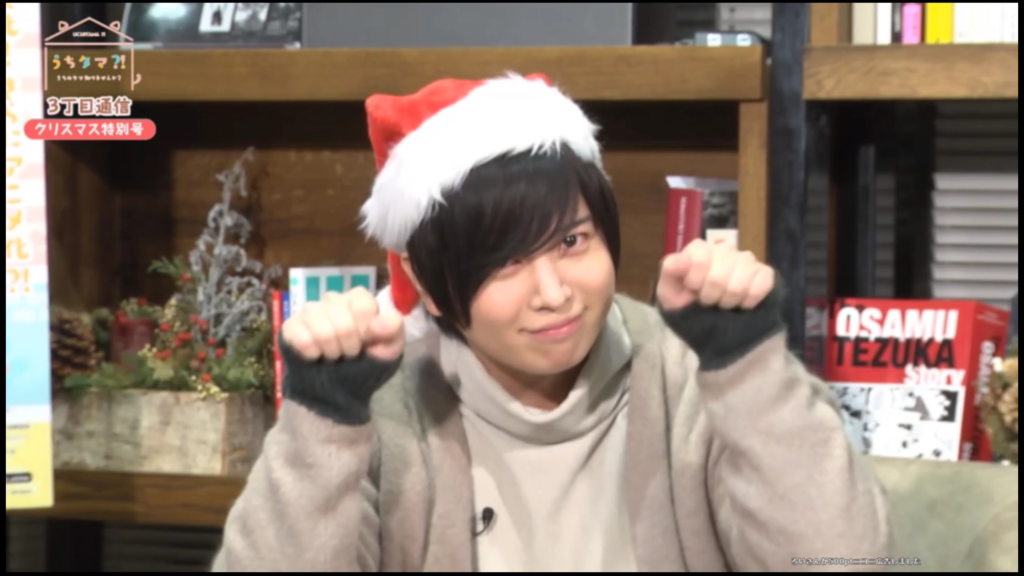 (Announcing the next stream)
Hatano: Another stream has been announced for next month! *lists off details*
Hatano: As for the content… Saito-kun, if you would
Soma: Uh…….. *laughs*
Everyone else: What's wrong?
Soma: Um… well you see, today's program is a live special, right?
Hatano: Yes, it's a live stream
Soma: Today's is a "live special," and the second one is a "special"
Shiraimu: …Oh, so…
Soma: Are you ready? Can I say it?
Soma: It's… already been pre-recorded
*Everyone laughs*
(Opinion Survey corner where they hold up the name of who they think matches the topic the most)

Q1: Who here do you think is the most cat-like?
Soma: Shirai (he lives freely at his own pace)
Kensho: Saito (he's cat-like; he even looks like a cat (awkward laughing from Soma) and when you're talking to him, you wonder what mood he's in, like a cat that'll approach you one day and ignore you the next. also the way he hides his neck *points out Soma's turtleneck sweater*)
Shiraimu: Saito (they didn't talk much when they first met, but after getting to know each other better they got closer in a flash, also he has the aura of a cat)
Yuma: Shirai (he doesn't get influenced by his surroundings and he sticks with his preferences, like how he always wears green)

Q2: Who here would be the most likely to bite their owner?
Soma: Ono (rather than the angry kind of bite, a playful bite *Kensho makes biting motions*)
Kensho: *Blank* (everyone is nice)
Shiraimu: Saito (Saito Soma will play-bite you, he seems like he'd be good at getting people to spoil him *Soma makes biting motions that gradually turn into head-banging*)
Yuma: Uchida (uhh yeah, playful bites *makes biting motions and weird faces at the same time*)
(Lost Item challenge where they pick topics and time limits from a box, then draw them within the time limit for the others to guess)
Shiraimu (Time limit: 15 seconds)
Correct answer: Dog doing a handshake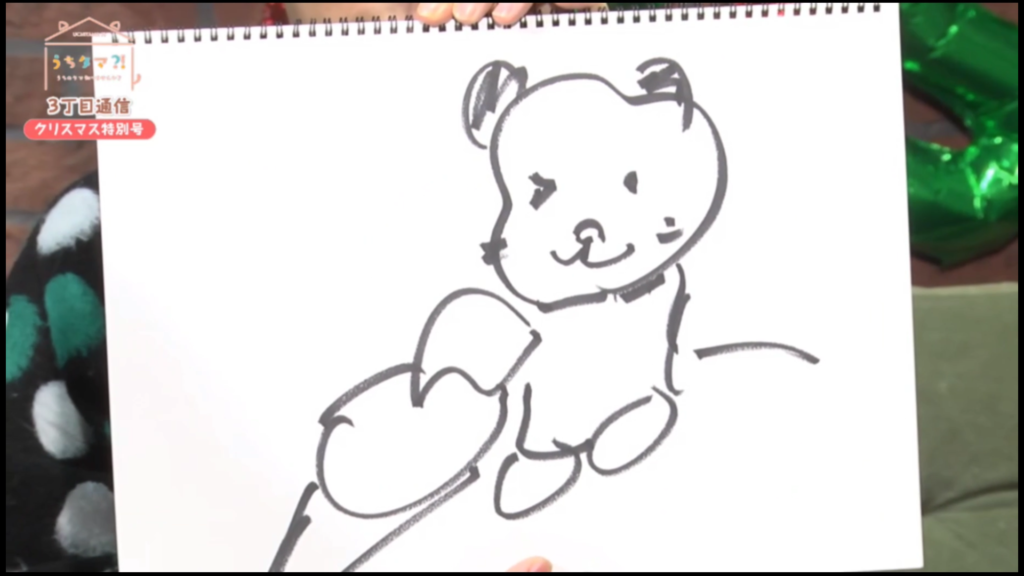 Soma (Time limit: 20 seconds)
Correct answer: Cat tower (Soma didn't really know what it looked like and was shocked they got it right)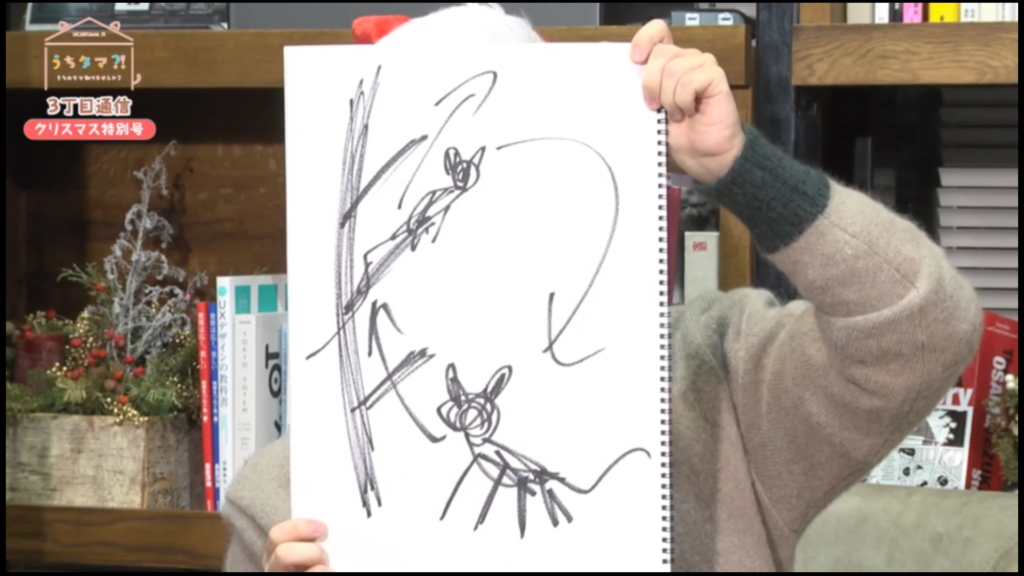 Yuma (Time limit: 10 seconds)
Correct answer: Pizza (they were thrown off for a while, thinking it must be related to dogs/cats)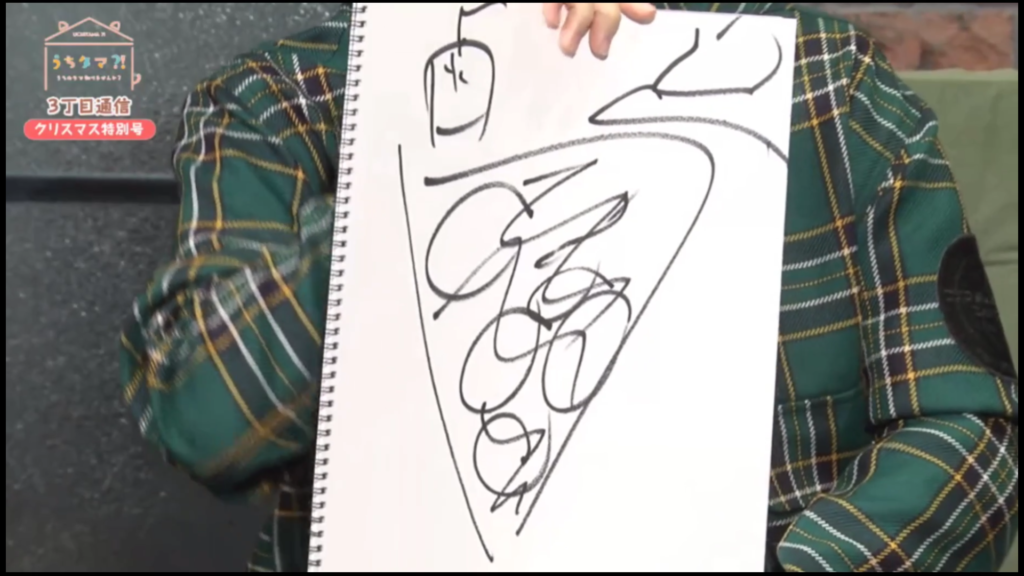 Kensho (Time limit: 3 seconds)
Correct answer: Cat toy ("3 seconds was plenty!")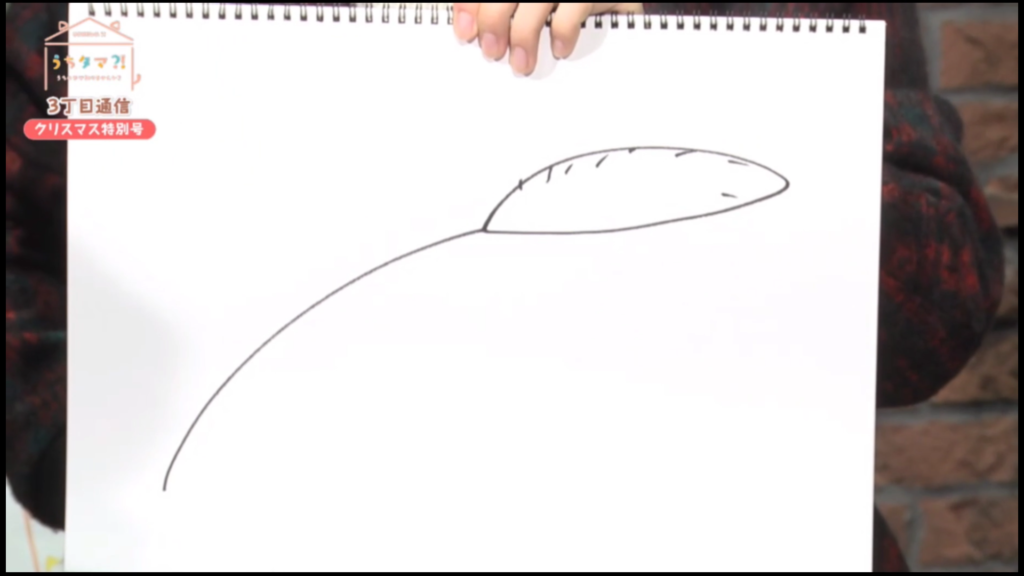 Bonus Round: Hatano (Time limit: 15 seconds)
Correct answer: Mapo tofu (they all answered at the same time, and everyone said something different, so they discussed it and tried again, but different answers came out again, and finally on the third try they got it right)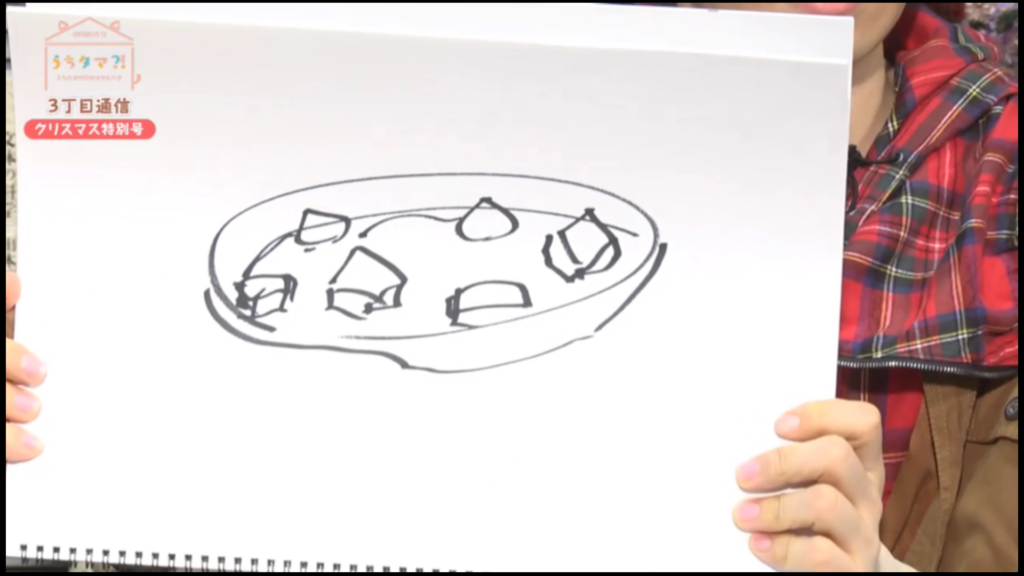 Other Notes
Soma's Santa hat is the only fluffy one
Soma mentioned that he often goes out to eat with Yuma, and went with Shiraimu before too