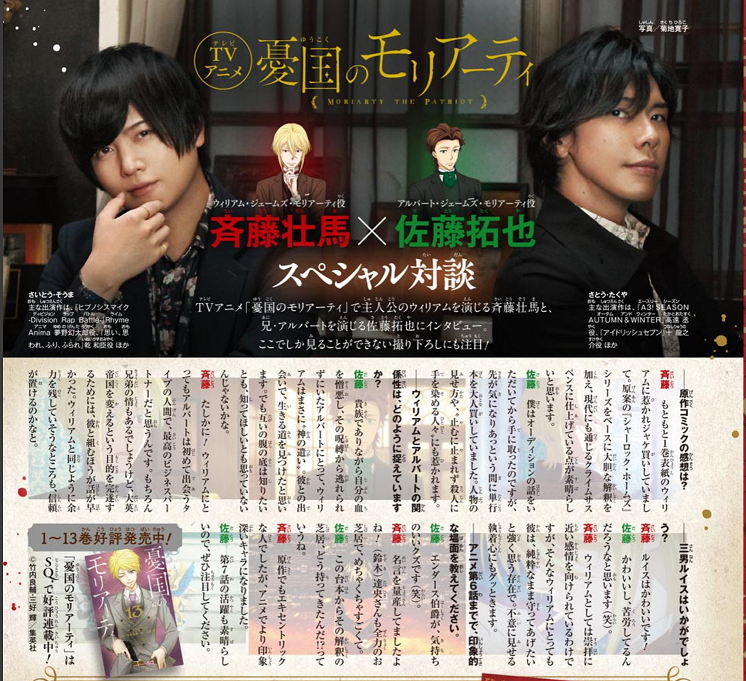 Released: 2020/11/16
Features:
Saito Soma (William James Moriarty in Yuukoku no Moriarty)
Sato Takuya (Albert James Moriarty in Yuukoku no Moriarty)
Mentioned:
Suzuki Tatsuhisa (Blitz Enders in Yuukoku no Moriarty)
---
—Your impressions of the manga?
Soma: I bought Volume 1 because I was attracted to the illustration of William on the cover. I think it's wonderful how it adds bold interpretations to the Sherlock Holmes series, turning it into a crime suspense story that appeals to a modern audience as well.
Takuya: I first picked it up because of the audition, but I was so interested in the rest of the story that I bought all of the available volumes at once. I'm drawn to the way the characters are presented and how they're compelled to turn to murder.
—How do you interpret William and Albert's relationship?
Takuya: Albert resents his noble bloodline, but is bound to it against his will. To him, William is truly a divine messenger. I think that meeting William is what gave him his way of life. But I don't think that the two of them want to know what the other is truly thinking deep down inside.
Soma: True! Albert is also the first person William's met of that type, and I think he's the best possible business partner for him. They do have brotherly love too, of course, but joining forces was a means to faster accomplish their goal of reforming the British Empire. Just like William, Albert seems to keep some of his power in reserve, which I think makes him more trustworthy.
—What do you think about the third brother, Louis?
Soma: Louis is cute!
Takuya: He's cute, and I think he must have a hard time. *laughs*
Soma: William reveres him, and I think he wants to protect Louis's innocence. Those unexpected times when he shows his attachment are touching too.
—What scenes in the anime left an impression on you, up to Episode 6?
Takuya: Count Enders is a refreshing piece of trash. *laughs*
Soma: He sure was mass-producing quotable quotes! Tatsuhisa-san gave it his all, and his acting was amazing.
Takuya: It makes you wonder, how did he interpret the script in that way?!
Soma: The character was already eccentric in the manga, but he left a deeper impression in the anime.
Takuya: His efforts are amazing in Episode 7 too, so please pay attention to them there.