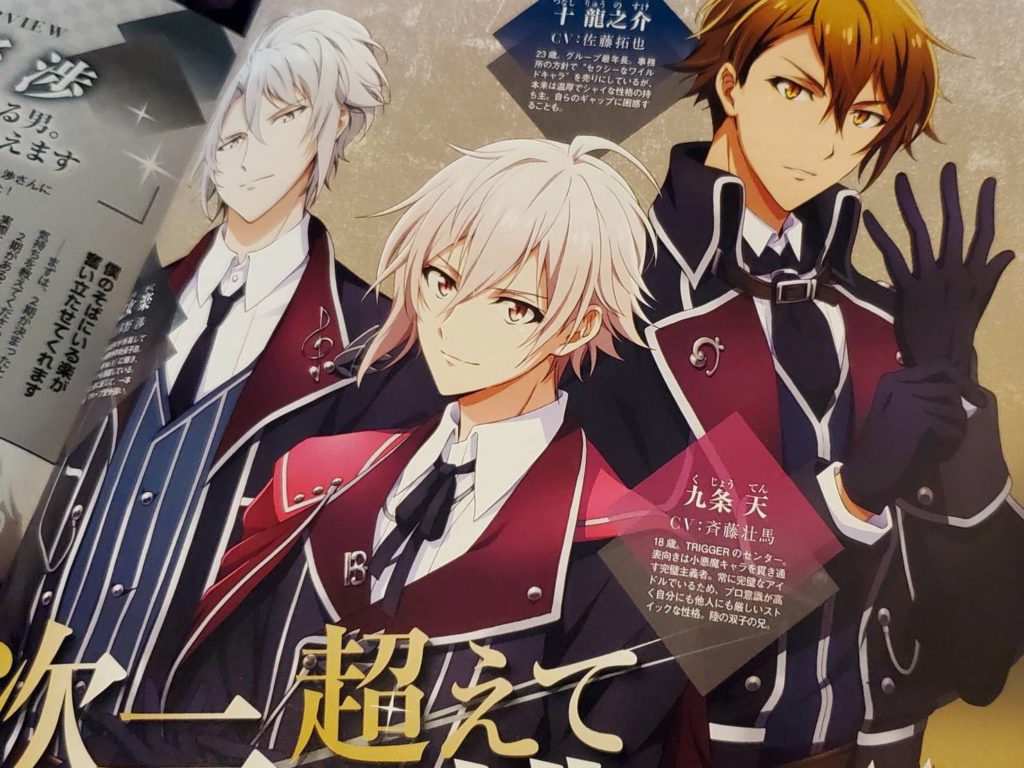 Released: 2020/4/10
Featured:
Saito Soma (Kujou Tenn in IDOLiSH7)
※This was presented as three separate interviews with each of the TRIGGER members. Only Soma's interview is translated here, as well as Soma mentions from the other interviews.
Mentioned:
Hatano Wataru (Yaotome Gaku in IDOLiSH7)
Sato Takuya (Tsunashi Ryuunosuke in IDOLiSH7)
Masuda Toshiki (Izumi Iori in IDOLiSH7)
---
Tenn strives for perfection
Q: How did you feel when Season 2 was announced?
Soma: Rather than being excited like "Phew, it's happening!", it was more of a natural acceptance, like "The time has finally come." In the mobile game's story, the second arc and beyond has the idols' relationships and surrounding circumstances becoming more complex. I was personally hoping to see it in anime form, so I was very happy about the Season 2 announcement as both an actor and a fan.
Q: Did you talk about the announcement with the other cast members?
Soma: I have a lot of chances to see them at various recordings, so we definitely brought it up. We mostly talked about our favourite scenes and the scenes we were looking forward to. In IDOLiSH7, the characters face many setbacks and obstructions… Honestly, the story is heart-wrenching to read at times, but watching them overcome their trials and grow stronger makes me feel like I'm being given a push on the back. Although it's not quite the same as them, we're performers too, so we get excited talking about the scenes that struck home.
Q: What did you think of the completed Episode 1?
Soma: I first watched it at the "IDOLiSH7 Fan Meeting vol.5 Welcome! Ai na Night!!" event. The story was great, but I also noticed that there was a lot of thought put into the details. There was a lot of meaningful direction, not just in the characters' expressions and lines of sight, but also in the sound effects and blocking. The information was also dense, and Episode 1 felt like it was an hour long. Anyway, there was also foreshadowing scattered throughout, so whether you've read the game story or not, don't blink or you'll miss something.
Also, I have a personal theory that there must be someone in the staff who wants to make Iori cuter *laughs*. He was cute enough to make me think that. He looks cool at first glance, but he pouts when he's angry and smiles when he's happy. It's a normal thing as far as humans go, but when you're only looking at them as idols, you tend to forget the finer behaviour that adds depth to the work. But of course, everyone else is cute too!
Q: Was there any memorable direction during the recording?
Soma: At the end of Season 1, Tenn acknowledges his younger brother Riku as an idol, so during the test run for Season 2, I approached it with Tenn's love towards his brother rather than the strictness of a professional. However, I was told to be strict. In the game, Tenn's attitude towards Riku has changed a lot, so it was hard to rewind those feelings. But rather than tracing my past performance, I strived to express him in a way that could only be done in anime.
Another memorable instruction was in a later episode, when Tenn gets into an argument with Iori. Even though Masuda-san spoke in a relatively mild, comedic tone, I was asked to make Tenn's tongue-clicking "dead serious."
Also, there's a scene where Tenn sighs after a conversation with Riku. For that, I was told "Please express Tenn's conflicted feelings after saying harsh words while actually being concerned about Riku, with only a sigh." It was difficult to get the balance right, but I like that delicate, clumsy side of him.
Q: I see. So, Tenn's way of breathing is a must-check in Season 2. What else should we keep an eye out for?
Soma: Tenn is TRIGGER's center, and such a perfect idol that people call him a modern-day angel. He spares no effort in giving the audience the greatest time of their lives. His high degree of professionalism results in him being harsh on both himself and others. In Season 2, I get the feeling that they're intentionally emphasizing that stoic-ness of his. While watching, if you try to imagine why he's saying harsh words and taking a cold attitude, and what feelings are hidden behind them, you might be able to sense what's going on inside him. I believe that the person known as Kujou Tenn has a lot of charm packed in there. Please pay attention to his complicated relationship with Riku, who's his twin brother as well as a rival competing with him to reach greater heights.
Q: What is Kujou Tenn to you?
Soma: In short, he's someone I respect a lot. When Tenn says something harsh, there's always a reason behind it. He says it because it's necessary to say it. Tenn acts as a helpful warning to me, making me question whether I'm worthy of being the one responsible for his weighty words.
It shows in his attitude towards Riku too—since Tenn is stoic, he has an extreme side to him as well. While he appears perfect, there are times when I think he's actually someone who's striving towards perfection. That side of him is really precious, and I'm sure he's going to keep improving in the future, so I want to improve alongside him too.
Q: You've participated in several IDOLiSH7 events so far. Which ones were the most memorable for you?
Soma: It'd have to be the concerts. For the 2nd Live "REUNION," we went through a lot of ideas trying to figure out how we could make it even better than the 1st Live "Road to Infinity." The direction intent behind the set list was clear, and I remember discussing and rehearsing with Hatano-san and Sato-san countless times. After the concert was over, I felt a sense of accomplishment, as well as the desire to put on an even more expressive performance as Kujou Tenn next time.
Q: Lastly, please give a message for the readers who are looking forward to IDOLiSH7 Second BEAT!
Soma: First off, thank you for supporting us thus far. TRIGGER and IDOLiSH7 have a perfect rival relationship, teaching and learning from each other at the same time, and now Re:vale is joining in as the reliable big brothers. I think you'll find the anime even deeper if you pay attention to not just the characters' words, but also their expressions, tones of voice, and the camerawork. I'll also be looking forward to the broadcast every week, so let's enjoy it together until the end. Please continue to support IDOLiSH7.
---
Q: Out of all the TRIGGER songs that have been released so far, which one stands out to you the most?
Soma: When we were recording "Leopard Eyes," we were instructed to prioritize sexiness, so we did. When I heard the finished version afterwards, I felt as though I'd gained a better understanding of Kujou Tenn. When I'm singing as Tenn, I change my singing style and enunciation depending on the song, but even now, I still use "Leopard Eyes" as my baseline.
---
Mentions
Satotaku: "Due to scheduling, it was difficult to record at the same time as Hatano-kun and Saito-kun. But even under those circumstances, I'd think 'Those two would definitely voice it this way,' and I'm sure they were doing the same. The trust and respect for each other that we've built up over the years resembles TRIGGER. On the other hand, when I do get to see them, I'm happy from the bottom of my heart. The moment I open the studio door and see their faces, I go into TRIGGER mode."