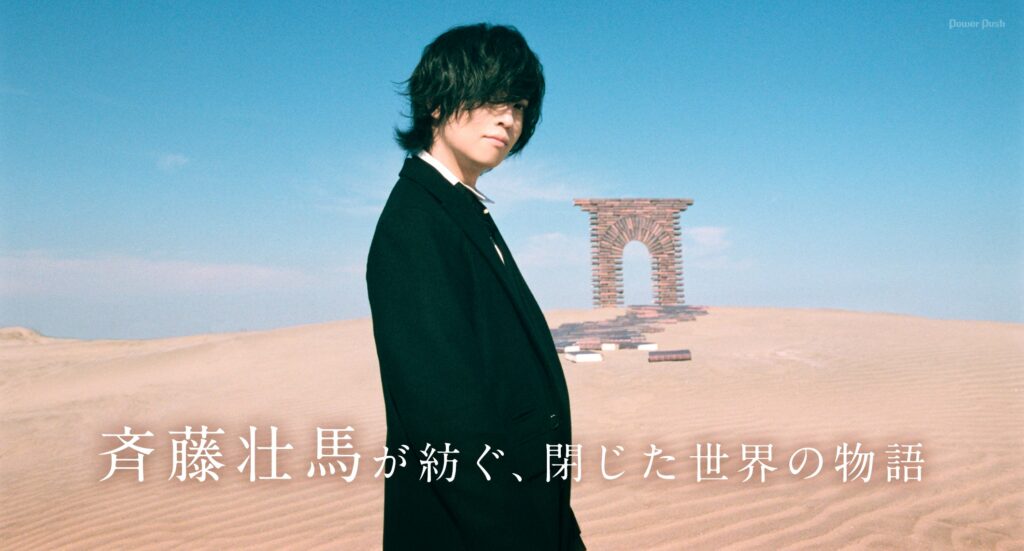 Published: 2022/2/9
Original URL: https://natalie.mu/music/pp/saitosoma02
He bought a guitar on the last day of his tour
—Last year, you had your first live tour "We are in bloom!" in April and May, and I could feel the groove between you and the band members. How much rehearsal did you do?
There were two rehearsals. The band members were real pros, so it was bound to work out one way or another *laughs*. I was in a band as a hobby when I was a teenager, so I always wanted to sing live with a band. As I toured with the band members, I could feel our groove improving with each performance. It was really fun. Unfortunately we couldn't go to Osaka (because of the state of emergency declaration), but I want to make sure to go there next time if possible.
—Speaking of the concert, the long arrangement of "Isana" and your shout during the song left a deep impression.
Thank you. "Isana" was an 8-minute song to begin with, but I asked, "Can we make it over 10 minutes long for the concert?" and extended the outro. I think it's a pretty song, but I hoped that by listening to it live with high sound pressure, people would feel that it was more than just "a pretty song." I had a lot of fun performing it too.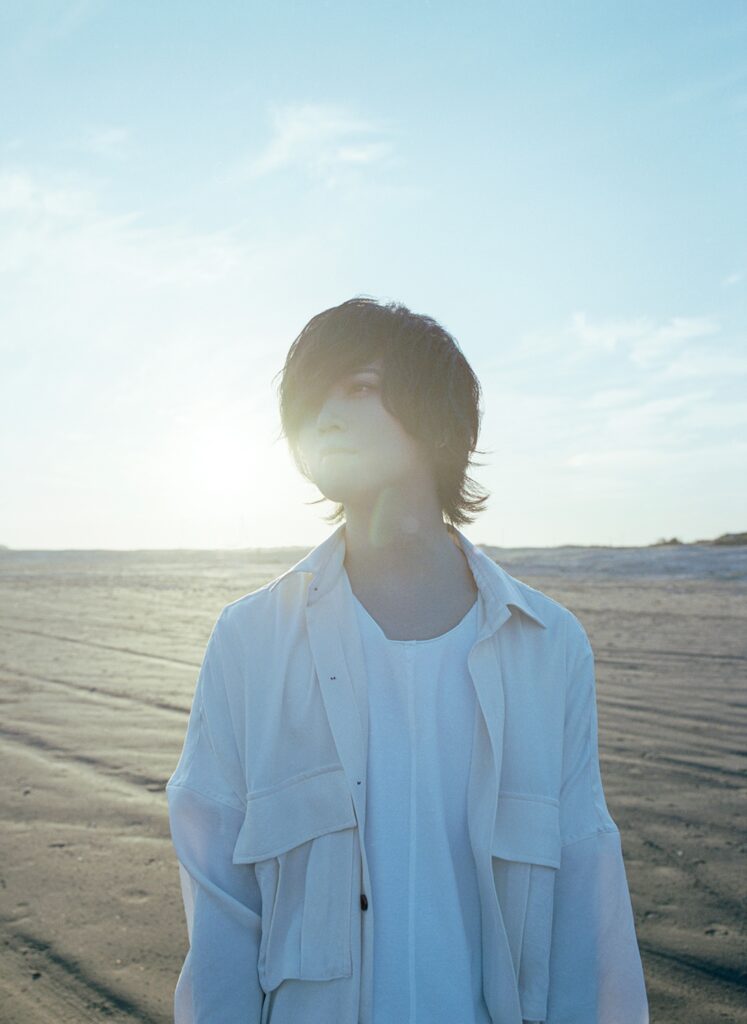 —During the tour, you had your 30th birthday. What kind of milestone do you consider that to be?
When I was a kid, I thought that a 30-year-old was very much an adult, but that's not the case at all *laughs*. After turning 30, I still think I'm careless and childish, but instead of trying not to seem that way, I think it's necessary to accept myself for who I am. It's important to accept the childishness inside of me. Speaking of which, on the last day of the tour, I was looking at guitars during break time because I was thinking of buying another one. After the concert, I bought the one that struck a chord with me. I'm the kind of person who immediately buys what he wants, and I'm going to cherish that fact.
—So in your 30s, you're going to accept yourself for who you are and follow your heart.
Right. Between the band members and the people at SACRA MUSIC, I've met a great team which I'm grateful for. So it was kind of like, "I'll give back by buying a guitar!"
—Which guitar did you buy?
The Fender Strat Jazz Deluxe. Different guitars can make different sounds depending on their shape, and since I like shoegaze music, I wanted a guitar with a vibrato arm that could create nice, fluctuating sounds.
—Did you use that guitar in the recording of my beautiful valentine?
Not this time, but I think I'll be able to use it in the future since it's a great-sounding guitar. I'm looking forward to the day when I can debut it.
The final valentine, the final "mbv"
—During the in bloom interview, I believe you said you wanted to pursue deeper music, and my beautiful valentine has a consistently deep and dark world view. It made me think, "Saito-san's core has finally come out."
Hahaha *laughs*, thank you.
—When did production begin?
I had been sending SACRA MUSIC demos since early 2021 to let them know what I had, but the actual production began in August 2021. Since my schedule was packed with my live tour and concerts for the series I'm in, it was difficult to devote myself to creating music. I had a major concert in August, and after that, I started working on the EP in earnest.
—When you first began your artist career, you focused on pop and ease of listening, but my beautiful valentine seems like it was created without paying any attention to those things.
I did try to keep it listenable as pop music, but like you said, I didn't think much about making it easy to understand.
—Did you have an initial blueprint for how it would turn out?
Unlike albums and singles, I think of EPs as a place where I can do whatever I like. It was the same with my previous EP, my blue vacation (released December 2019). So, I decided to go for a dark feeling from pretty much the very beginning.
—Did the title my beautiful valentine come from My Bloody Valentine?
Yes. my blue vacation also had the initials "mbv," so I thought I'd follow that trend. I pretty much copied it this time, though *laughs*. As we were working on the EP, we discussed the release date and decided to release it close to Valentine's Day. That made it so that I could carry on with the MBV theme, and I wanted to give it an ironic feel. The title is my beautiful valentine, but I don't write songs that simply follow the image suggested by the title. Fortunately the listeners think the same way, so I wanted to give them the impression that "if he chose this title, it surely can't just be made up of sparkly songs." But I think I'll abandon the "mbv" restriction when the time comes for the 3rd EP, because I can't think of anything else *laughs*. This is the final valentine—the final "mbv."
—So the title was decided from the beginning of production. You said that for in bloom, it was decided quite late.
I often title my works at the end of production. In that sense, it feels like this time production proceeded based on the concept of "my beautiful valentine."
—And it's a conceptual CD that reflects that. I think artists often take in input and output it through their work, and in your case, I believe you're influenced by both music and literature. Were there any works that influenced my beautiful valentine?
Yes, both music and literature. Although if we're talking about "taking in input," I actually haven't been doing much of that lately… but I think my beautiful valentine does reflect the music, words, and moods that I like right now. It also has a lot of songs that call to mind certain books and authors. For example, "Rhapsody Inferno" reminds me of (J.D.) Salinger and Kurt Vonnegut; "Genjitsu" is Kajii Motojirou. "Uzumibi" was inspired by Cormac McCarthy's The Road, a story about a father and son walking through a world that has fallen into ruin. Also, "Zakuro" reminds me of Kurahashi Yumiko. If anyone wants to speculate about the songs based on this interview, reading Salinger for Rhapsody Inferno might be surprisingly useful.
He's waiting for tie-ups!
—Something I noticed when reviewing your past releases for this interview was that you haven't had many tie-up songs. "Hikari Tatsu Ame" (the opening theme for the anime Katsugeki Touken Ranbu) was the only one.
Yes, there was only that one.
—I'm sure the label could've given you more tie-ups if they wanted to. To me it felt like they didn't because they wanted to respect what came from within you, but what do you think?
It's true, and I think that releasing music without tie-ups is a fairly rare thing from a business perspective. As you said, I've been telling SACRA MUSIC that I want to give the music itself my undivided attention, and I think I've truly accomplished that with my beautiful valentine. Now that I've expressed a closed world, I want to do the opposite and express something open. Normally you can't just get a tie-up by asking for one, but I hope I'll have a chance to in the future. I'll be waiting! *laughs*
—"Hikari Tatsu Ame" wasn't written by you, so I'm looking forward to seeing what you'll come up with if you do get a tie-up opportunity. Now, back to my beautiful valentine. Let's start with the first track, "Rhapsody Inferno". TRI4TH's Orita Yusuke was on trumpet and Fujita Junnosuke was on sax.
This song was originally inspired by The Pogues, an Irish punk band. The chorus is sung as a large group and everyone plays the kazoo during the interlude. I told the arranger, Saku-san, that I wanted to add a horn section, and he arranged it beautifully. The lyrics are less "it's important to laugh no matter how difficult the situation is" and more "these people are just dancing in hell." I wanted a song with a band-like groove and pointy words.
—Were you present for the instrument recording?
It was difficult to be there for the whole thing, but as I mentioned, we all recorded the kazoos and hand claps together. I'm really grateful that we were able to do that. It was fun. I wanted the song to evoke the feeling of a large band performing in a small live venue or cafe, so it was even better that we all got to record it together.
—It's a groovy song that does convey that feeling. For the second track, "Naisho-banashi", I liked how the lyrics rhymed and fit together, with words like "chakkari," "gakkari," and "nattari."
This song has a 16-beat groove, so it was surprisingly difficult to write the lyrics. I wanted to focus on the rhythm and making them feel good to listen to, but focusing on only those was making the contents of the lyrics fall apart, so I struggled with balancing rhythm and meaning. Even during the recording, I thought, "Were these lyrics the right choice?" but as I listened to the completed song, it grew on me more and more. I hope you'll enjoy this song's rhythm.
—It's difficult to decide whether to go for feeling or meaning. By the way, when you're writing songs, do you write the music first or the lyrics?
Currently, the music usually comes first.
—Was that the case for "Naisho-banashi" too?
Yes. I don't think it really affected anything, but the ideal situation is when the music and lyrics come to my mind at the same time, because it's the most natural. Even if they don't come at the same time, I try my best to maintain a state where lyrics can give rise to music and music can give rise to lyrics. Occasionally I do manage to come up with both at the same time.
—Are there any songs where you came up with the music and the lyrics at the same time?
Not in this EP, but it was the case for "Date" and "carpool". For "Date", I was taking the train from my home to the studio, and by the time I got there I already had the short size done in my head. That was neat.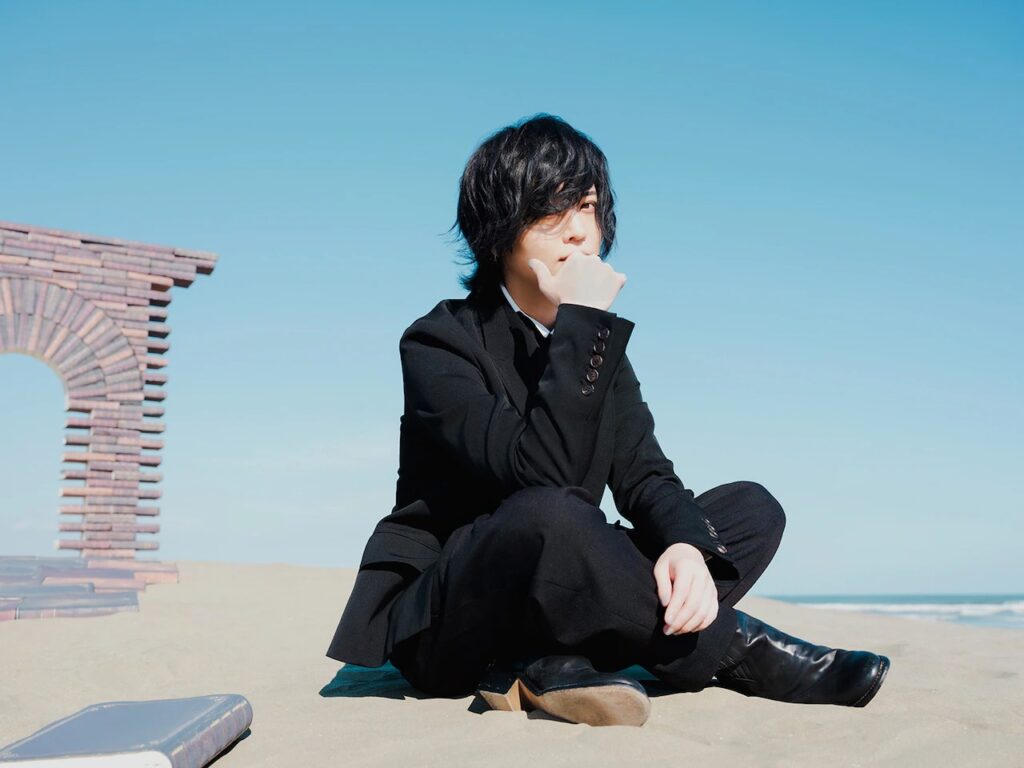 It's a daydream, so that's just how it is
—For "(Liminal Space) Daydream", you don't read aloud the part in brackets as part of the name, right?
Yes. I wrote a song before called "sunday morning (catastrophe)", and the part in brackets isn't read aloud for that one either. When I was introducing it on my radio, I forgot how that part was pronounced *laughs*. So for this song, I won't read it!
—"Liminal Space" is a difficult term to express in Japanese. Like it suggests, this song is uncanny; it sounds bright and refreshing but the lyrics and the outro are unsettling, giving it a contradictory impression.
It's a daydream, so that's just how it is *laughs*. I was very picky about the last part, so I'm glad to hear that. I was listening to a song by a certain artist and told Saku-san, "I want you to do it like this." For this song, I went to the instrument recording and played the rhythm guitar. When we were discussing how to end off the song, we all mulled over it together. Normally I don't say much in response to what I'm given, so I kept quiet for a while, thinking I'd leave it to them. But I did tell them what I was insistent on and said I wanted it to fade out, leaving only the piano. Everyone laughed a lot. They were like, "Ahhh, scary!" *laughs*. I think the lyrics are quite out there, but they also feel surprisingly kind, or rather, true to what they say. Like, when it says "it's bugging out," it really does bug out. I was aiming for an indie pop feel with the song, so it was fun to play the instruments with everyone.
—When you ask Saku-san to arrange something, how do you normally convey the nuances? Do you give him references?
Yes, I give him references and I include what I can at the demo stage. I think "(Liminal Space) Daydream" is mostly the same as the demo. That's the case with some songs, but with other songs, Saku-san does incredible arranging work. "Rhapsody Inferno" is quite different from the demo. I'm thankful that Saku-san always does the best arrangement for each song.
—Saku-san was the arranger for six songs this time. It feels like you two are a tag team. In the next song, "Genjitsu", the strings and your high-tone voice are beautiful. How did the creation process go?
I thought of the looping intro chords first, and it kind of felt like a wintry chord progression. The demo was made relatively late compared to the other songs in my beautiful valentine, but production went smoothly from there. I was able to write the lyrics in one day. I had decided to write them carefully, wanting to make music that was similar to Yuming-san (Matsutoya Yumi), GARNET CROW, and Spitz. Personally I thought it might be better suited for an album instead of this EP, but I was happy when Saku-san and the people from SACRA MUSIC said it was a really good song.
—Is the music video for this song yet to be filmed? (This interview was conducted in early January.)
Yes. I've roughly decided how I want it to be filmed. It's probably going to be a story about sisterhood.
Heavier, darker shoegazing than "Isana"
—The fifth track, "Uzumibi", stands out with its shoegazing sound. You said earlier that the lyrics are reminiscent of Cormac McCarthy.
I think this song has relatively straightforward lyrics too. It's the feeling of, "it wasn't supposed to be this way, but my thoughts are being burned up and turned into ash." I originally thought that this song would be the leading track, but it was difficult to cut out a short version, so I gave up on making it the leading track because it was annoying *laughs*. I think this is the best-written song in this EP.
—I mentioned earlier that the live performance of "Isana" was stellar, and I'm also looking forward to the live arrangement of "Uzumibi".
Thank you. "Isana" has a shoegazing feel as well, but it's a clean and beautiful one. So I wanted to make a shoegaze song that was a bit heavier and darker, and I came up with "Uzumibi". I was able to attend the instrument recording, although it was almost over by the time I got there. The drums were so cool; I could really feel the professional technique. I was happy that they turned my demo into something so cool.
—In addition to the instruments, the layered vocals were rich too.
My songs often have layered vocals. Since "Uzumibi" is a shoegaze song, I thought that instead of pushing forward with the power of a single voice, it would be better to create a spatial effect by overlapping multiple voices.
—The first five songs had instrumentalists participating, but the sixth song, "Zakuro", moves away from the band feeling. What stood out to me was the vocal approach where it sounds like you're trying not to sing too strongly.
I believe that each song has a way of singing that suits it, so I used various vocal approaches for my beautiful valentine as well. For "Zakuro", it felt like it wouldn't be right if I sang it too clearly, so I was conscious of that. I wanted a listless or decadent-sounding singing voice.
—What do you keep in mind when it comes to vocal approaches?
I have opportunities to sing as a voice actor too, and in those cases, I try to sing as well as I can while staying in character. But for my own songs, I have this weird logic where I think, "It's cooler if I don't sing too well." There's some conflict there, but in general, I try to sing in the way that's best for the song. For example, for "Rhapsody Inferno" I sang in an emotional, agitated way, but "Zakuro" is about the singer's existence being over, so I didn't think there was a need to sing it loudly.
—Each song in my beautiful valentine is like a story with its own protagonist, so I can see why you'd use a different singing approach for each one. It strengthens my impression of this EP as a work created by an artist rather than a voice actor.
I'm very happy to hear that. Thank you.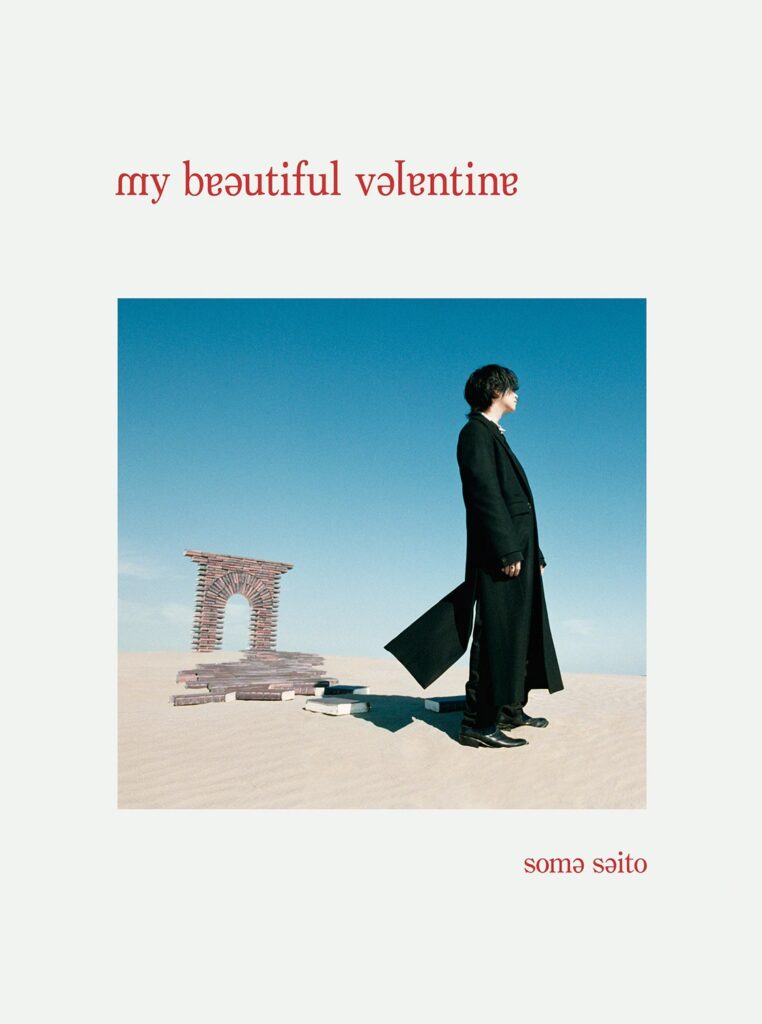 —You posted on Twitter that this EP was full of new ideas you hadn't tried before. Were you referring to the secret track "Kudryavka" that's only included with the disc version?
There were several, such as making a music video that I don't appear in and my instrumental performances. But the secret track was the biggest one because I did both the arranging and the instrumental performance by myself. It's not complex enough to be called an arrangement, but I did hand over what I'd created on my computer as-is. The vocals were re-recorded, though. The demo itself was submitted quite early. my beautiful valentine had a tight production schedule, and when we were all discussing what to do for the secret track, we started to think that this song would be good for that. In a way, it might be my most personal and minimalistic song.
—It feels introspective.
Exactly.
—The connection between "Kudryavka" and the title my beautiful valentine make me feel that the EP is only complete after listening to this song.
This song has the most valentine elements, like the word "chocolate." When you listen to my beautiful valentine, I imagine tracks 4, 5, and 6 have a dark impression, and this is an even darker song that comes after those. It might be an old-fashioned way of thinking in this day and age, but I'm from a generation that really loved listening to a CD in order, so I'd appreciate it if people who bought the physical release listened to the songs in order from 1 to 7. I think listening to them in that order brings out each song's appeal the best.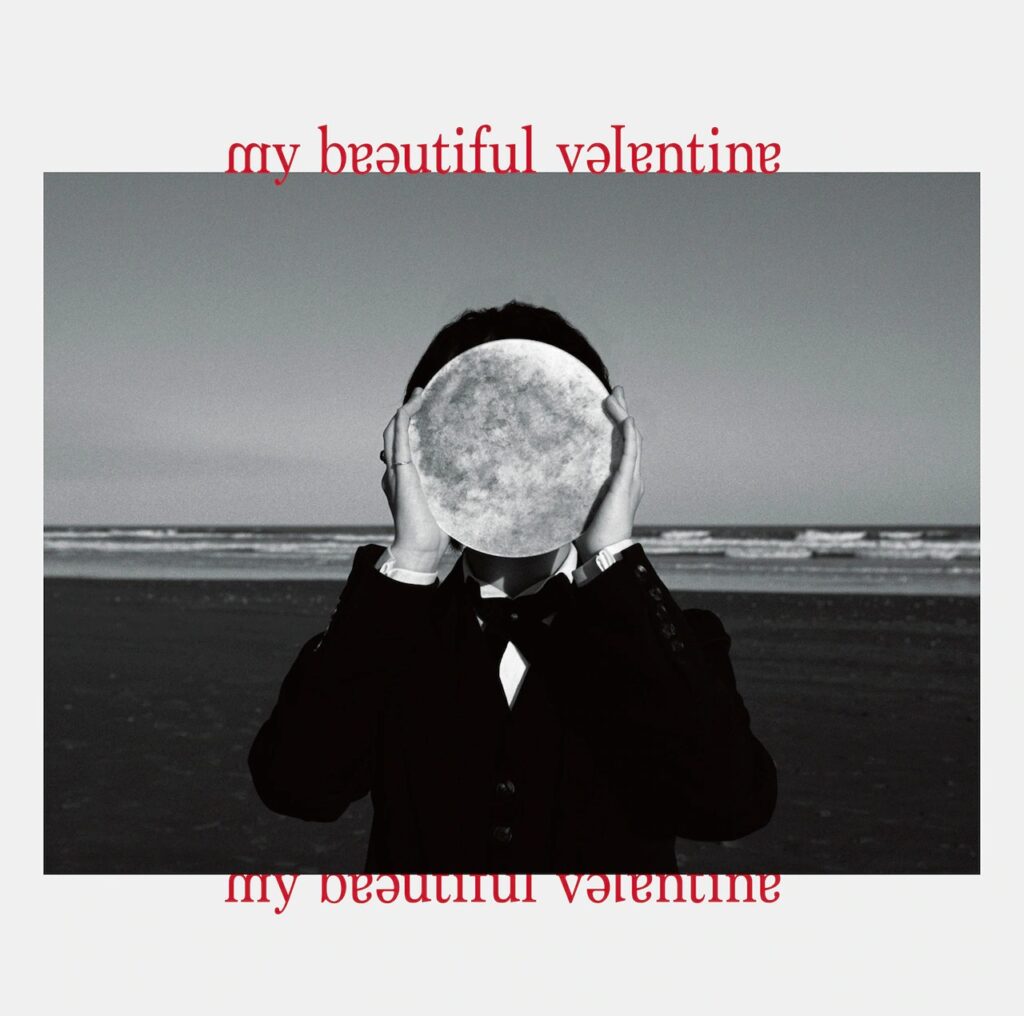 —Thank you. Lastly, this June will be the fifth anniversary of your artist debut. Please tell us about your future plans.
I've been able to do this for the past five years thanks to the support of so many people, so first, I'd like to express my gratitude. I have various ideas for the future. I don't know what the state of the world will be, but I might be able to perform live again. I also think it could be interesting to sing songs that weren't written by myself for a change; to ask others to write music and lyrics for me and try singing them. I'd also like to try collaborating with other vocalists. I have a lot of ideas, and if possible, I'd like my fifth year and onward to progress in a way that opens up to the world.