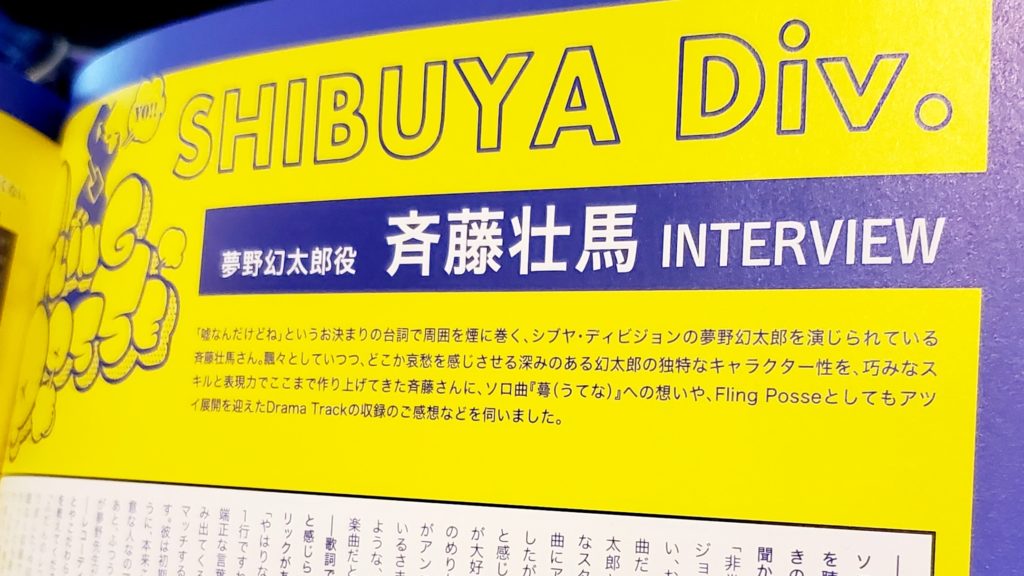 Released: 2020/3/28
Features:
Saito Soma (Yumeno Gentaro in Hypnosis Mic -Division Rap Battle-)
Mentioned:
Iwasaki Ryota (Nurude Sasara in Hypnosis Mic -Division Rap Battle-)
Shirai Yusuke (Amemura Ramuda in Hypnosis Mic -Division Rap Battle-)
---
Q: What were your impressions after hearing Gentaro's solo song "Utena"?
It was very fitting for Fling Posse, and a stylish and mellow song. I've been approaching the songs with a variety of styles as Gentaro, and this song made me feel that yet another new door was being opened. I personally love this style of music, so I was anxious to start recording it! *laughs*
Upon listening to it once, it made me imagine Gentaro striding along with a listless expression. It feels like a song with both heartrending and pop elements, like a sad smile.
Q: What aspects of Gentaro do you think the lyrics portray? Were there any phrases that particularly stood out to you?
The most impressionable part had to be the final line. Up until then, he'd been elegantly describing the scenery, not his sentiments, and then at the very end, he reveals his emotions. I think it's a wonderful punchline, perfectly matching his lyrical side. It reminded me of the first drama track, when I said he might be fond of (and skilled at) writing lyrics like these. Also, I admire Yumeno-sensei's usage of difficult kanji. *laughs*
Q: Did you receive any suggestions from the recording director?
The recording took much longer than usual. The chorus parts went by without a hitch, but the first part had a difficult flow that was neither rap nor song, and getting the harmony/overlap balance right required incredibly detailed adjustments. After recording most of the main track, I discussed it with the director and then recorded additional overlaps and ad libs. Those were combined beautifully, resulting in what I feel is a wonderful track.
Q: In the drama track "A Marionette's Loneliness, Tears, and Hope," Ramuda's secret is revealed, Fling Posse's bonds grow stronger, and one part of Gentaro's secret is shown. What were your impressions after reading and acting out the story?
When Fling Posse first started out, it felt like behind their light-hearted conversations, they weren't fully opening up to each other. As time passed, they grew to trust each other more, building solidarity as a team. And now, this story dials it up to eleven.
When I read the scenario, I felt once again that I love this team. I'm sure there isn't anyone out there that wouldn't like the developments at the end, and there were also parts that alluded to Gentaro and Dice's deepest secrets. I'm not allowed to say much, but I'm sure more will be revealed in the developments to come, so please look forward to it!
Q: Was there anything you paid particular attention to when recording the raps in the drama track? Do you have any favourite lyrics from it?
Out of all of the drama raps so far, these ones were the ones where you could feel their bonds the most. I'm sure they'll be even more powerful when you hear them as part of the story. Both of them have a comfortable beat, and recording went smoothly. They aren't full-length songs, but the lyrics couldn't have existed without this story and this trio, and that's amazing. I especially like the part starting from Ramuda's "Hear that? They said I'm their friend." No matter what anyone says, the three of them have grown to trust each other over time.
Q: With the songs and drama track on this release, was there anything you rediscovered about Gentaro and Shibuya Division's strengths?
Gentaro is aloof and it's hard to tell when he's being serious, but he's surprisingly sensible and worldly-wise—I think he also acts as a balancer. But of course, he also loves to say incomprehensible things and seems to be on a different wavelength *laughs*. His profession as an author is his greatest strength, making him fundamentally able to take on any character or story. So, I change up my enunciation and flow depending on the song and the part. The way he's not confined to any one shape—truly like a phantom, ungraspable—is the great thing about him.
I've talked about Shibuya a whole bunch in the other questions already, but I'm convinced that this team is the greatest posse.
Q: Last year's 4th Live will be released on Blu-ray/DVD on March 25th. Looking back, are there any aspects of the songs or performances that still stand out to you?
At first, when it turned out that we were going to be performing in a huge venue, I wondered what kind of show we'd be able to put on with that space. Much of the staging was different from our previous concerts, so I think the audience will have enjoyed it. On stage we were performing at full power, and I recall how stable our vocals felt and how much fun it was.
The "Stella in the sky" was particularly memorable *laughs*. I'm afraid of heights so I don't feel comfortable in high places, but during that section, the audience looked like a sea of twinkling stars, and it felt like the Posse was drifting through the universe.
Q: Osaka Division and Nagoya Division are joining the fray. What are your impressions of the two new divisions, and do you have any favourite characters or songs from them?
Both divisions are very unique teams. Each character has their own completely different direction, and I'm looking forward to seeing how we'll be interacting with them in the future.
The ones I'm most interested in are Nurude Sasara and Amayado Rei. Sasara-san's rapping is exceptionally cool, right? I really love the flow of his voice actor, Iwasaki-san's Kansai dialect. And Amayado-san has an incredible presence, or should I say aura. I can constantly feel that there's something not straightforward about him, so I'm looking forward to the upcoming story.
Q: The 5th Live will be held in March with all six divisions together, making it the largest-scale event in Hypmic's history. What kind of show does Shibuya Division want to put on? Let us hear your enthusiasm for the concert.
We haven't started any concrete planning yet, but with the new divisions joining us, it's certain to be an even more powerful concert. Shirai Yusuke-kun, who voices Fling Posse's leader Ramuda, is truly dependable… or rather, he's full of surprises (in a variety of ways) *laughs* so I'll trust him and have fun with it. We'll also be able to perform new songs that we haven't before, so I'm really excited to see how it'll turn out! Thank you for your support!